Wounded Warriors: Digital Forensics Training for Veterans
Interview with Dr. David Dampier on Mississippi State's Unique Program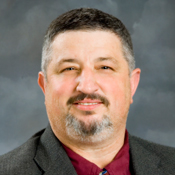 Mississippi State University's 'Wounded Warriors' program is all about providing digital forensics training for soldiers and sailors transitioning home from Iraq, Afghanistan and elsewhere in the world.

In an exclusive interview, Dr. David Dampier, associate professor in the university's department of computer science and engineering - and an Army veteran - discusses:

Details of the 'Wounded Warriors' program;

Job prospects for returning veterans;

How this program has impacted other training opportunities at Mississippi State.

Dampier is an Associate Professor in the Department of Computer Science and Engineering and serves as the Director of the National Forensics Training Center at Mississippi State University. The NFTC is a USDOJ-funded center that provides law enforcement officers free training in digital forensics. He is a retired Army officer with over 20 years of service. His research interests are in digital forensics and software engineering, and he has over 50 technical publications to his credit, including 5 book chapters and 11 journal papers. He has also given invited talks to both national and international audiences on software engineering, digital forensics and information assurance.

TOM FIELD: Hi, this is Tom Field, Editorial Director with Information Security Media Group. We are talking today about a unique education program, and we are talking with Dr. David Dampier, an Associate Professor in the Department of Computer Science and Engineering at Mississippi State University.

Dave, thanks so much for joining me today.

DR. DAVID DAMPIER: I'm glad to do it.

FIELD: To start out, why don't you tell us a little bit about yourself and your role with the University?

DAMPIER: Okay. I am an Associate Professor in the Department of Computer Science and Engineering, which means that I have a normal academic job. I am required to teach and do research and conduct service, and this Wounded Warrior Program that we are going to talk about is part of my service role.

Another part of that, and actually the outgrowth of this program, is that I also serve as the Director of a National Forensics Training Center here, which is funded by the Department of Justice, and we train law enforcement officers from all over the country in how to solve computer crimes.

FIELD: Excellent. Now, Dave, you referenced a Wounded Warrior Program, and that is really what I wanted to talk with you about today. Can you describe what this program is for our audience please?

DAMPIER: Sure. Well, the Wounded Warrior Program is really a National Science Foundation-funded project to provide vocation transition training for America's transitioning and disabled veterans who can no longer stay in the military. These guys come back from serving the country overseas injured or unable to continue their military service, and a lot of them worry about what are they going to do to support their families when they get back home.

This program was designed to provide them a skill that is in high demand in the country and that they are qualified to obtain. That skill is digital forensics, and the need for skilled practitioners in this field is increasing every day in this country. FIELD: Dave, how did this program begin?

DAMPIER: Well, it began when Dr. Ray Vaughn and I, who is our Department Head at the time, was the Director of our Center for Computer Security Research, well we still are, the Director for our Center for Computer Security Research. We were discussing how we could help returning servicemen. He and I both are retired Army officers, and we served our country and came into academia after we retired. We were trying to decide how we could help these returning servicemen rebuild their lives after the war.

We have had a very successful law enforcement training program here for about four years, and we have trained in excess of 3,000 law enforcement officers absolutely free of charge in how to solve computer crimes. Soldier and sailors are no less capable of learning digital forensics than police officers are. As a matter of fact, many soldiers and sailors are college educated, they have educations perhaps in computer science or mathematics or a science background, and we thought that they could certainly learn this skill.

Well, we began to serve the Army's Wounded Warrior and Navy Safe Harbor Programs because it seemed an opportune way to reach the most in need at a time when they would be able to study and not have as many distractions. Once they have been released from the military they will be seeking employment, obviously, and they will be scattered across the country making it much more difficult for us to reach them with the training.

FIELD: Now, give us a sense of how many warrior you have worked with so far and what are they doing today?

DAMPIER: We have actually trained about probably 120 soldiers, sailors and marines to this date. We don't really know what they are doing -- we don't really keep formal track of where they go after. Our program is designed to provide the training and not employment assistance; there are other agencies doing that. But we have heard anecdotally that some of them have gone on to employment.

I know that one that I spoke with not too long ago had gotten a job with the National Park Police doing this kind of work, and others have gone on to their home stations and the like. Many of them are still in the military because we are catching them while they are still going through medical training, and many of them are still at Walter Reed or in the Norfolk area, where we have done the training.

FIELD: Now can you explain how these service people engage with the program? How do they get involved, and what does it really mean for them to complete it? I have got to think that you have got some personal stake here as well.

DAMPIER: Well, we actually are not--our intention--there is no way that we can in three or four weeks produce a person who could go out and sit on the witness stand and be an expert witness in digital forensics; you just can't do that in that amount of time. It takes years of experience, extensive training and really just getting your hands dirty in the field. What the soldiers learn is how to learn in that Wounded Warrior Program.

What they learn is how to learn. We teach them the basics. We teach them the basics of data recovery, how to do--what does it mean to have a forensically sound image of a piece of digital media, what does it mean to protect evidence and how can they do that.

So at the end of the three or four week program, what we have really produced is a person who knows the basics about data recovery, can do data recovery, certainly, can provide a forensically sound image and knows how to do that and can enter employment at the beginner stage, at the very beginning stage and learn as they go how to do the job.

FIELD: Now, Dave, is the training all classroom training or is there a lot of virtual training involved as well?

DAMPIER: Actually it is all classroom training, but it is not just lecture; it is all hands-on as well. And so we have purchased several mobile laboratories, we have a set of 30 laptop computers that we carry on the road with us, and so when we go to Walter Reed we either use their computers or we take our computers with us and teach them. We give them the software and the hardware in the class to learn and do the skills and so we talk about it in a lecture format and then we turn it around and say okay here is some evidence, do it.

FIELD: You have made it clear that you are not taking people from this program and placing them right in jobs, but you are giving them career prospects.

DAMPIER: That is what we hope to do, yes.

FIELD: What are the types of opportunities that open up for them once they have gone through this program?

DAMPIER: Well, I mean, law enforcement, first of all -- computer crime is one of the few crimes in this country that is on the rise. Most crimes or crime activities in the country are actually decreasing a little bit or they are flat. Cyber crime, or computer crime, is on the rise, and it has been for several years, and the need for people in law enforcement agencies to deal with computer crime is great.

One of the reasons that our law enforcement program has been so successful is because the need is so great. But they can't afford to let too many people go off and do that. I mean, they need people patrolling the streets and investigating other crimes like murders and kidnapping and things like that and so this is an opportunity for these soldiers to go back to their hometown and perhaps get on with their local law enforcement agencies or a local company.

The other thing that is happening in this country is that almost every corporate entity of any size in this country is also developing a forensics capability because everything is automated and everyone uses computers and where you have the use of computers you are going to have computer crime, you are going to have intellectual property theft, you are going to have identity theft, you are going to have intrusions and these soldiers are in a perfect position to learn the skills that they need to serve in a corporate environment or a law enforcement environment to deal with that.

FIELD: Now, as a veteran I would think you could get a lot of personal satisfaction from this program, but I have got to ask you; How has this one program affected other educational programs at your school? Are there any lessons learned that you have applied?

DAMPIER: Well, actually, and that is one of the other things that started this, was that Mississippi State several years ago made a conscious effort to become a veteran friendly campus, and we have a lot of veterans on the faculty here and the staff at Mississippi State. We wanted to be a place where veterans could feel comfortable coming to school and learning, and this was just one effort that we had.

Another effort that we actually looked at, which was kind of a result of our experiences with this program, is that we have proposed to the National Science Foundation again this year a program to start a boot camp for returning veterans in STEM disciplines, what are called science, technology, engineering and mathematics disciplines. And you know veterans are coming back with a very good educational benefit.

The new GI Bill is a wonderful program, and it is going to provide veterans with an opportunity to go to school and not have to worry too much about their family and supporting themselves and all of that because of the financial aspects of the GI Bill are pretty good. But they have a very limited amount of time to do that and if they don't have a background in engineering or science then they are not likely to go into that field as quickly, and that is where we need them. We really need people in science and technology, engineering and mathematics.

So this new program, which it looks like it is going to get funded now, is going to be to provide a way to bring them up to speed very quickly in the things that they need to learn in order to be successful in these hard skill programs.

FIELD: Well, it sounds encouraging and really this is just an uplifting story. It is a pleasure to talk with you today Dave.

DAMPIER: I appreciate the opportunity to speak with you, and anytime in the future that you would like to do it again we would be more than happy to do it.

FIELD: We have been talking about the Wounded Warrior Program at Mississippi State University. For Information Security Media Group, I'm Tom Field. Thank you very much.