Why Would Anyone Want to Be a CIO?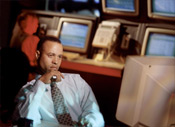 Steve Williams - GonzoBanker

NEW JOB OPENING!

SENIOR EXECUTIVE WANTED FOR FAST-GROWING BANK

- As a senior vice president of our bank, you will be in charge of a function that is complex and requires technical knowledge that needs to be completely refreshed every 2 - 3 years.

- You will provide services to a group of internal customers who will have insatiable demands and unrealistic expectations concerning their requests.

- You will rely on an outside network of suppliers that are highly unreliable. They will often miss deadlines, misrepresent their products and provide inadequate support of their systems.

- You will need to staff the function with professionals who are in high demand and short supply. A large portion of the team you manage will have severe issues with over-commitment, while others will have enormous egos, taking great pride in arguing that they are 100% correct on ANY technical issue.

- You will be reporting to an executive who has no technical knowledge of your area, very little appreciation for the complexity of your function and will manage you with one frequent and simple command, "Just make it work!"

Does this sound like a no-win job that only a sucker or masochist would take? Welcome to the world of the bank CIO.

I'm going to go out on a limb here, because I have good friends in every different type of bank executive role. However, in my 20-year career, I have become convinced that the CIO is the most difficult job in financial services. One of the classic lines in management theory is to hold individuals accountable for the outcomes that they can control. The problem with being a CIO is that the accountability is sky high while the ability to control the outcomes is extremely low:

Imagine coming in at 7:15 a.m. to hear telecommunications lines are down and no one from the Baby Bell has returned your network staff's panicked phone calls.

Imagine hearing at 11:00 a.m. that your vendor is discontinuing support for a mission critical system because the product is being consolidated with another application the vendor recently acquired.

Imagine learning at 3:30 p.m. that a security breach has occurred through a retailers' point-of-sale system, yet customers are calling the bank and characterizing the issue as a bank deficiency. Branch managers on the front line are harping, "You need to do something about this!"

Imagine being suddenly informed by your CEO at 6:45 p.m. that a merger must be completed in five months when you already have 47 projects under way with deliverables owed to influential executives.

The classic line in the technology profession is that the acronym "C.I.O" stands for "Career is Over." This phrase stemmed from the fact that the average tenure of these chief technologists used to be only 18 months.

Fortunately, things are beginning to look a bit brighter for CIOs as their time on the job seems to be increasing. The Gartner Group recently reported that average CIO tenure has increased to 4.3 years while CIO Insight actually pegs the number closer to 5.7 years. The CIO is actually on the job slightly longer these days than the average CFO – byteheads are now outlasting the beancounters.

As I pondered why the historically embattled CIOs are starting to improve their job security, I decided to go right to the horse's mouth and talk to bank I.T. executives. What I found surprised me. Most CIOs are far from burned out or cynical about their careers. In fact, almost every I.T. executive I speak with is charged up about their role in the bank and how it is changing.

"Being a CIO has it all," concludes Mike DeVico, Chief Information Officer and Executive Vice President of Zions Bancorporation. "It's challenging, exciting and high impact."

While the position may seem a bit out of control at times, many CIOs find this aspect of the job the most exciting.

"I like the variety – on any given day I get to leverage different leadership, industry and technical skills," observed Quintin Sykes, Executive Vice President and Director of Information Services of The South Financial Group. "The position has given me exposure to every line of business, as they all are customers of my services."

When speaking to CIOs, it also becomes clear that these individuals are fanatics about solving puzzles, and for them I.T. is just one honkin' Rubik's Cube. As George Walker, Chief Information Officer of First Community Bank in Albuquerque, NM, beams: "It is extremely rewarding to see a solution that my team had a part in developing kick butt and really add value to the bank…Put another way, I get to play with cool toys!"

It's also encouraging to see how CIOs have matured in their roles over the past decade:

You no longer see the portly, brown-tied control freak bunkered down behind the glass of the data center.

You no longer see the timid geek waxing about his hatred for Microsoft and the lack of appreciation for Novell's superior directory service capabilities.

You no longer see the windmill chaser, whose love of Star Trek has him enthralled in new wireless devices while performance issues proliferate on every teller workstation in the branches.

No, no, no… these former, annoying CIOs are headed for the ash heap of history. Instead, you see CIOs these days who work their tails off trying to get the right strategic projects funded and completed that will make a real business impact. As best they can, they are trying to facilitate an incredible triage between business opportunities and resources.

Butch Leonardson, a former Accenture consultant who now serves as CIO for Boeing Employees Credit Union, sums it up nicely: "We are at our best when our focus is outward rather than inward. We resist the pull to become technologically intrigued. We try instead to be customer intrigued."

When CIOs can really get the support from their CEO and management team, the job becomes a blast. Larry Kallembach, Senior Vice President and Chief Information Officer at MB Financial, concludes: "I believe the stress, lack of appreciation and career risk that some CIOs face is a combination of uninformed leadership and/or a CIO who fails to recognize the role of technology as a component of the business, not the business… I am fortunate to have a very supportive Board of Directors and CEO that believe technology is important to our success."

Through all this, CIOs realize their jobs carry high risk that they assume like a tightrope walker. One anonymous CIO concluded during his interview, "If the average tenure of this job is really three years, then my 15 minutes of fame were over in May—better make me sound reasonably intelligent so I can get another job."

I think the best explanation I received about the caffeine-like rush of being a CIO came from a regional I.T. executive who wished to remain anonymous:

"Have you ever tried to hit a moving target? There is some sport in that kind of thing if you think about it. But here's the real question: Is the application of technology to my business the moving target... …or am I the moving target? Oh, the thrill of it all!!!!"

The ride ahead for CIOs looks as crazy as ever. But for these individuals who enjoy the true extreme sport of the business world, there will continue to be fairly simple rules for success in the future:

Rule #1: Be pragmatic about deploying technology, but creative enough to crank out a cool innovation or two every year.

Rule #2: Bring discipline to the I.T. function – no more tinkering down in the basement. Run the operation with a strong bench of lieutenants and embrace formal planning, project methodologies and metrics to measure performance.

Rule #3: Manage vendors like a pit bull. While there's no need to be abusive, holding vendors accountable will make them perform better and improve your partnerships over time.

Rule #4: Be the champion for enterprise project management and process improvement disciplines. Successful CIOs in the future will not spend their time attempting to salvage projects that business areas are ignoring or failing to manage with discipline. Instead, they will sell like crazy to get their organizations to embrace a common approach to projects and process improvements across every department.

Rule #5: Constantly increase your face time with senior managers. Successful CIOs are the ones who kick their feet up on the retail executive's desk and say, "Let's figure out what to do about bill pay penetration." They take the wealth manager for beers to talk about the benefits of using one contact management system in the bank. They send the white paper to the commercial exec about the growth of online UCC filings. The best way to defuse any potential critics or enemies in the organization is simply to engage them – early and often.

Rule #6: Have the courage to act as the conscience of the bank. If a business unit is pushing for a dumb technology solution, respectfully offer a counterpoint with facts. Don't feel like being focused on internal customers means you should throw out your role as a senior officer of the bank.

Rule #7: Never…ever…ever be a martyr. The worst CIOs are the ones that have become cynical and are resigned to shrugging their shoulders and playing the victim. They actually talk to their staffs about how ignorant and irrational departments in the bank have become and even let their team become passive aggressive in supporting the squeakiest wheels. Life's too short for this dweeb-like behavior.

In 2003, the Gartner Group concluded, "The CIO, as we know it, is a dying breed. We are seeing the role reinvented." It is clear that this reinvention is well under way in banking.