Governance & Risk Management , Government , Industry Specific
World Bank Launches Global Cybersecurity Fund
Will Help Lower-Income Nations Enhance Their Security Efforts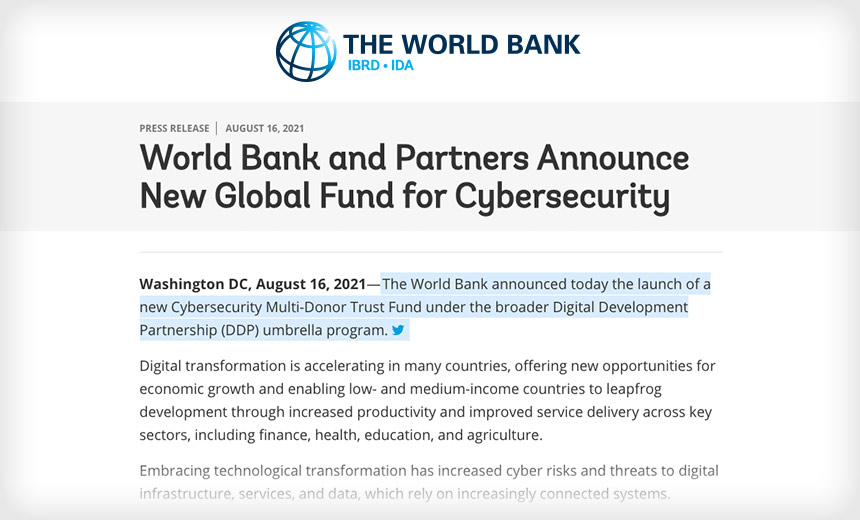 The World Bank has launched a cybersecurity fund for low- and middle-income nations to support public sector efforts to conduct cybersecurity maturity assessments, offer technical assistance and support training and staff development.
See Also: Live Webinar | Generative AI: Myths, Realities and Practical Use Cases
The international financial institution, which provides a wide variety of loans and grants to governments for capital projects, launched its Cybersecurity Multi-Donor Trust Fund under its broader Digital Development Partnership program, described as a platform for digital innovation and development funding.
The new cybersecurity initiative aims to accelerate digital transformation by improving governments' technical capabilities and their efforts to increase security awareness. A spokesperson for the World Bank tells Information Security Media Group that associated funds will be disbursed "using diverse implementation models" to catalyze specific cybersecurity investments. The amount of funding to be provided was not revealed.
The bank calls particular attention to security investments that improve critical infrastructure - including the energy, transportation, finance and healthcare sectors.
"These systems [designed prior to, or during the early years of the digital revolution] … are today highly vulnerable to cybersecurity attacks with possibly serious outcomes," the bank says on the fund's dedicated webpage.
The World Bank spokesperson says its new funding can help improve cybersecurity awareness at the national level and enable governments to identify risks, fund technical solutions and prepare for infrastructure investments.
The new fund was launched with donor contributions from Estonia, Germany, Japan and the Netherlands.
Cybersecurity and Economic Growth
The bank says digital transformation offers new opportunities for economic growth and enables many countries to "leapfrog" development through improved service delivery across sectors such as finance, health, education and agriculture.
But digital transformation creates risks, so security enhancements are essential, the bank notes.
"All of our economies … increasingly depend on good cybersecurity to grow and thrive," says Elizabeth Vish of the Office of the Coordinator for Cyber Issues at the U.S. Department of State. "We believe the international community will be more secure, stable and prosperous when a broad range of states have the capacity to defend their own networks."
Boutheina Guermazi, director of the World Bank's Digital Development Department, adds: "COVID-19 has highlighted the vital role digital technologies and applications play in a resilient development agenda. … As governments are rapidly scaling up their investments into digital technologies, cybersecurity has become a pressing concern to ensure a safe and secure digital transformation."
Commenting on the launch of the new World Bank initiative, Mari Tomingas of the Cyber Diplomacy Department of the Ministry of Foreign Affairs of Estonia notes: "It is essential that basic cybersecurity elements are integrated into all digitalization projects. We are very happy about the launch of the new trust fund."
Cybersecurity is an essential element of all development efforts, says Kanwaljit Singh of the Bill and Melinda Gates Foundation. "Malicious code - whether you call it a software bug, virus, malware, ransomware, botnet or phishing - presents a risk that is globally interconnected and potentially devastating to digitally dependent societies. Addressing this risk requires collective action."
'New Age of Cybersecurity'
James McQuiggan, education director for the Florida Cyber Alliance, says collaborative efforts, such as the World Bank's security fund, can play a vital role.
"When organizations and nations collaborate and work together, especially in cybersecurity, it provides a robust exchange of ideas, perspectives and concepts that all can use … and work towards securing … electronic borders," says McQuiggan, who is also a security awareness advocate at the security firm KnowBe4.
Similarly, Lisa Plaggemier, interim executive director of the National Cybersecurity Alliance, notes: "There is starting to be a realization that the best types of cybersecurity defenses are those in which people are working together to accomplish prevention and security goals.
"Unfortunately, many countries do not have the resources to build robust cybersecurity infrastructures - let alone do so while trying to accomplish digital transformation goals. Thus, not only are under-resourced nations more vulnerable, but all nations are vulnerable."
The new World Bank program and others like it "will help to provide the resources needed to bolster threat detection, mitigation and reporting, and better outfit each nation for the new age of cybersecurity," she adds.