Will Court Ruling Hurt EMV Rollout?
Mixed Reactions to Loss of 1-Cent Interchange Incentive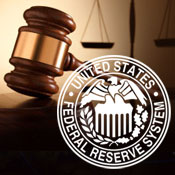 Payment card fraud is a top concern for card issuers. And experts say card fraud losses in the U.S. will grow because of the continued reliance on magnetic-stripe card technology, which is too easy to counterfeit.
See Also: Live Webinar | Education Cybersecurity Best Practices: Devices, Ransomware, Budgets and Resources
But U.S. migration to the global Europay, MasterCard, Visa card standard - which processes transactions with a micro-computer chip - might have been dealt a blow by a recent court decision.
On July 31, the U.S. District Court for the District of Columbia ruled against the U.S. Federal Reserve in a lawsuit, shooting down the Fed's plan for a 1-cent per-transaction incentive for investments in fraud prevention.
Now, experts debate whether the loss of that interchange incentive will delay EMV debit adoption in the U.S., especially at smaller banking institutions.
John Buzzard, who heads up FICO's Card Alert Service, says the ruling has likely thrown off card issuers, since most had just begun to wrap their brains - and anti-fraud investments - around the 1-cent incentive.
"Now things are going to be presumably modified, again, to please a different audience of constituents," the retailers, Buzzard says. "I really hope we see some sort of compromise here that better serves card issuers and retailers. It's possible that financial institutions will be reluctant to take on EMV card issuance if fee income drops and card replacement expenses jump. No one is resting easy on this information. How do you replace millions of dollars in lost income overnight?"
EMV adoption in the U.S. has been slow. And while no one really has a good handle on exactly where EMV adoption is in the U.S., on the debit side it's nearly non-existent, most agree.
According to Javelin's 2013 Identity Fraud Report, Citigroup is the only top 25 U.S banking institution to have adopted EMV for debit. And Al Pascual, a financial fraud analyst at Javelin who worked on the report, says Citi's implementation has so far been limited to debit portfolios catering to high net-worth international travelers, not for cardholders who use the cards domestically.
"When considering the recent ruling on debit fees, it would not be surprising if this number [rate of EMV adoption] remains flat through next year," Pascual says.
The Fed's Incentive Plan
The 1-cent incentive dates back to June 29, 2011, when the Federal Reserve announced that it would offer this plan for fraud prevention investments tied to debit card transactions (see The Fed's Impact on Fraud Funding).
The fee adjustment was the Federal Reserve's attempt to offset interchange losses called for in the controversial Durbin amendment, proposed by Sen. Dick Durbin, D-Ill., to the Dodd-Frank Wall Street Reform and Consumer Protection Act. Those losses, card issuers said, would adversely affect their abilities to absorb fraud related to debit transactions.
With the incentive, the Federal Reserve suggested a card issuer that invests in a "new and improved" fraud prevention solution tied to debit, such as EMV, could receive 24 cents per transaction, up from the 12-cent cap originally proposed in the legislation.
Court Ruling
But in the July 31 ruling - the result of a lawsuit filed against the Fed by a handful of retailer associations - the District Court finds that the Federal Reserve disregarded Congress's statutory intent "by inappropriately inflating all debit card transaction fees by billions of dollars and failing to provide merchants with multiple unaffiliated networks for each debit card transaction."
A spokesman says the Federal Reserve Board is currently reviewing the decision, but would not comment on whether an appeal is expected.
Some experts, such as Buzzard, say the ruling could take away U.S. banking institutions' financial incentive to adopt EMV for debit.
But one executive at a mid-tier U.S. card issuer, who asked to remain anonymous, says the ruling will have little impact on large banking institutions.
"We haven't changed course on EMV as a result of the ruling," the executive says. "I think that once the dust settles, most [financial institutions] will realize that a delay in EMV implementation could have financial and reputational impact far beyond the potential impact of the ruling."
The executive does say, however, that some institutions have expressed concerns about the impact the ruling could have on EMV reissuance for debit. From that perspective, there is hope that the Federal Reserve will appeal the ruling.
"One option that the industry may have to adopt is a move to a debit card fee that would offset the incremental cost of EMV," the executive says. "Should a couple of FIs implement such a fee, I think you may see it happen almost universally."
'Minor Bump?'
Shirley Inscoe, a financial fraud analyst for consultancy Aite, says it's hard to say whether the ruling will actually be to blame for any halt in EMV debit adoption.
"Issuers were already being more reticent to roll out EMV for debit than credit cards; and if debit revenues are going to deteriorate even further, issuers may delay implementations longer," she says.
Dan Heimann, ACI Worldwide's head of U.S. payments solutions and a member of the EMV Migration Forum, says institutions serious about curbing debit fraud won't allow their EMV rollouts to be hindered by this latest court decision.
"We want to get to EMV in this country, regardless of the judge's ruling," he says. "We want more security, and EMV is the foundation to get there."
Even if the Federal Reserve does appeal the ruling, it could take a couple of years before any definitive decisions about interchange incentives tied to fraud prevention are made, Heimann adds. "If I were a card issuer, I would look at how to deal with current profits in my debit portfolios, and figure out a way to make the investment in EMV," he says.
The cost of issuing an EMV card is about four times that of a mag-stripe card, he says. So budgeting and the potential loss of the incentive are concerning. "But I tend to think this is a minor bump in the road," Heimann says. "I don't think that it will delay anything by years. I think it's a matter of months for people to wrap their brains around this and figure out a way to move forward."