Wikipedia Threatens to Shutter for Day over Bills
24-Hour Blackout to Protest Sections in Anti-Piracy Legislation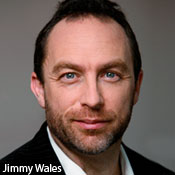 Wikipedia.org founder Jimmy Wales is pledging to shutter the crowd-sourced online encyclopedia's English-language website for 24 hours beginning midnight Tuesday Eastern time to protest legislation before Congress that he contends would threaten Internet freedom if enacted.
See Also: Zero Trust Webinar Tomorrow: Research Insights Exploring the Actionable, Holistic & Integrative Approach to Security
Provisions in the bills, the Senate's Protection of Intellectual Property Act, or PIPA, and the House's Stop Online Piracy Act, or SOPA, would have allowed the federal government to order Internet service providers to use the Domain Name System's DNS resolvers - the technology responsible for translating a domain name into an IP address - to inform users that websites deemed to infringe intellectual property do not exist (see IP Protection Bills Threaten Internet).
Supporters of the measures, including Hollywood and the music industry, say these sites cost them billions of dollars in revenue and threaten millions of American jobs. Opponents, including Facebook and Google, see the legislation as a step toward limiting online freedoms of hundreds of millions of Internet users and jeopardizing cybersecurity.
The authors of both bills, Sen. Patrick Leahy, D-Vt., and Rep. Lamar Smith, R-Texas, said in separate statements issued Thursday that they would pull the DNS provisions from their respective measures, saying they would study the matter further. And the Obama administration over the weekend criticized the provisions in the legislation that would tamper with the Domain Name System (see Battling Piracy Needn't Limit Net Rights)
But that didn't seem to mollify Wales, who said in a Twitter posting that Senate Majority Leader Harry Reid, D-Nev., on Sunday announced he planned to bring up for debate PIPA. In another tweet, Wales wrote: "PIPA is still alive, and we are not getting firm confirmation on SOPA shelving. Think it (shutdown) is a tactic. Full steam ahead!"
If Wikipedia shutters its English-language site, Internet users accessing it would see a posting showing them how to contact their congressional representatives. "This is going to be wow," another Wales tweet said. "I hope Wikipedia will melt phone systems in Washington on Wednesday. Tell everyone you know."