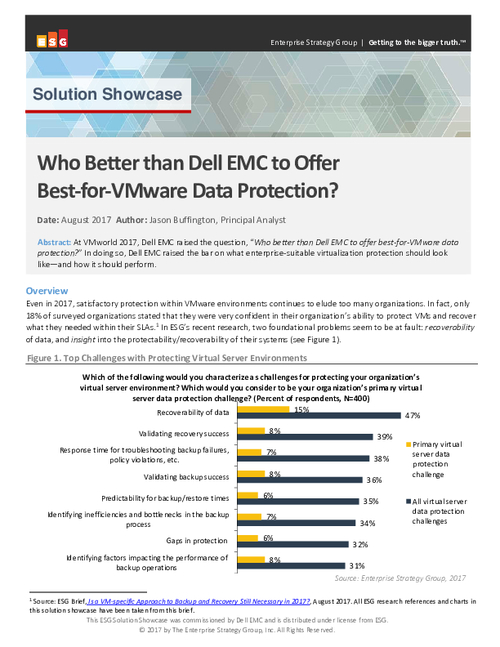 Satisfactory protection within VMware environments continues to elude too many organizations. In fact, only 18% of surveyed organizations stated that they were very confident in their organization's ability to protect VMs and recover what they needed within their SLAs. In ESG's recent research, two foundational problems seem to be at fault: recoverability of data, and insight into the protectability/recoverability of their systems
While the top response, which is consistent year over year within ESG research, continues to be recoverability of data, a more problematic scenario comes from several of the other challenges which can be summarized as a lack of virtualization-savviness in design and instrumentation. The result is not just a failure to deliver protection, but also a failure to provide insight into what is working, what isn't working, and why.
Download this whitepaper to know more about:
Data Domain
Networker and Avamar
Replication of storage volumes
Disclaimer: Dell Technologies, Dell, EMC and Dell EMC are trademarks of Dell Inc. or its subsidiaries. Other trademarks may be trademarks of their respective owners.