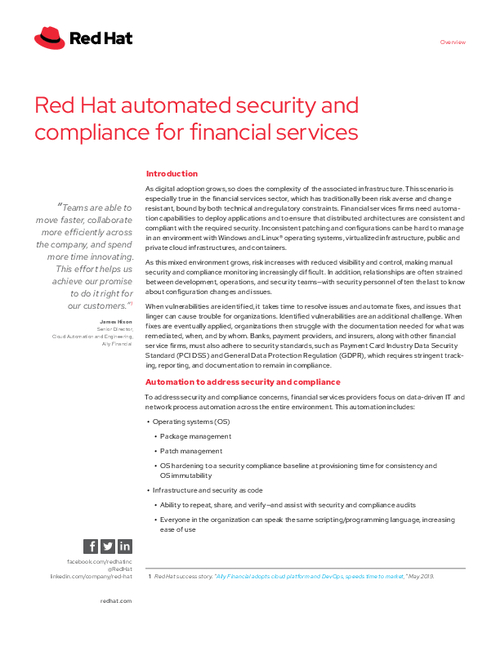 As digital adoption grows, so does the complexity of the associated infrastructure. This scenario is especially true in the financial services sector, which has traditionally been risk averse and change resistant, bound by both technical and regulatory constraints. Financial services firms need automation capabilities to deploy applications and to ensure that distributed architectures are consistent and compliant with the required security. Inconsistent patching and configurations can be hard to manage in an environment with Windows and Linux® operating systems, virtualized infrastructure, public and private cloud infrastructures, and containers.
As this mixed environment grows, risk increases with reduced visibility and control, making manual security and compliance monitoring increasingly difficult. In addition, relationships are often strained between development, operations, and security teams-with security personnel often the last to know about configuration changes and issues.
When vulnerabilities are identified, it takes time to resolve issues and automate fixes, and issues that linger can cause trouble for organizations. Identified vulnerabilities are an additional challenge. When fixes are eventually applied, organizations then struggle with the documentation needed for what was remediated, when, and by whom. Banks, payment providers, and insurers, along with other financial service firms, must also adhere to security standards, such as Payment Card Industry Data Security Standard (PCI DSS) and General Data Protection Regulation (GDPR), which requires stringent tracking, reporting, and documentation to remain in compliance.