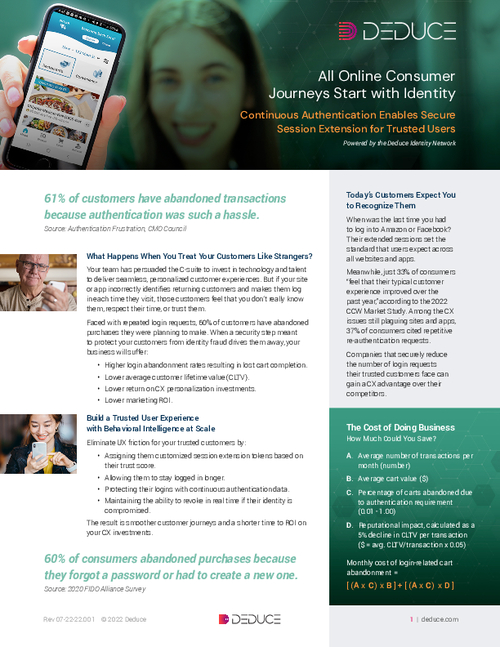 All online customer journeys start with identity. Continuous authentication by Deduce allows you to securely extend sessions for your trusted users.
You've persuaded the C-suite to invest in technology and talent to deliver seamless, personalized customer experiences. But if your site or app makes returning customers log in each time they visit, you're probably losing repeat purchases and ROI on your CX investments because of authentication friction. Faced with repeated login requests, 60% of customers have abandoned purchases they were planning to make.
With Behavioral Intelligence at Scale, you can eliminate authentication friction for your trusted customers without sacrificing security and account protection — so they have a smoother path to purchase that can lead to better returns on your personalization program.
In this Use Case, you'll learn:
How to calculate the business impact value from login-related cart abandonment.
How to reduce login churn without compromising security.
How to shorten the time to ROI on your CX investments.
How to build a Trusted User Experience with Behavioral Intelligence at Scale.