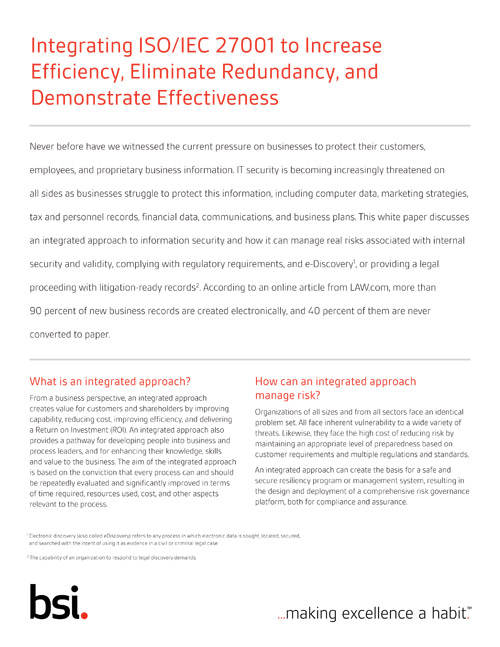 IT security is becoming increasingly threatened on all sides as businesses struggle to protect information, including computer data, marketing strategies, tax and personnel records, financial data, communications and business plans.
An integrated approach to information security creates value for customers and shareholders by improving capability, reducing cost, improving efficiency and delivering a Return on Investment (ROI). An integrated approach also provides a pathway for developing people into business and process leaders, and for enhancing their knowledge, skills and value to the business.
This white paper discusses:
How to design and deploy a comprehensive risk governance platform;
How to maintain compliance and assurance;
Ways to increase savings over the more ad hoc approach.
Complimentary webcast: "Certification for the Cloud is Finally Here" - The CSA, in cooperation with BSI, is enabling an understanding of the next level certification/assurance for the cloud. Currently, there are self-certification options. Now there will be two independent certification/attestation options: 1) ISO/IEC 27001 and 2) SOC 2. Hear the latest developments on these initiatives.