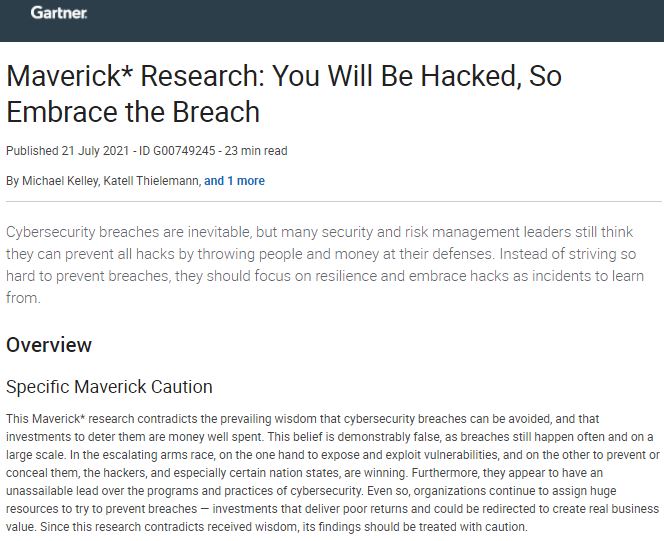 WE'VE ALL HEARD THE MANTRA: IT'S NO LONGER IF BUT WHEN. CYBER BREACHES ARE INEVITABLE.
Could the answer to modern cyberattacks, then, be a strategy where prevention remains critical but the best results come from embracing the inevitable? What if you could strike a better balance, investing more in response capabilities and forging by fire the expertise of IT and security teams?
In this report, we believe Gartner® explores the idea of prioritizing resilience and recovery to minimize the impact on customers, partners, suppliers, and your organization:
Learn "normal accident theory," grow from each experience, and act faster
Apply disaster recovery principles when an incident occurs
Better leverage the right technologies to counter attacks
When it happens, will you be prepared? Get access to "Gartner® Maverick Research: You Will Be Hacked, So Embrace the Breach" to protect your data, customers, and global ecosystem by becoming a cyber-resilient organization.
Gartner, Maverick* Research: You Will Be Hacked, So Embrace the Breach, Michael Kelley, Katell Thielemann, David Gregory, 21 July 2021.
GARTNER is a registered trademark and service mark of Gartner, Inc. and/or its affiliates in the U.S. and internationally and is used herein with permission. All rights reserved.