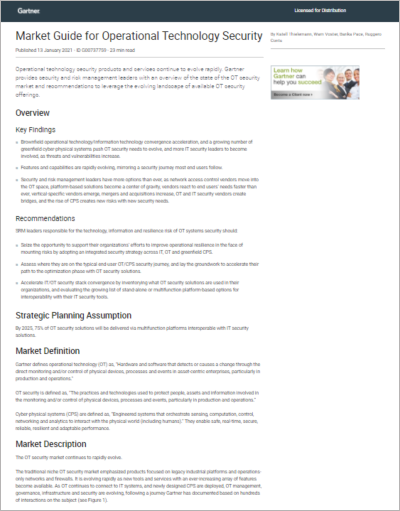 Ordr as a Representative Vendor in their recently released Market Guide for Operational Technology (OT) Security! The convergence of IT and OT calls for a multifunction platform that can discover all network connected devices, profile how they are communicating and properly assess the risk associated. This is why Gartner named Ordr as a Representative Vendor in the Market Guide for OT Security.
Ordr benefits for Operational Technology Security Include
Provide a real-time asset inventory of all connected devices — from traditional servers, workstations and PCs to IoT, IoMT and OT devices
Baseline device behavior and map all communications patterns
Continuously and passively monitor devices for risks, identifying those with vulnerabilities/exploits, recalled by manufacturers or FDA, and using weak ciphers and certificates
Automate positive policy creation to only allow "sanctioned communications" for devices
To learn more about how Gartner defines the OT security market, download the report, here.