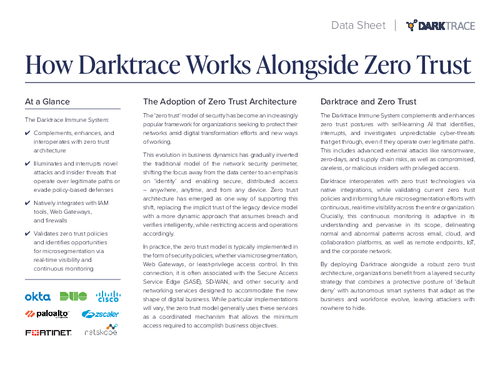 In practice, the zero trust model is typically implemented in the form of security policies, whether via microsegmentation, Web Gateways, or least-privilege access control. In this connection, it is often associated with the Secure Access Service Edge (SASE), SD-WAN, and other security and networking services designed to accommodate the new shape of digital business. While particular implementations will vary, the zero trust model generally uses these services as a coordinated mechanism that allows the minimum access required to accomplish business objectives.
Darktrace interoperates with zero trust technologies via native integrations, while validating current zero trust policies and informing future microsegmentation efforts with continuous, real-time visibility across the entire organization.
Download this data sheet to discover how the Darktrace Immune System complements and enhances zero trust postures with self-learning AI that identifies, interrupts, and investigates unpredictable cyber-threats that get through.