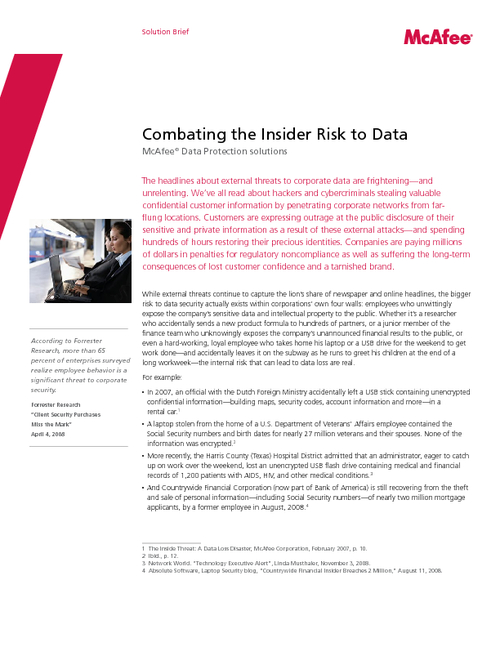 While external threats to corporate data have made headlines, an even greater threat is posed by company employees. Sometimes, employees accidently expose sensitive data to the public by losing valuable data stored on a USB drive or laptop that is lost or stolen. At other times, disgruntled laid-off employees may steal company records or intellectual property for financial gain.
Most companies today don't have a complete grasp of what data needs protection. And to take it a step further, they also don't know where it resides, who is accessing it, when it is accessed, and how it is accessed. Protecting your vital information requires new technologies, stronger policies, and user education.
McAfee data protection solutions help you secure the data you know you need to protect and automate the discovery and understanding of the data you don't know about, providing a comprehensive solution that guards against insider threats.
Download this solution brief to discover how McAfee data protection solutions safeguard your data at rest, in motion, and in use to ensure its confidentiality and integrity in key areas of your infrastructure, including:
Data centers where your critical data resides
Networks where your data travels
Applications that may expose confidential information
Endpoints, from laptops to removable storage devices like USB drives