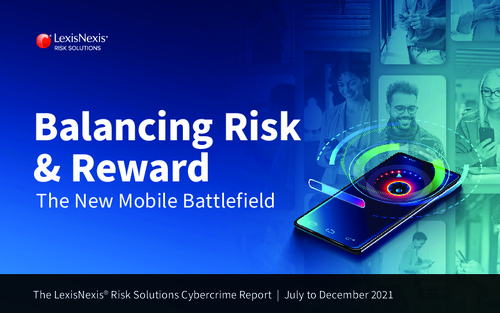 The LexisNexis® Risk Solutions Cybercrime Report analyzes transaction and attack patterns from billions of global online transactions. Over the period of 6 months, we analyzed 35.5 billion transactions to help us develop industry-leading fraud prevention solutions.
This report details the anatomy of global fraud networks to better understand the global, regional and industry connections.
The intelligence gathered from consumer and business led interactions with digital services – accessed primarily through mobile applications and websites - helps our customers better distinguish between whether a transaction is coming from a trusted user or a potential threat.
Highlights of the report include:
Human Initiated Attacks grew for the first time since 2019
Automated Bot Attacks continue to increase, targeting CMM and eCommerce
Mobile Transactions reached 75% of transaction share
Password reset attacks have continued to grow, with 1 in 8 being attacked