Critical Infrastructure Security
White House Mulls Banning Huawei's Access to US Technology
Reports Suggest Biden Administration Weighing Move to Blunt Beijing's Ambitions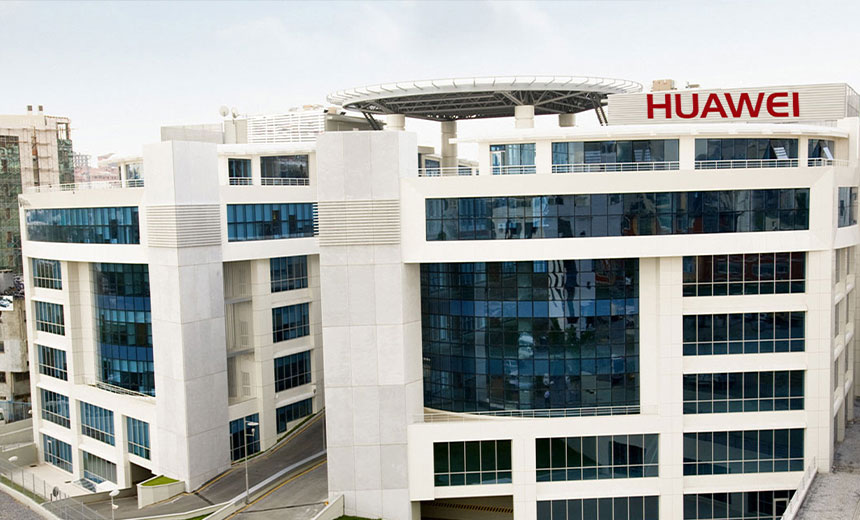 Chinese telecommunications giant Huawei could be completely banned from buying U.S.-built technology components under heightened export control restrictions being considered by the Biden administration, according to multiple reports.
See Also: Forrester Wave™ IaaS Platform Native Security Report
Multiple U.S. firms say they have been told by the Department of Commerce that it will no longer approve licenses to export American-built technology to Huawei, the Financial Times first reported.
The move comes amid heightened friction between the U.S. and China, including a mid-2022 flare-up in tensions over the status of Taiwan, which dominates the world's semiconductor market.
The United States in 2019 added Huawei and ZTE to Commerce's "entity list," effectively blocking their access to advanced U.S. technology amid long-standing fears that the companies pose national security risks. Addition to the entity list is viewed as tantamount to blacklisting but regulations allow Commerce to grant export licenses to listed companies after vetting the proposed sale. The Financial Times reports that Intel and Qualcomm obtained licenses to sell less advanced technology to Huawei, which the Shenzhen-based company incorporated into smartphones and personal computers.
The restrictions prevented Huawei from obtaining the more advanced technology it would need to build smartphones that are compatible with 5G networks, The Wall Street Journal reports.
Huawei, the world's largest telecommunications manufacturer, continues to insist that its equipment poses no national security risk.
Rising Tensions
As geopolitical competition intensifies between the U.S. and China, U.S. President Joe Biden has ordered further restrictions on supplying Chinese manufacturers and other entities.
Those moves included restricting access by Chinese organizations to advanced semiconductors and chipmaking tools, said Matt Sheehan, a fellow at the Carnegie Endowment for International Peace.
"The restrictions require a hard-to-get license for the sale of advanced semiconductors to entities within China, largely depriving the country of the computing power it needs to train artificial intelligence at scale," Sheehan reported. "The rules also extend restrictions on chipmaking tools even further to industries that support the semiconductor supply chain, cutting off both the U.S. talent and the components that make up the tools that make the chips."
The White House has yet to comment publicly on the potential move to a full ban on supplying Chinese firms with advanced U.S. chips or semiconductor manufacturing technology.
"Working closely with our interagency export controls partners at the Departments of Energy, Defense and State, we continually assess our policies and regulations and communicate regularly with external stakeholders," a U.S. Commerce Department spokesperson told the BBC.
"We do not comment on conversations with or deliberations about specific companies," they added.
Last week, the White House said Dutch and Japanese officials were in Washington for talks, including discussions about supply chain security and proposals to block China's access to advanced semiconductor-building technology. Such a proposal could prevent Beijing from realizing its domestic semiconductor-manufacturing ambitions.
On Friday, Dutch Prime Minister Mark Rutte told reporters in The Hague that any potential agreement was unlikely to be publicized. "Talks are ongoing, for a long time already, but we don't communicate about this, and if something would come out of this, it is questionable if this will be made very visible," Rutte said.
"This is such a sensitive topic that the Dutch government chooses to communicate diligently, and that means that we only communicate in a very limited way," he added.
U.S. officials have also avoided direct comments. "We can't talk about the deal right now," Deputy Secretary of Commerce Don Graves told reporters.
5G Network Rollouts
At the same time that the U.S. government has been working to stymie Beijing's access to advanced technology, it also has been working to expunge the use of Chinese-built telecommunications equipment by American carriers large and small, which remains a lengthy and expensive undertaking (see: FCC Faces $3B Shortfall in Huawei Rip-and-Replace Program).
Biden in November 2021 signed into law the Secure Equipment Act, which prohibits the Federal Communications Commission from approving any license that uses technology built by five Chinese manufacturers, if it poses a national security risk. That has blocked Huawei from supplying 5G equipment to the U.S.
Telecommunications firms in the United States -as well as close allies and Five Eyes partners the United Kingdom, Canada and Australia - have effectively been banned from using new technology from the likes of Huawei and ZTE, not least as part of their 5G networks.
While no EU country has banned Chinese vendors from its telecommunications networks, multiple European nations - as well as Five Eyes partner New Zealand - have chosen to not use Chinese-built gear as part of their national 5G rollouts.