VMware | Multi-Cloud Management Summit and Awards,2022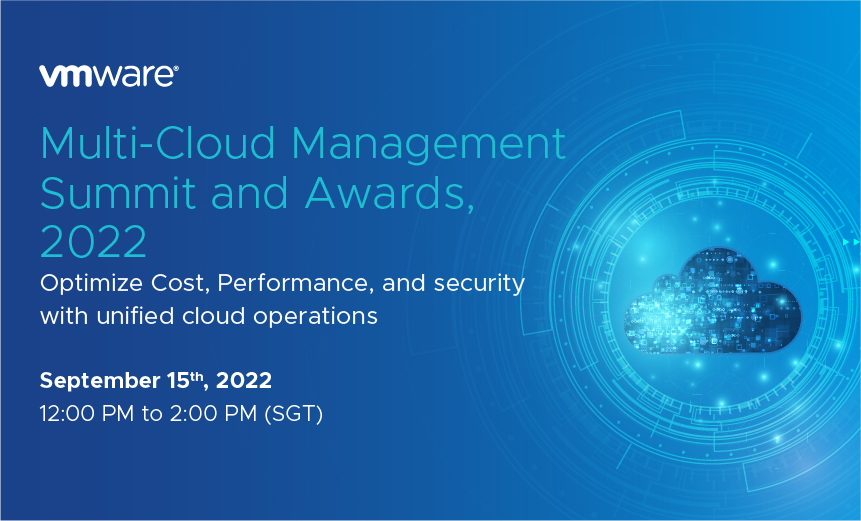 Applications have increasingly been driving digital business success. Today, Enterprise and Government agencies have accelerated Application and Multi-Cloud driven business initiatives to speed up new product launches, improve customer experience and increase business and IT efficiency, and therefore realize higher ROI and shareholder value. This trend is resulting into more than ~80% enterprises using more than one cloud (private, public, edge) to get the best services for running applications. Yes, Multi-Cloud is the future for all organizations.
Join VMware's Multi-cloud Management Summit and Awards hosted by VMware Global and Asia-Pacific leaders resp. – to explore how can you build your own personified Cloud Operating Model to Simplify, Optimize and Secure your Multi-cloud consumption which will allow your team to innovate faster, spend less and stay in control of your cloud choices. Moreover, it will be a great opportunity to understand the successes of VMware's esteemed customers during Awards ceremony.
AGENDA
Welcome Address - 5 minutes
Business Keynote: Design your Multi-Cloud Strategy for freedom of Choice - 20 minutes
Customer Innovation Showcase: Success Story – 20 minutes
Technical Keynote: How to build your own personified Cloud Operating Model – 15 minutes
Power Demo: How a Cloud Operating Model will Simplify , Optimize & Secure your Multi Cloud Consumption – 30 minutes
Multi-Cloud Management Customer Awards, 2022 – 15 minutes
Q&A - 5 minutes
WHY ATTEND:
Catch the latest and greatest: Hear from VMware leadership, on the latest innovation and product launches around Multi-cloud Management solutions
Expert Deep-dive: Hear from VMware multi-cloud management experts, real-life examples, and product demonstrations
Real-world stories: Listen to stories about peers who are innovating and transforming