Security Awareness Programs & Computer-Based Training , Training & Security Leadership
Vista Equity Bids to Take KnowBe4 Private at $4.2B Valuation
Vista's $24-Per-Share Bid Comes 17 Months After Security Awareness Firm Went Public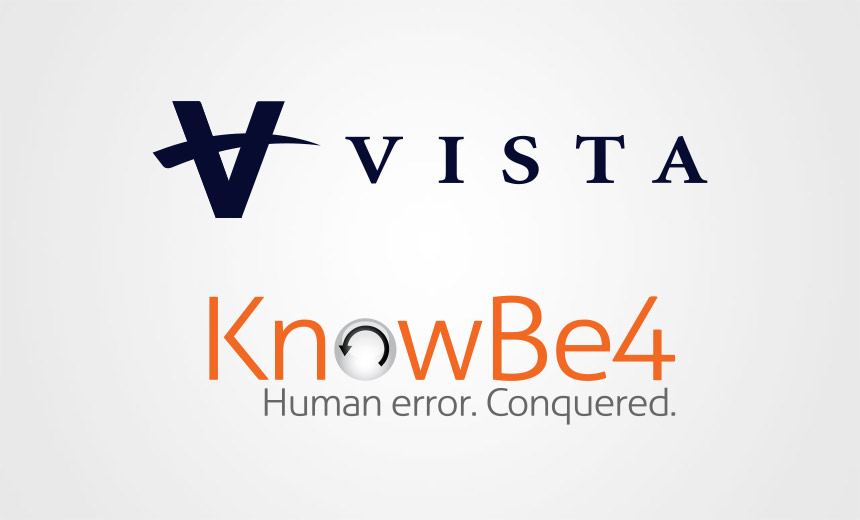 Vista Equity Partners has joined Thoma Bravo in the take-private cybersecurity spree, offering to buy security awareness training behemoth KnowBe4 at a $4.22 billion valuation.
See Also: 10 Belt-Tightening Tips for CISOs to Weather the Downturn
Tampa, Florida-area KnowBe4 says it received a nonbinding offer of $24 per share for the 90.65% of outstanding shares not currently owned by Vista Equity, an Austin, Texas-based global investment giant. Vista Equity's offer represents a 39% premium to KnowBe4's closing price Friday of $17.30 per share and values KnowBe4 at $4.22 billion given the 175.7 million shares of company stock outstanding.
"We have been investors in the company since early 2021 and we have a deep understanding and appreciation of the company's business as well as the opportunities and challenges facing the company," Vista Equity Partners CEO Robert F. Smith wrote in a letter. "We welcome the opportunity to discuss the proposal and share our thoughts on why this transaction is a compelling opportunity."
KnowBe4's stock was up $4.70, or 27.2%, to $22 per share in premarket trading Monday, which is the highest the company's stock has traded since April 28. The 8.3% gap between KnowBe4's premarket trading price and Vista Equity's per-share offer price reflects some uncertainty over whether this deal will actually come to fruition (see: The Evolution of Phishing From Email to SMS and Voice Hacks).
KnowBe4 Committee to Decide Fate of Vista Bid
KnowBe4 has formed a special committee of nonemployee members of the company's board of directors to engage with Vista Equity and take actions it deems appropriate, with the assistance of independent financial and legal advisers. Vista Equity's offer comes just 17 months after KnowBe4 completed a Nasdaq initial public offering that raised $152 million on a $2.6 billion valuation.
"The special committee will carefully review the Vista proposal and other potential value creation opportunities to determine the course of action that it believes is in the best interest of KnowBe4 and its stockholders," KnowBe4 says in a statement. "There is no certainty that any transaction will be consummated."
Vista Equity currently owns 16.4 million shares of KnowBe4 stock, or approximately 9.35% of the company's 175.7 million shares of outstanding Class A and Class B stock. That makes Vista Equity KnowBe4's third-largest shareholder, behind only venture capital firm Elephant - which owns 21.1% of the company's stock - and fellow private equity rival KKR, which owns 14.9% of the company's stock.
The offer makes Vista Equity the first firm to join Thoma Bravo in capitalizing on the market downturn to buy publicly traded security vendors at a discount. Thoma Bravo in August bought identity governance firm SailPoint for $6.9 billion and agreed to buy identity and access management vendor Ping Identity for $2.8 billion. The private equity firm also talked with security AI vendor Darktrace but couldn't agree on terms.
KnowBe4 Turns a Profit on Surging Sales
KnowBe4 has experienced massive growth in recent years, with sales expected to jump to at least $333 million in 2022, up 35.2% from $246.3 million in 2021 and 90.4% from $174.9 million in 2020. The company has recorded a profit of $4.7 million, or $0.03 per share, in the six months ended June 30, 2022, improved from a net loss of $14.7 million, or $0.24 per share, in the first half of 2021.
"As current geopolitical events have indicated, the need for organizations to establish a strong security culture has never been more important," KnowBe4 founder and CEO Stu Sjouwerman said last month. "We believe our current product portfolio, coupled with the release of new products planned for later this year, positions us very well to take advantage of the market's heightened focus on security."
The company in October purchased startup SecurityAdvisor for $80 million to identify and correlate human behavior-driven security alerts generated across each layer of the existing security stack. Seven months earlier, the company purchased security and privacy training company MediaPro for $37.9 million. All told, KnowBe4 made eight acquisitions between fall 2017 and fall 2021.
Nearly 83% of the company's $155.8 million in sales during the first half of 2022 came from North America, and the remaining 17.2% of the company's revenue was generated abroad. KnowBe4 employed 1,102 people in the United States and 264 people outside the U.S. as of Dec. 31, 2021, according to regulatory filings.
Vista Equity's security footprint outside of KnowBe4 is somewhat limited; the private equity firm has invested in or owns a stake in Critical Start, Infoblox, Menlo Security, Ping Identity and Securonix. The firm currently owns nearly 10% of Ping Identity's stock, but Vista Equity's stake in the company will be eliminated once Thoma Bravo closes its $2.8 billion take-private acquisition.
The firm owned Infoblox outright from November 2016 to December 2020, when it sold a 50% stake to Warburg Pincus in a deal valuing the network identity appliance provider at $3 billion. Vista Equity led a $100 million Series E round for SWG. firm Menlo Security in November 2020, a $1 billion investment in SIEM firm Securonix in February 2022, and a $215 million investment in MDR firm Critical Start in April.