Security Awareness Programs & Computer-Based Training , Video
Video: Searching for the Good Hacker
Cyber Challenge Helps Keep Eager Students Away from the Evil Side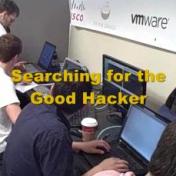 The U.S. Cyber Challenge, a privately run and government promoted series of camps and competitions, is aimed at identifying and encouraging individuals - mostly students from high school through graduate school - to make information security their career. (Text continues below video player.)

This summer, three states - California, Delaware and New York - sponsored security treasure hunts in which participants were challenged to identify security flaws on a target system and answer questions based on those issues. The competitions, which each lasted a half day, were preceded by a camp in which the SANS Institute provided IT security training to challenge participants - undergraduate and graduate students and college graduates - who were selected from hundreds of applicants who scored highest on an online quiz.

This mini-documentary, U.S. Cyber Challenge: Searching for the Good Hacker, was recorded in mid-summer 2010 at the Polytechnic Institute of New York University in Brooklyn, N.Y.

The voice heard at the beginning of the video is of SANS Institute Research Director Alan Paller, in an address to the Brooklyn competitors.