Anti-Money Laundering (AML) , Cryptocurrency Fraud , Cyberwarfare / Nation-State Attacks
US Seizes $2 Million in Cryptocurrency From Terrorist Groups
Justice Department Describes How Groups Raised Funds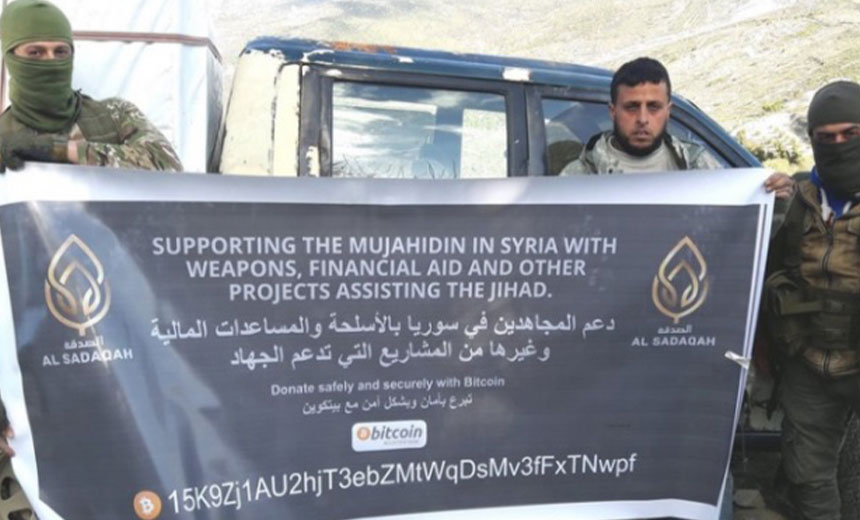 The U.S. Justice Department announced Thursday that federal agencies have seized more than $2 million worth of cryptocurrency from terrorist groups.
See Also: Live Webinar | Generative AI: Myths, Realities and Practical Use Cases
The seizure of bitcoins and other virtual currencies by the Justice Department – along with the FBI, Department of Homeland Security and IRS - is the federal government's largest seizure of cryptocurrency related to terrorism financing, according to Thursday's announcement.
U.S. law enforcement also seized 300 cryptocurrency accounts, four websites and four Facebook pages all designed to raise funds for three terrorist organizations: ISIS, al Qaeda and the al Qassam Brigades, the military wing of Hamas. U.S. officials are also seeking to confiscate additional funds as investigations and forfeiture proceedings continue.
The Justice Department also unsealed criminal charges against two Turkish nationals who allegedly ran an unlicensed money transmitting business and helped launder some of the funds for one of the terrorist groups.
Raising Funds
The three terrorist organizations used a variety of methods, including appeals on social media platforms, to raise money and to hide transactions from law enforcement.
"By raising cryptocurrency on social media, these terrorists tried to bring terrorist financing into the current age. But these actions show that law enforcement remains a step ahead of them," says John Demers, assistant attorney general for the Justice Department's National Security Division.
Although terrorist groups or their affiliates assured those donating money that their cryptocurrency exchanges were anonymous, law enforcement used third-party services and software to trace these transactions through the blockchain associated with various digital wallets, Justice Department officials say.
"While the identity of the [bitcoin] address owner is generally anonymous (unless the owner opts to make the information publicly available), law enforcement can identify the owner of a particular [bitcoin] address by analyzing the blockchain," according to the criminal complaint in the case.
Terrorist Solicitations
The schemes to solicit cryptocurrency for terrorism-related causes included direct appeals to would-be donors through social media and other websites, as well as scams that could illegally raise funds, according to the Justice Department.
The federal prosecutors found that the al-Qassam Brigades organization openly solicited donations through its websites and social media pages.
"The al-Qassam Brigades boasted that bitcoin donations were untraceable and would be used for violent causes. Their websites offered video instruction on how to anonymously make donations, in part by using unique bitcoin addresses generated for each individual donor," the Justice Department notes in its Thursday announcement.
Since 2019, U.S. law enforcement has seized about 150 cryptocurrency accounts that laundered funds to and from the al-Qassam Brigades' accounts, according to the Justice Department. Federal prosecutors have also opened up several investigations into donations that came from the U.S.
In the case of al-Qaeda, the Justice Department found that affiliate groups working in Syria operated a bitcoin money-laundering network that used social media platforms, such as Telegram, to solicit virtual currency donations. U.S. law enforcement officials are attempting to seize 155 virtual currency assets associated with this scheme.
In some instances, donors were duped into believing they were giving money to legitimate causes, but in other cases, the al-Qaeda affiliates openly asked for donations to buy weapons, according to the Justice Department.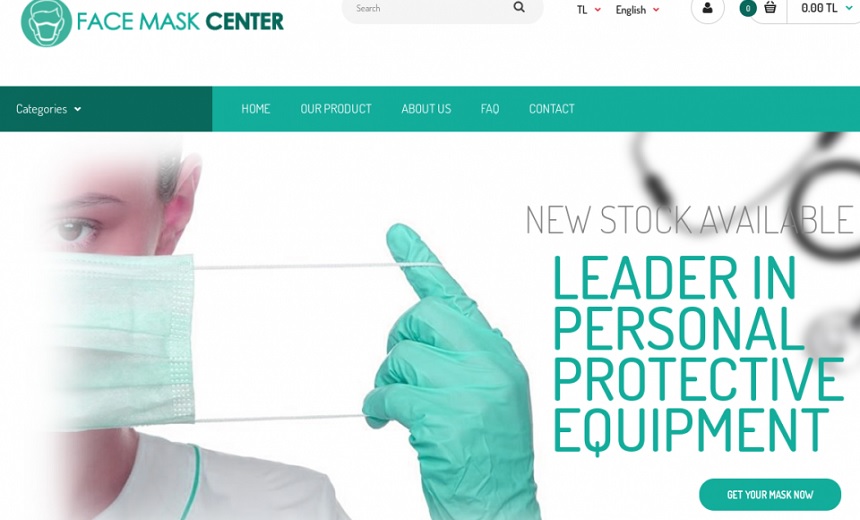 Screen shot of website selling fake N95 masks associated with an ISIS scam (Source: Justice Department)
U.S. investigators found an associate of the terrorism group ISIS attempting to sell phony N95 masks and other fake personal protective equipment through a website called FaceMaskCenter.com, according to the Justice Department. The FBI and other law enforcement agencies have seized the FaceMaskCenter.com website along with four Facebook pages associated with that scheme.
Cryptocurrency and Terrorism
A January report from blockchain analysis firm Chainalysis found that cybercriminals were increasingly using sophisticated methods to turn illicitly gained cryptocurrency into cash, raising concerns about enforcing anti-money laundering laws (see: How Cybercriminals Are Converting Cryptocurrency to Cash).
The report found that rogue cryptocurrency exchanges - called "over-the-counter brokers" have made tracking virtual currency used in cybercrime, as well as terrorist financing, more difficult for law enforcement.
"What's especially worrying are the advancements in technical sophistication that have enabled successful terrorism financing campaigns using cryptocurrency," the report stated.