Cybercrime , Fraud Management & Cybercrime , Next-Generation Technologies & Secure Development
US Now Accuses Assange of Conspiring With Hacking Groups
Superseding Indictment Expands Scope of Case, But Doesn't Add Charges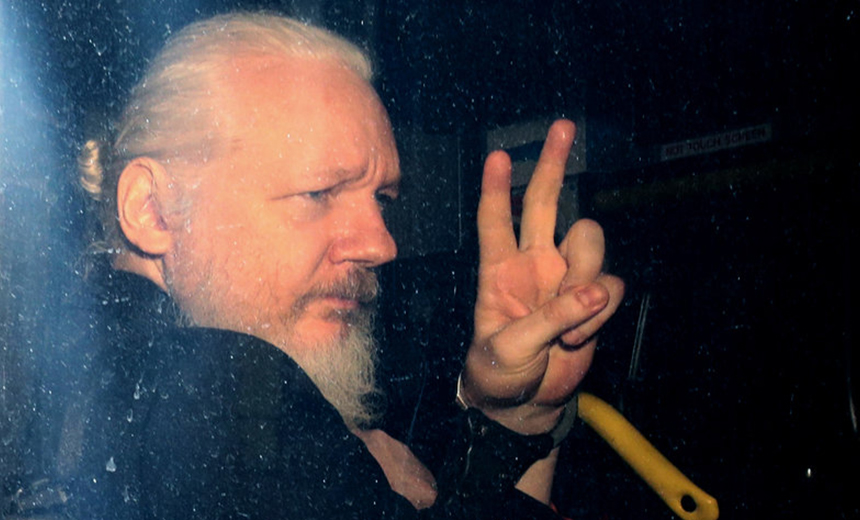 The U.S. Department of Justice on Wednesday unsealed a superseding indictment against WikiLeaks founder Julian Assange that expands the scope of the government's case against him and describes new accusations of conspiring with the Anonymous and LulzSec hacking groups to obtain classified information to publish.
The superseding indictment does not add any new criminal charges against Assange, who already faces 18 counts under the U.S. Espionage Act for his role in publishing classified material through the WikiLeaks site. The new court documents, however, add more details about his alleged contacts with the two hacking groups.
See Also: Live Webinar | Breaking Down Security Challenges so Your Day Doesn't Start at 3pm
In the new indictment unsealed this week, federal prosecutors allege that in 2012, Assange was in direct communication with a leader of the LulzSec hacking group and provided him with a list of targets to hack. The indictment further alleges that WikiLeaks also obtained and published leaked data from an American intelligence consulting company after it was targeted by hackers affiliated with Anonymous and LulzSec.
At the time, Assange's LulzSec contact was cooperating with the FBI, according to the Justice Department.
Still Detained in U.K.
Assange was arrested by British police in Ecuador's London embassy in April 2019 after the country revoked his asylum protection.
He is continuing to fight extradition to the U.S. to face federal charges (see: WikiLeaks' Julian Assange Arrested; US Seeks Extradition).
Assange's extradition hearing has been delayed several times because of the COVID-19 pandemic; his next court date is set for September, according to the Guardian.
If found guilty of the charges under the Espionage Act, he could face a maximum penalty of 10 years in prison on each count and another five years for conspiracy to commit computer intrusion, according to federal prosecutors.
Since the Justice Department first brought its case against Assange in May 2019, the 48-year-old Australian native and his attorneys have denied the charges and claimed that the publishing of government documents is protected by the First Amendment (see: Assange Indicted in US Under Espionage Act).
After the superseding indictment was unsealed Wednesday, Assange's lawyer, Barry Pallok, told the Associated Press: "The government's relentless pursuit of Julian Assange poses a grave threat to journalists everywhere and to the public's right to know. The indictment continues to charge him with violating the Espionage Act based on WikiLeaks publications exposing war crimes committed by the U.S. Government."
WikiLeaks founder Assange faces new indictment in US

Assange's lawyer, Barry Pollack, said in a statement that "the government's relentless pursuit of Julian Assange poses a grave threat to journalists everywhere and to the public's right to know."https://t.co/rIebLHz08d

— WikiLeaks (@wikileaks) June 25, 2020
Alleged Conspiracy
The newly unsealed indictment accuses Assange of recruiting and conspiring with the two hacking groups to target certain organizations and publish classified documents on the WikiLeaks site. In highlighting one instance, federal prosecutors allege that Assange instructed a LulzSec hacker to target a specific organization and look for data such as e-mails, documents, databases and PDFs.
Federal prosecutors also allege that Assange gained unauthorized access to NATO's IT network.
"In another communication, Assange told the LulzSec leader that the most impactful release of hacked materials would be from the CIA, NSA, or the New York Times," according to the Justice Department.
Password Cracking Allegations
The superseding indictment continues to allege that Assange conspired with former Army Intelligence Analyst Chelsea Manning to crack a password hash for a classified U.S. Department of Defense computer in order to access classified documents.
Manning uploaded thousands of classified documents to Wikileak's cloud storage in early 2010. Those included information on Afghanistan and Iraq wars, details on Guantanamo Bay detainees and over 250,000 U.S. Department of State cables, according to previous Justice Department statements.
Manning was sentenced to 35 years in federal prison in 2013 for leaking the classified documents, but her sentence was commuted by former President Barack Obama in early 2017 (see: Obama Commutes Sentence of WikiLeaks Leaker Manning).
In 2019, Manning was incarcerated again for refusing to testify before a grand jury investigating Assange, according to the New York Times.