Blockchain & Cryptocurrency , Cryptocurrency Fraud , Fraud Management & Cybercrime
UK Proposes Regulations to Curb Illicit Use of Crypto
Aim Is to 'Make It Harder' to Engage in Fraud, Ransomware Payments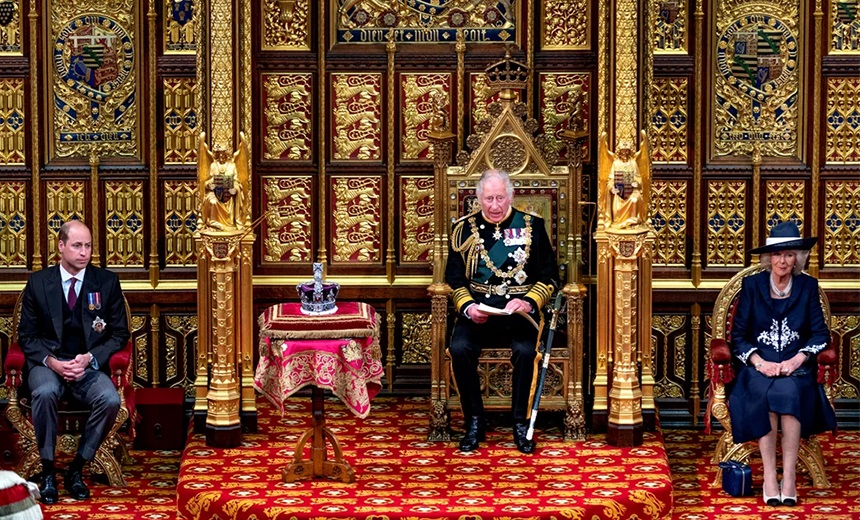 The United Kingdom has proposed two new pieces of legislation - the Financial Services and Markets Bill and the Economic Crime and Corporate Transparency Bill - to regulate the digital assets industry and curb the use of virtual currency in illicit activity.
See Also: JavaScript and Blockchain: Technologies You Can't Ignore
The announcement was part of the Queen's Speech, a portion of which was read by Prince Charles at the opening of the U.K.'s new Parliament session.
The country is set to introduce legislation for safe adoption of cryptocurrencies, in a bid to strengthen its financial services industry. The Financial Services and Markets Bill aims to leverage the "opportunities of innovative technologies in financial services, including supporting the safe adoption of cryptocurrencies and resilient outsourcing to technology providers."
To protect businesses and crack down on the illicit use of virtual currencies in economic crimes, the UK has also proposed the Economic Crime and Corporate Transparency Bill, which aims to tackle economic crime, including fraud and money laundering, by "delivering greater protections for consumers and businesses, boosting the UK's defenses and allowing legitimate businesses to thrive." It is also intended to "make it harder for kleptocrats, criminals and terrorists to engage in money laundering, corruption, terrorism-financing, illegal arms movements and ransomware payments."
The bill, Prince Charles said in the speech, will create powers to "more quickly and easily seize and recover crypto assets, which are the principal medium used for ransomware." It will also set up civil forfeiture powers to address risks perpetrated by those who cannot be criminally prosecuted but "use their funds to further criminality." Businesses in the financial sector will also be required to share information to ensure more effective prevention and detection of economic crime.
The Home Office of the U.K. and its Treasury Department, the lead departments for the Economic Crime and Corporate Transparency Bill and the Financial Services and Markets Bill, respectively, did not respond to Information Security Media Group's request for additional details.
'Watershed Moment'
Ari Redbord, former U.S. Treasury executive and head of legal and government affairs at TRM Labs, describes the latest proposals as a "watershed moment" for cryptocurrencies.
"The Queen of England's agenda to open Parliament included two bills that attempt to build clearer frameworks for digital assets. Over the course of the last few months - from [U.S. President Joe] Biden's EO [executive order] to announcements by U.K. financial regulators - we have seen a call for leadership in the space. Today's agenda continues that call," he says.
The bills seem to strike a good balance between protecting consumers and investors and encouraging crypto innovation in the U.K., says Avivah Litan, vice president analyst at Gartner Research and a member of NIST's Information Technology Laboratory, specializing in blockchain innovation, AI trust, risk and security management.
"The U.K. is rightfully focusing on making it easier to seize criminals' stolen or ill-gotten crypto assets - e.g., via ransomware - and on protecting investors and the markets from stablecoins that are not stable. As we have seen in recent days, the new popular Algorithmic stablecoin, UST, lost its peg to the U.S. dollar because of the crash in crypto markets. This is causing further havoc in the crypto markets that can lead to a 'run on the banks,'" she says.
Karl Steinkamp, director of cybersecurity advisory services company Coalfire, raised the compliance challenges the bills pose.
While the bills are likely positive steps forward for the use of crypto within the U.K., the implementation specifics behind each of them are unclear and thus, less effective, he tells ISMG.
"Without further specificity, there are components of the Economic Crime and Corporate Transparency Bill that may be too overreaching, violating business and consumer privacy and data."
Also, the Financial Services and Markets Bill makes no mention of which crypto assets are being considered, he says. "It makes a reference to using technology providers with the crypto ecosystem. It would be helpful to understand which VASPs [virtual asset service providers] are being considered and for what purposes they are being enlisted in order to help businesses and citizens adopt crypto assets within the U.K."
Other Regulation, Law Enforcement Activities
In April, the U.K. set forth its intention to amend its regulations to allow the use of stablecoins as part of its formal payments mechanism. The statement confirmed the "government's intention to take the necessary legislative steps to bring activities that issue or facilitate the use of stablecoins used as a means of payment into the U.K. regulatory perimeter, primarily by amending existing electronic money and payments legislation."
"It is, further, the government's intention to consult later this year on regulating a wider set of cryptoasset activities, in view of their continued growth and uptake worldwide," the statement said.
"By recognizing the potential of this technology and regulating it now, the government can ensure financial stability and high regulatory standards so that these new technologies can ultimately be used both reliably and safely," the U.K. Treasury Department said at the time.
The U.S. also appears to be focusing efforts on curbing the use of cryptocurrency in illicit activity.
Last week, the U.S. Securities and Exchange Commission increased the number of positions in the Crypto Assets and Cyber Unit to "police wrongdoing in the crypto markets while continuing to identify disclosure and controls issues with respect to cybersecurity." The unit will increase its focus on investigating securities law violations related to cryptoasset offerings, cryptoasset exchanges, cryptoasset lending and staking products, decentralized finance platforms, non-fungible tokens and stablecoins (see: SEC Doubles Cyber Unit Staff to Protect Crypto Users).
Also, U.S. Treasury Secretary Janet Yellen recently called for more regulation in the virtual currency sector.
She said: "With respect to digital assets, new products and technologies may present opportunities to promote innovation and increase efficiencies. However, digital assets may pose risks to the financial system, and increased and coordinated regulatory attention is necessary."
"On March 9, 2022, President Biden signed an executive order calling for a comprehensive approach to digital asset policy. The council is drafting a report that will identify financial stability risks and regulatory gaps. I look forward to working with you on the issues and opportunities posed by digital assets. We are also eager to work with you to ensure that payment stablecoins and their arrangements are subject to a federal prudential framework on a consistent and comprehensive basis."
The U.S. also sanctioned a virtual currency mixer - Blender.io - for the first time and, also for the first time, imposed charges associated with an NFT rug pull.