Cybercrime , Fraud Management & Cybercrime , Governance & Risk Management
White House Says It's Been 'Very Tough' on Russia
Russia's US Election Interference: Trump Administration Defends Response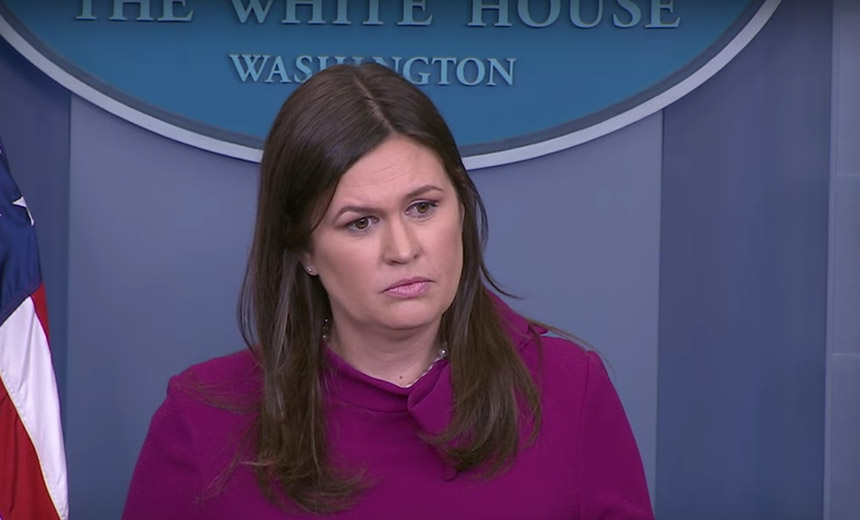 What is the White House doing to counter ongoing attempts by Russia to interfere with U.S. politics?
See Also: JavaScript and Blockchain: Technologies You Can't Ignore
That question dominated a Tuesday press briefing at the White House, following Special Counsel Robert Mueller on Friday unsealing an indictment accusing 13 Russian nationals and three Russian entities of a criminal conspiracy designed to meddle in the 2016 presidential election (see US Indicts 13 Russians for Election Interference).
The White House says it's already been "very tough" on Russia in response to its election meddling.
But the question of Russian interference in U.S. society isn't just about elections. This week, two groups that track Twitter accounts with suspected ties to Russian government disinformation operations said they've seen efforts aimed at increasing tensions over the Feb. 14 shooting at a school in Parkland, Florida.
Russian Bots Debate Parkland
New Knowledge, a firm that tracks online disinformation campaigns, as well as Alliance for Securing Democracy, in partnership with research group the German Marshall Fund, report that suspected Russian bots have been debating the issue, often using the hashtag #Parklandshooting.
"This is pretty typical for them, to hop on breaking news like this," says Jonathon Morgan, CEO of New Knowledge. "The bots focus on anything that is divisive for Americans. Almost systematically."
As the information security expert known as the Grugq says, when conducting information operations, the topic of conversation is secondary to the outcome that can be achieved.
Don't get too caught up in the 'lies' side of IO. The point is polarization
> "Pick the target, freeze it, personalize it, and polarize it"¹
Veracity of the content used for polarization is irrelevant, it's the outcome that mattershttps://t.co/QyMMdJ8DM4
__
¹ Rules for Radicals

— the grugq (@thegrugq) February 21, 2018
Sessions Promises to Study Threat
On Tuesday, Attorney General Jeff Sessions said that in response to the "global cyber threat," he is "ordering the creation of a Cyber-Digital Task Force to advise me on the most effective ways that this department can confront these threats and keep the American people safe." The Justice Department says one of the group's many priorities will be the "study of efforts to interfere with our elections."
"At the Department of Justice, we take these threats seriously," Sessions said.
The announcement of the task force, which will be composed of federal officials, comes 13 months after the U.S. intelligence community's January 2017 assessment that a Russian campaign, likely authorized by Russian President Vladimir Putin, attempted to interfere in the 2016 elections by boosting President Donald Trump's chances against those of his rival, Democratic presidential nominee Hillary Clinton.
Disruption Efforts Continue
Moscow continues to deny that it interferes in U.S. politics.
Trump has regularly given credence to those claims. Last November, after meeting with Putin at the Asia-Pacific Economic Cooperation summit in Vietnam. "Every time he sees me he says, 'I didn't do that,' and I really believe that when he tells me that, he means it," Trump told reporters.
The White House has been facing increasing questions over what it plans to do to counter Russia's information warfare efforts.
Last week, six of the nation's intelligence and law enforcement chiefs warned the Senate Intelligence Committee that they had seen no decrease in Russia's propaganda efforts since the 2016 elections.
"At a minimum, we expect Russia to continue using propaganda, social media, false-flag personas, sympathetic spokespeople, and other means of influence to try to exacerbate social and political fissures in the United States," said Director of National Intelligence Dan Coats (see Russia Will Meddle in US Midterm Elections, Spy Chief Warns).
Trump's Response: 'Very Tough'
Press Secretary Sarah Sanders fields questions on the White House response to alleged Russian interference in U.S. elections, on Feb. 20.
Asked for proof that the Trump administration is taking Russian election meddling seriously, White House Press Secretary Sarah Sanders claimed Trump has been "very tough" on Russia, via U.S. government military investments, energy exports to Eastern Europe, keeping Obama-era sanctions in place, helping to arm Ukrainians as well as closing three of Russia's diplomatic properties in the U.S.
"It's very clear that Russia meddled in the election."
—Sarah Sanders
She also pointed to this past weekend's meetings between Department of Homeland Security officials and state officials in charge of securing their states' voting processes as evidence of the White House responding to election interference attempts.
"The Department of Homeland Security ... met with state and local officials just over the last several weeks, along with election vendors, to make sure that our election system is secure. Last [week], they met with state and private officials on how best to secure the election system from foreign interference," she said.
The meetings occurred during a conference for states' secretaries of state held in Washington, at which the topic of election cybersecurity dominated. Some secretaries of state, however, told Reuters that while working relationships with DHS have improved, much more needs to be done not just to secure voting machines but also counter nation-state information warfare campaigns (see States Seek Federal Help to Combat Election Interference).
Sanders also says the White House is working with allies. "We're not the only targets of foreign interference, and we're working our allies, on a daily basis, to make sure that we're following best practices," she said. "This has been a topic of conversation with multiple foreign heads of state."
Sanders: Trump Acknowledged Russian Meddling
Sanders claimed Trump has acknowledged at least three times that Russia attempted to interfere in U.S. elections.
"One of the places where you guys seem to get very confused - and it seems to happen regularly - the president hasn't said that Russia didn't meddle," she told reporters. "What he's saying is it didn't have an impact and it certainly wasn't with help from the Trump campaign. It's very clear that Russia meddled in the election."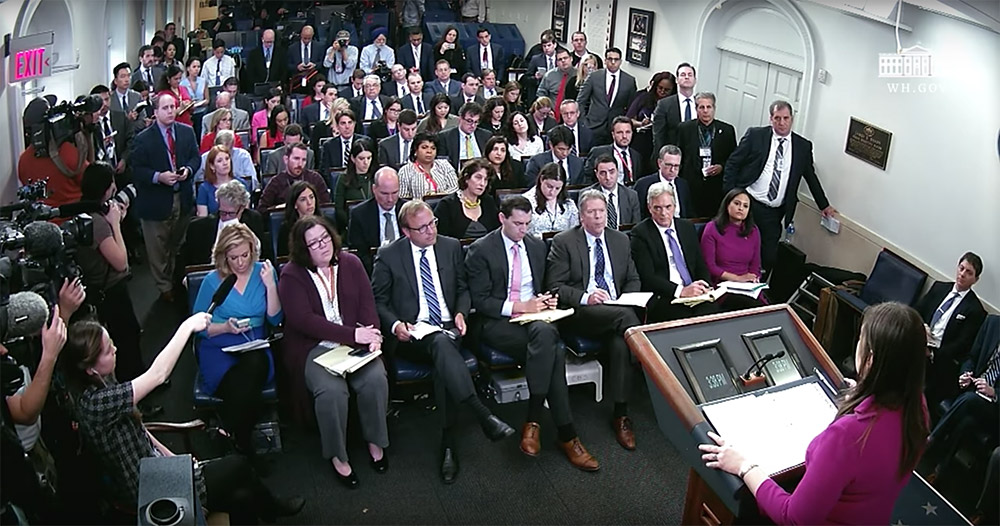 Press Secretary Sarah Sanders briefs reporters on Feb. 20.
Sanders also promised that Russia's interference will have consequences. "Just last week, we called out Russia by name. It was one of the first times that you've seen something like that take place. We're going to continue doing things like that," she said.
Cryptically, she added: "Just last week, there was an incident that will be reported in the coming days, and another way that this president was tough on Russia."