Treasury Rescue Plan: Top Banks to Get Top Dollars
$125 Billion Going to Nine Top Banks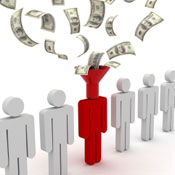 As part of the U.S. economic rescue plan announced by President George W. Bush and top government officials on Monday, several major banks look to receive investments ranging from $2 to $25 billion.

In all, thousands of banks are expected to benefit from $250 billion in spending, but nine institutions (Merrill Lynch is considered part of Bank of America) will receive roughly half that investment. According to the latest information from The New York Times, the largest recipients are:

Bank of America - $25 billion

Citgroup - $25 billion

JPMorgan Chase - $25 billion

Wells Fargo - $25 billion

Goldman Sachs - $10 billion

Morgan Stanley - $10 billion

Bank of New York - $2-3 billion

State Street - $2-3 billion

See Also: Live Expert Panel | Data Classification: The Foundation of Cybersecurity Compliance

U.S. Treasury Secretary Henry Paulson told banks they must deploy this money -- not hold it. Paulson adds that banking regulators, including the Federal Reserve and the FDIC, "appreciate that these healthy institutions are taking these steps to strengthen their own positions and to enhance the overall performance of the U.S. economy."

These banks are only the beginning, says Paulson, as thousands of institutions are expected to take part in the government infusion. This participation will enhance the banks' capacity to lend to consumers and businesses. "They have also committed to continued aggressive actions to prevent unnecessary foreclosures and preserve homeownership," Paulson notes.

Hints that this government intervention would happen hit the news over the weekend, leading to world stock markets roaring back into the positive range. The U.S. stock market on Monday saw its biggest gain ever -- 936 points. This record came after the worst week in history for the markets.

The $125 billion infusion in exchange for preferred shares is part of a $700 billion rescue approved on October 3 by Congress. This follows a pattern set by European governments to loosen credit markets by helping troubled banks. Last week the U.K. pledged $88 billion to recapitalize its banks and guarantee interbank lending. The U.K. plans to inject $63 billion into Royal Bank of Scotland, and HBOS and Lloyd TSB Group. France, Germany, Spain, Austria and the Netherlands have staked $1.8 trillion to guarantee bank loans at the lenders in those countries.

Last week, the International Monetary Fund estimated that banks around the world would need $675 billion in fresh capital over the next several years to recover. The IMF also said Oct. 7 that losses tied to U.S. loans and securitized assets would total $1.4 trillion, an almost 50 percent increase from a prediction in April.

Banks have struggled to regain the confidence of investors and clients after bad loans, many of them tied to mortgages and housing construction, caused $637 billion of write-downs and losses across the industry. The Treasury has already hired consultants to help review proposals to manage the bad assets the government plans to buy as part of the $700 billion bailout.