Blockchain & Cryptocurrency , Cryptocurrency Fraud , Fraud Management & Cybercrime
Treasury Official Urges Congress to Regulate Stablecoins
Official Overseeing Financial Stability Says Lawmakers Must Act Quickly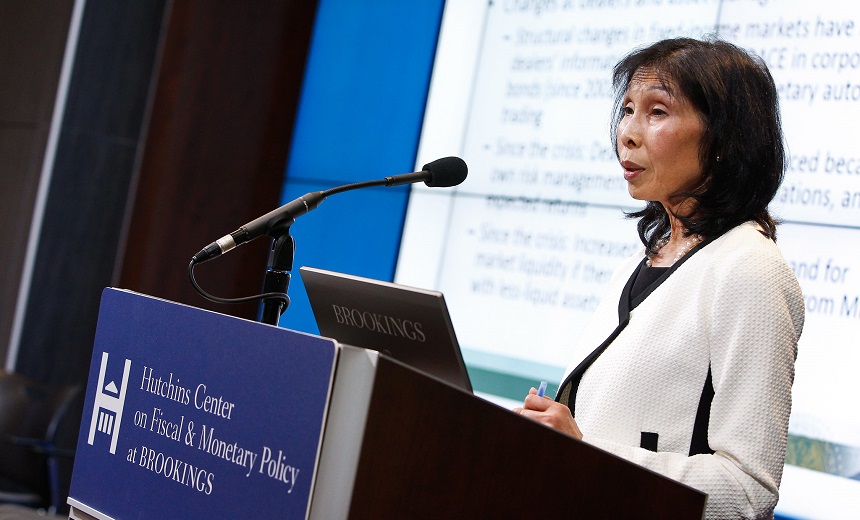 A top U.S. Department of the Treasury official said financial regulators are prepared to extend existing authorities to rein in stablecoins, although Treasury officials hope instead that Congress will move on key legislation to regulate the space.
See Also: JavaScript and Blockchain: Technologies You Can't Ignore
Nellie Liang, undersecretary for domestic finance at the Department of the Treasury and formerly the top financial stability official at the Federal Reserve, told Bloomberg on Friday that lawmakers must enact legislation to reduce risks around stablecoins - or digital assets pegged to fiat currency - including fraud, illicit finance and cybersecurity concerns. Congressional action, she said, would help protect the nation's wider financial system.
Without new legislation, Liang said, "regulators will try to use what authority they have," though it lacks oversight power. She said that authority would equate to "a little here and a little there," and warned that leveraging it could not even be described as a sufficient "plan B."
Blockchain expert David Gerard, author of the book "Attack of the 50 Foot Blockchain," tells Information Security Media Group, "Stablecoin regulation can't come soon enough. These are wildcat banks, 1800s-style. … This regulation should have been in place years ago, but now is better than never.
"Stablecoins pull the sort of nonsense that money market funds pulled to cause the 2008 financial crisis - 'dollars' backed by rubbish and complicated nonsense. … Stablecoin companies need to be regulated as either banks or accredited-investor-only money-market funds."
President's Working Group
A report issued by the Treasury Department in November also urged Congress to "act promptly" to bring additional oversight to stablecoins, including regulations that match traditional financial institutions. The report was released by the President's Working Group on Financial Markets, which is comprised of leaders from the Securities and Exchange Commission, the Federal Reserve, and the Commodity Futures Trading Commission - alongside the Federal Deposit Insurance Corp. and the Office of the Comptroller of the Currency (see: US Treasury Department Says Stablecoins Must Be Regulated).
In the report, officials say that while stablecoins are promising as a payment option, issuers should be held to standards similar to those for insured depository institutions. The report credits the SEC and CFTC with "broad enforcement, rule-making, and oversight authorities."
In a statement upon the release of the working group report, SEC Chair Gary Gensler said the stablecoin market was worth nearly $130 billion, having grown twentyfold over the past 20 months.
"It is clear that policymakers - evident from [the] report by the President's Working Group - have concerns on what they see as potential systemic risks presented by stablecoins," says Ari Redbord, head of legal and government affairs for the blockchain intelligence firm TRM Labs.
And in her remarks on Friday, Liang - who praised congressional efforts to assess stablecoin risks through recent hearings - built on the November report's findings, saying additional oversight would allow agencies to assess operational risks and apply safety standards.
US FSOC Report
Similarly, in a report issued on Friday, the U.S. Financial Stability Oversight Council, or FSOC, praises the innovative nature of blockchain-based technology, but relayed concerns over related tokens and stablecoins. In the report, the Treasury Department-based council says, "Digital assets pose risks related to illicit financing, national security, cybersecurity, privacy, and international monetary and payment system integrity."
In particular, the FSOC highlighted the potential "risk of loss" in DeFi due to cybersecurity threats, among others. DeFi, or decentralized finance, which is carried out across platforms called DApps, is highly decentralized, and in numerous security breaches this year alone threat actors have siphoned hundreds of millions of dollars, often per heist.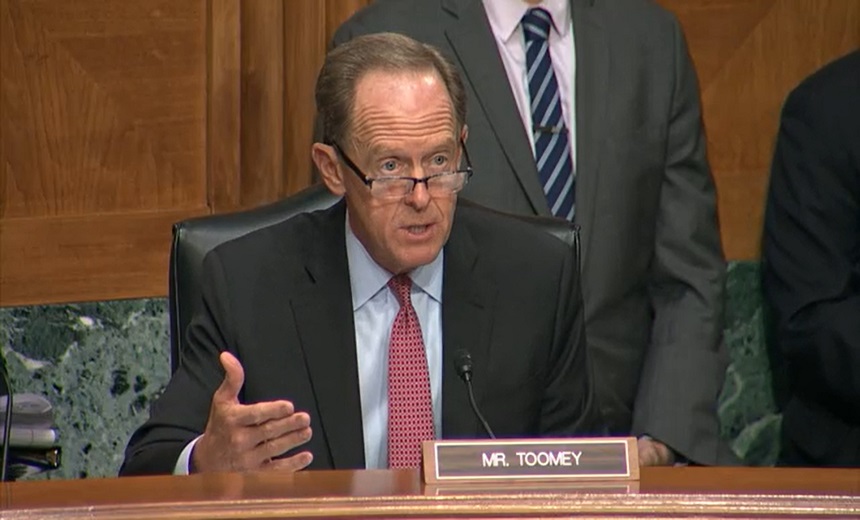 Sen. Pat Toomey, R-Pa. in a recent Senate hearing (File image)
Senator Issues Plan
In a crypto-based hearing last week, Sen. Pat Toomey, R-Pa., the top Republican on the Senate Banking Committee, touted stablecoins as being far less volatile than other digital currencies, saying, "Stablecoins can speed up payments, especially cross-border transfers, reduce costs, including remittances, and help combat money laundering and terrorist financing through an immutable and transparent transaction record" (see: Senators Urge Treasury Department to Address Crypto Brokers).
Following the hearing, Toomey released a document containing several stablecoin proposals, some of which include:
Regulation should protect the privacy, security and confidentiality of stablecoin users, including an opt-out for third-party data-sharing;
Stablecoin issuance should not be limited to insured depository institutions;
Stablecoin issuers would choose from at least three regulatory regimes based on their business models, including:
Operate under a conventional bank charter;
Acquire a special-purpose banking charter;
Register as a money transmitter under the existing state regime and as a money services business, or MSB, under FinCEN;
Also among Toomey's proposals: Issuers should have to adopt clear redemption policies and disclosure requirements.
The GOP senator's proposals, however, would likely meet Democratic resistance - including from Sen. Sherrod Brown, D-Ohio, chairman of the Senate Banking Committee, and Sen. Elizabeth Warren, D-Mass., who said during the hearing that DeFi - which does not rely on traditional intermediaries - is the "most dangerous" part of the crypto world, and largely dependent on stablecoins.
'Attractive to Illicit Actors'
TRM Labs' Redbord, who is an ISMG contributor and formerly served at the Treasury Department as a senior adviser to the deputy secretary, says that regarding illicit finance, "It is important to remember that the same qualities that make stablecoins and other cryptocurrencies a force for good - cross-border value transfer at the speed of the internet - make them attractive to illicit actors that want to move ransom payments, terrorist financing, cybercriminal proceeds and other illicit activity at unprecedented speed and scale."
Nonetheless, Redbord adds, "Law enforcement and regulators have more visibility on financial flows than they have ever had before, given the open nature of the blockchain. … It is critically important for policymakers to take into account the ability to track and trace financial flows when building out a clear legal framework for the space."
In its recently published Crypto Crime Report for 2022, the blockchain intelligence firm Chainalysis confirms that "cryptocurrency users and platforms are being targeted on a regular basis." Report authors say crypto scams, including "rug pulls," in which developers disappear with users' funds, found bad actors earning $7.7 billion from victims worldwide this year - an 81% rise over 2020.