Governance & Risk Management , Government , Industry Specific
TPG to Buy Forcepoint's Government Security Unit for $2.45B
Deal Comes 30 Months After PE Arm Francisco Bought All of Forcepoint for Just $1.1B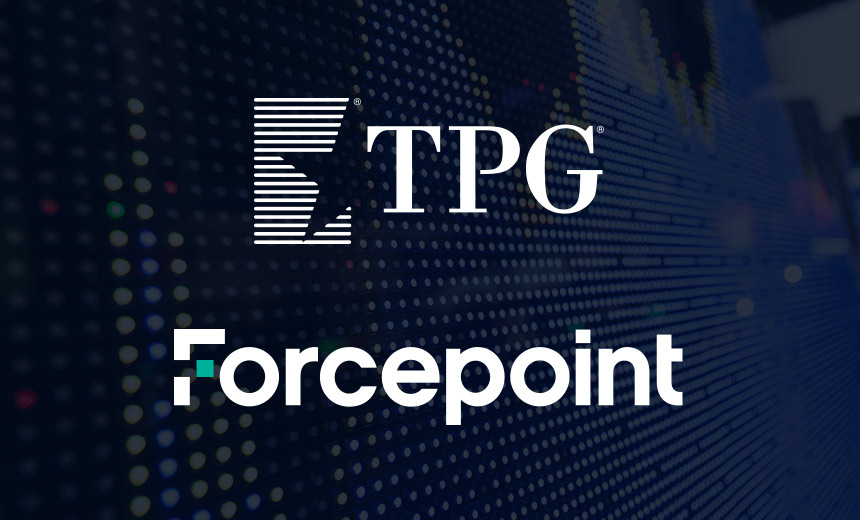 Francisco Partners plans to separate Forcepoint's government and commercial security businesses, selling the former to private equity firm TPG Capital for $2.45 billion.
See Also: Live Webinar | Cutting Through the Hype: What Software Companies Really Need from ASPM
The proposed acquisition represents an impressive return on investment for Francisco Partners, which bought all of Forcepoint from Raytheon in January 2021 for just $1.1 billion. The Wall Street Journal first reported the deal and acquisition price late Sunday. TPG's purchase of Forcepoint's Global Governments and Critical Infrastructure business is expected to close in the fourth quarter of 2023.
"TPG has a long history of carving out, building and scaling world-class cybersecurity companies," Forcepoint G2CI President Sean Berg said in a statement. "We're confident that this partnership, along with continued support from Francisco Partners, will provide us the resources and expertise to strengthen our position as a partner of choice for government agencies."
Francisco will keep a minority stake in Forcepoint G2CI and still owns Forcepoint's commercial business. Francisco's plan to sell Forcepoint's government security business was first reported in April by Reuters, which said the practice generates about $400 million of annual revenue. Forcepoint as a whole hauled in $658 million in sales in 2019, its last full year under publicly traded Raytheon, up 4% from a year earlier (see: Forcepoint CEO on How SSE Eases Unified Policy Application).
What Makes Forcepoint's Government Business Unique
Forcepoint G2CI focuses primarily on U.S. government and federal agencies as well as commercial firms that sell directly to the government. The business last year won an $89 million contract from the U.S. Department of Defense to provide software that helps monitor user activity. Berg has led Forcepoint's government business since 2017 after spending four years leading the federal practices at Polycom and Dell.
"Forcepoint has designed its platform to address the unique complexities of government objectives and culture," TPG Partner Tim Millikin said in a statement. "We're excited to partner with Sean and the G2CI team to expand the platform and further its position as a leader in high assurance, zero trust security."
Forcepoint said its offerings to secure high-speed data transfer between segmented networks and secure access to multiple domains from a single device are among the widest deployed access solutions within the Department of Defense, intelligence community and civilian federal government. The company said it has addressed the needs of the defense and intelligence community for two decades.
"Sean and the Forcepoint G2CI team have been excellent partners and built a thriving business that will benefit from operating as its own stand-alone business," Francisco Partners Partner Brian Decker said in a statement. "We are excited to remain investors in the business and partner with the management team at TPG to help it continue to grow and succeed."
How Forcepoint Has Fared Under Francisco
Shortly after completing its acquisition of Forcepoint in January 2021, Francisco Partners tapped former F5 CEO Manny Rivelo to serve as chief executive and replace Matt Moynahan, who now leads identity verification provider OneSpan. After naming Rivelo as CEO, Forcepoint carried out step layoffs, and its headcount dropped 13% - from 2,590 employees in January 2021 to 2,258 workers nine months later.
"TPG has a long history of carving out, building and scaling world-class cybersecurity companies."
– Sean Berg, President, Forcepoint G2CI
Following the CEO appointment and heavy layoffs, Forcepoint turned its attention to M&A, purchasing remote browser isolation vendor Cyberinc, threat removal firm Deep Secure and cloud access security broker Bitglass over the course of 2021. The moves paid dividends: Forrester named Forcepoint as a leader in data security and Gartner named Forcepoint as a visionary in security service edge in April (see: How to Eradicate Cybercriminal Access to the Data Gold Mine).
"This transaction represents an exciting opportunity for the Forcepoint G2CI business to continue its trajectory of growth," Rivelo said in a statement. "Similarly, it enables the Forcepoint Commercial business to further focus investment and innovation in accelerating growth of the company's data-first SASE platform."