Top 4 Debit Fraud Risks
POS Attacks, Skimming Top List of Most Common Threats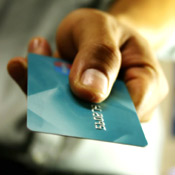 Debit fraud in the U.S. continues to grow as transaction volume increases. As international markets move away from mag-stripe and toward chip & PIN card technology, fraud experts say U.S. card issuers can expect to see fraud continue to escalate.

Fraudsters are targeting smaller merchants and institutions at an alarming rate, says Mike Urban, senior director of global fraud solutions for FICO, which provides fraud analytics and detection technology. "What we're seeing is the criminals hacking into those merchants because they have much less security than a major processor," he says.

And while card issuers offer some protections, most safeguards are limited. "There's significant compromise out there," Urban says.

The top four debit fraud threats include:
Fight Back: Combating Debit Fraud
Real-time fraud detection and behavioral analytics are essential to curbing debit fraud. "Sometimes financial institutions will question, 'Do I need to implement real-time fraud detection on a PIN portfolio?'" Urban asks. "I think as criminals are pushing in all directions, that's really a 'yes.'"

Gartner's Avivah Litan says detection is an important step. "In general, what's being done is much better fraud detection systems, payer authentication, cardholder authentication and [a migration to] chip cards," Litan says.

Another area that needs further focus: learning how to quickly identify card compromises. That means having good procedures in place, working with industry groups to share information and managing compromises as quickly as possible. Speedy arrests and prosecutions have strong impacts as well.

As more criminals target debit, banking institutions need to minimize the impact. "Institutions need to be on their game, from the fraud-detection and management perspective," Urban says.