Social Media Policy Must-Haves
Expert Outlines Key Areas to Cover and Enforce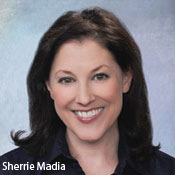 As social media continue to expand and evolve, organizations need to formalize a policy to address the risks. Expert Sherrie Madia details the must-haves that should be included in a policy.
See Also: Zero Trust Webinar Tomorrow: Research Insights Exploring the Actionable, Holistic & Integrative Approach to Security
Foremost, a social media policy must spell out what's in scope and what's not, says Madia, the director of communications, external affairs, at the Wharton School of the University of Pennsylvania.
"[It should cover] things such as can employees use social media during the work day, [or] can an employee blog about the company or related products or services," she says in an interview with Information Security Media Group's Tom Field [transcript below].
The policy should also cover areas such as good judgment, copyright and proprietary issues, Madia emphasizes. "In essence, it functions as an employee code of conduct, but importantly it's a fluid document and it must be updated," she says, a practice that's often overlooked by organizations, even as the technologies continue to rapidly change.
Once developed, the social media policy should be shared at employee orientation, Madia says. Organizations should also hold face-to-face meetings and walk through the policy and answer any questions the employee may have.
Formalizing and sharing the policy before a crisis is best to "set forth a plan of action for when a social media crisis hits," she explains.
How social media have changed the way individuals and organizations communicate;
New do's and don'ts for social media use;
Essential elements of a social media policy you can enforce.
Madia, Ph.D. is an educator, author and trainer. Her most recent books include The Social Media Survival Guide (also available in Spanish), The Online Job Search Survival Guide and S.E.R.I.A.L.PRENEURSHIP: The Secrets of Repeatable Business Success. She is frequently cited by the national media as an expert in social media. In addition to her role at Wharton, she is managing partner of EyeCatcher Digital, a strategy consulting firm that offers corporate training in presentation skills, corporate image consulting and strategy planning.
Impact on Organizations
TOM FIELD: It probably was two years ago when we first spoke. At the time, you said something that had an impact on me. You said that social media had one of three impressions on organizations: Either they're embracing it, they're ignoring it or they're immobilized by it. What's the situation today, two years later?
SHERRIE MADIA: I wish I could say that in two years we've solved some of the issues that we're seeing in social media, as rapidly as the platforms are evolving. But in fact, two years later my response is largely the same. Companies continue to embrace social media. Only now these companies are in a constant quest for calculated return and monetization of elements such as "likes" and "followers," so this is an ongoing area of consternation for those organizations who are actively involved.
Then, some companies either continue to ignore, or gave social media a try without necessarily knowing how to navigate through these complex channels, deemed it a failure and now ignore it. Then we have those companies who remain immobilized by social media, but we're looking at a different kind of immobilization. What we're seeing in many organizations today is that their social media channels have become rote and routine. The intern or the social media coordinator is just pressing a button and pressing a button, but they've forgotten that this is about monitoring, dialoging and engagement. So for many, the exercise itself has become stagnant.
FIELD: Just to level-set, when we talk about social media, are we basically talking about Facebook, LinkedIn and Twitter?
MADIA: No, not in any way. Those are the most popular. Those are the ones that you hear about all the time. Those are the ones that are most highly integrated in the mainstream. But as we saw five years ago, the new platforms continue to evolve. We're looking at a core group, but underlying all that is really the strategy, and those strategies for engagement are the same across platforms, across these new technologies, and that's what I think organizations are beginning to forget.
Communicating via Social Media
FIELD: In the time you've studied social media, how do you see that they have changed the way that individuals communicate?
MADIA: For starters, social media has brought us closer to "as they happen" events and news, closer than ever before, in fact. This has had two effects. One is it has made us more impatient as information consumers. For example, one of the trends during this year's presidential election was that the media outlets began tracking the tweets and showing running tickers of tweets as the debates, for example, progressed. The analysis of the content and of the medium was happening in tandem.
But a second effect has been message dilution. One of the best examples of this I can cite is how I learned that Bin Laden had been killed. I learned this from my 14-year-old who follows Kim Kardashian and apparently Kim Kardashian had tweeted about it. Now the point here is that we're seeing greater possibility for tunnel vision, misinformation and content without a proper context. It's really up to the consumer to take the extra step to investigate and to parse out fact from fiction, which leads to the question of how many people are actually going to take that extra step?
FIELD: In other words, it's a matter of filtering, and there's no filter, really.
MADIA: For sure.
FIELD: Let's talk about organizations. How has social media changed the way that organizations communicate with each other and with individuals?
MADIA: On the marketing side, it's a great time to be a company with something of value to sell. From apps to Pinterest to Facebook's timeline, the opportunities really are endless to showcase products and services to both loyal customers as well as a new pipeline of perspective customers. But the premise remains that companies must offer something of value. A coupon, a Twitter exclusive, a secret sale on Facebook, a special blog, these are the kinds of things that are really going to engage consumers.
On the human resources side of an organization, things have perhaps become more complex because while companies have grown accustomed to investigating a job candidate's online presence, we're seeing a good deal of push-back in terms of employees then crying foul and pointing to potential cases of discrimination. For example, an applicant might be shown with a drink in hand or with young children, and this can be viewed as evidence of discriminatory practice, so there's a lot going on in the world of human resources, for sure.
Recent Events
FIELD: You talked about the impact of social media in the news, and I wanted to ask you about the impact of a couple of recent events, one being Superstorm Sandy and the other being the 2012 election. Where have you seen social media really carve out a role in these events?
MADIA: With Superstorm Sandy, we saw two sides of social media. We saw the upside where Governor Christie of New Jersey was able to tweet out updates to residents and to the world, and where service organizations were able to tweet updates and hear from victims in areas hard-hit by the storm. That's the good news.
But it also had a downside where we saw the media and the public being duped by users in the form of phony images of storm damage. We saw things such as waves crashing on the Statue of Liberty, the New York Stock Exchange flooded out and sharks swimming in the streets of New Jersey, all of which were proven to be false. The concern here is that user-generated content calls into question the level of credence that we're willing to give to these channels, and even a handful of falsehoods can destroy the utility of these channels in crisis situations.
With regard to the 2012 election, the use of social media really was decidedly different from that of 2008, in part because demographics of users changed and in part because the channels are not only more mainstream, but mainstream media is reporting on the channels themselves as a standard practice.
What we saw in 2012 seems like an innocent gaffe which can instantly become a week-long distraction. Supporters, detractors and average citizens help to shape the tone of the election as well, and that was different from 2008. We saw more apps for the candidates, for the election in general, than ever before so the people could get up-to-the-second updates. When the president was pronounced the winner - this is an interesting piece of information - Twitter experienced close to 330,000 tweets per minute, and the television networks covered the volume of tweets as a news item onto itself.
But importantly, the possibility of misinformation can rise in the Twitter stream as well because even if Twitter users, as the case in point, aren't following the elections per say, they may receive posts and updates from those that are following and this becomes their sole source of election coverage. Building on this, I think we'll see some interesting trends again in 2016.
Mobility and Social Media
FIELD: The other thing that certainly has evolved since 2008 is the number and the proliferation of mobile devices: smart phones, tablets and laptops. What impact has mobility had on social media?
MADIA: Mobile has had a dramatic impact on social media because the time delay for conveying and disseminating information goes away when you have a mobile device at your disposal 24/7. According to Pew Internet Research, we know that as of September of this year 85 percent of American adults have cell phones, 45 percent have a smart phone, and then about half of those cell phone users access the Internet and download apps, and these numbers are growing every day.
Have Policies Evolved?
FIELD: I ask you this series of questions as a setup for this one. With all of these changes that we've talked about, mobility and the growth of social media, how has social media policy evolved in organizations?
MADIA: In some respects, sad to say, it hasn't. As we mainstream our social media and it begins to fold itself into all that we do, the creation of a social media policy within organizations has experienced its own set of challenges. Some companies are leery about setting forth a policy that's too restrictive, so they create one that's general enough that it proves to be useless when a crisis arises. In many ways the social media policy functions like the crisis communications plan. Every organization knows it should have one, but many simply never get around to actually formalizing this important document.
FIELD: Then they find themselves in an event like a disaster or a news event where the social media are flying, and there's no policy to fall back upon.
MADIA: That's right.
Social Media Policy 'Musts'
FIELD: What do you find to be the musts of a social media policy today?
MADIA: A social media policy must spell out what's in scope and what's not, things such as can employees use social media during the work day, or, can an employee blog about the company or related products or services? It must speak to things like good judgment, copyright and proprietary issues. In essence, it functions as an employee code of conduct, but importantly it's a fluid document and it must be updated.
However, we see companies creating social media policies and then forgetting to update them as the technologies change. In fact, the technologies change so fast that often the laws governing social media and these types of employee issues simply fail to keep up.
Enforcing Policy across Blurred Lines
FIELD: One of the other things that mobility has done is it's blurred the line between the personal and the professional lives. You've got people that might be using social media professionally, but they're at their home, they're on vacation or they're elsewhere. How do you enforce a social media policy with such blurred lines?
MADIA: It's best to enforce your social media policy, first and foremost, as part of employee orientation. It has to become a standard document that every employee receives. And in some cases, it might even be part of the interview process and part of the cultural norm that you want to share with any potential employees. But in addition, it makes sense to hold a face-to-face meeting and walk through the policy and answer employee questions and get a pulse-check from employees, as opposed to simply posting the policy to an Internet site and hoping that employees will somehow review. It's best to share the policy before a crisis strikes and to really set forth a plan of action for when a social media crisis hits.
Using Social Media Properly
FIELD: You talked about HR issues before, and I'm thinking from a perspective of someone that's career-minded. For someone that's looking to build and protect their own personal brands, what have become the key social media do's and don'ts?
MADIA: What still holds true is that value is the rule. If you don't have substantive content or something of value to offer, you simply won't get far. Next is frequency. Posting five to six times per week on your channel of choice is a minimum in order to showcase consistency and credibility.
Then, variety of content is important too. For example, you may want to post one type of content on your LinkedIn company page and a different set entirely on Twitter or on Facebook. Responsiveness is also key. If you open your social media channel for business, you have to be prepared to staff it properly for timely response. If you ignore your customers via social media channels, this can be and often is a brand killer. And with new features such as Facebook Timeline and Pinterest, high-quality beauty shots or images that really show off your brand's best features are becoming more critical than ever.
Finally, staying tuned in, taking an iterative approach and being ready to evolve your content strategy is a must for social media to ensure against simply updating and tweeting with no results to show for it. We're seeing more and more cases of this because it's a "set it and forget it" mentality, when in fact it should be all about the relationships.
Advice for Individuals
FIELD: That's great advice for organizations. How about for individuals as well? What are some of the things that they should and should not be doing in social media, especially with so much attention being paid to their activities?
MADIA: It started as simply for personal use and for social purposes, and I think we're starting to see the turn-around where employees are beginning to realize that there are real consequences to their actions in the online space, and so things like professional headshots and alignment, you want to ensure that the image that you project on LinkedIn is the same image that you project on Facebook and Twitter.
If you're not sure that your company has a social media policy, you want to ask so that you know, "Can I write this blog on a topic related to my company?" You want to ensure against that as well and you want to ensure also that you're constantly updating your information, because when employers do take a look in the online space for you, you want to ensure that you're projecting the best image that you can. You don't know when they're going to look and so you will always want to periodically do a check to ensure that all of your profiles are up-to-date, aligned and projecting the image that you want to create.
FIELD: You make a good point because it might not just be a perspective employer that's looking at your social media stature. It could be your current employer.
MADIA: For sure.
2013 Trends
FIELD: As we head into 2013, I know we're going to have more mobile devices then ever and we're going to have greater penetration. There's going to be a generation that has grown up with social media. What do you see as being perhaps the biggest social media trend or story as we enter the New Year?
MADIA: The idea of converged media will be a big one. That is, organizations are going to begin to monitor and predict results based on a more holistic approach to earned media, paid media and user-created content, and we're going to see ongoing integration and mainstreaming of social media toward what I expect will be a day when we'll stop singling out social media as a specialized channel.
Finally, we'll see a more highly targeted media as organizations access more and more information from their consumer base as a result of downloaded apps, levels of engagement and a host of social media metrics, and all of these are based upon information that consumers are willing to share.