Skimming Conviction a Good Sign
More Prosecutions Could Curb POS-Related Fraud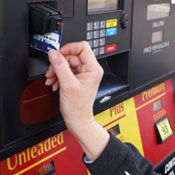 A California man has been convicted for the role he played in orchestrating an elaborate skimming scheme that targeted gas pumps in three states.
See Also: OnDemand | Zero Tolerance: Controlling The Landscape Where You'll Meet Your Adversaries
The conviction is a good sign, some experts say, because relatively few cases involving pay-at-the-pump skimming fraud have been prosecuted. But they say it's likely going to take many more convictions, with tough sentences, to deter the crime.
Fraud linked to pay-at-the-pump skimming is often viewed as less damaging than fraud linked to skimming at other channels, like the ATM, says Jerry Silva, a financial fraud consultant who specializes in ATM and other card-skimming attacks.
And even though Aleksandr Goukasian, the defendant convicted in the skimming case, could face a life sentence for his crimes, Silva says that's unlikely, given the perception that point-of-sale skimming is somehow a less damaging form of card fraud. "I doubt the punishment will be that severe," he says.
Skimming Case Details
Goukasian, whom federal authorities say led a skimming ring that stole more than $100,000 after skimming details on 38,000 credit and debits cards, was found guilty of unlawful use of electronic communications, unlawful possession of an electronic intercept device, engaging in organized criminal activity and fraudulently possessing or using identifying information.
Goukasian's ring is accused of hitting pumps in California, Nevada and Texas. The skimmers, which were hidden inside the pump enclosures, intercepted credit and debit numbers as cards were swiped for payment, according to a statement from prosecutors. They also collected PINs, and, in some cases, ZIP codes, which are often requested at self-service gas pumps when card payments are made.
Investigators recovered 13 skimming devices, prosecutors say.
With the stolen card information, Goukasian's group stole more than $100,000 using counterfeit cards it created from gift cards that it re-encoded.
Goukasian's sentencing date has not yet been set. Two other suspects allegedly connected to the scheme, Arkadi Minassian and Arin Mehrabian, are awaiting trial, and at least two others remain at large. The Secret Service Financial Crimes Task Force and the Euless, Texas Police Department were involved in the investigation.
Punishment for Card Fraud
Shirley Inscoe, a fraud analyst at Aite, a research firm focused on technology and regulatory issues, believes juries may impose harsher sentences for crimes perceived to directly affect consumers. "If the crimes occur at the ATM, they may be perceived as against the bank, whereas if they occur elsewhere - pump, restaurant, etc. - juries may be more likely to perceive them as being against the consumers," she says.
"Courts, especially juries, seem to have a mindset that a 'big, bad bank' pretty much deserves what they get and can absorb the losses, but they may take it more personally when they see another consumer taken advantage of, and realize how easily this could happen to them," Inscoe adds.
In Goukasian's case, he requested that the judge set the sentence, rather than the jury. Inscoe speculates the public perception of the skimming fraud being directed at consumers, rather than at banks, is likely why Goukasian requested sentencing from the judge.
"Texas has a reputation for being tough on crime, and it would be good to see more toughness uniformly across the country," Inscoe says. "Assessing the severity of these crimes seems to fluctuate widely from jurisdiction to jurisdiction."
Growing Fraud Concern
Gray Taylor, a security and compliance expert with the National Association of Convenience Stores, says pay-at-the-pump skimming is growing. But because fraud incidents linked to the pump account for a relatively low percentage of overall card compromises, they have not gotten the attention they deserve.
"Most convenience stores are concerned about pay-at-the-pump skimming," Taylor says. "But they can only focus on so much."
The industry has known for years that pay-at-the-pump terminals are easy targets for skimming. The continued and widespread use of universal access keys, used to open pay-at-the-pump enclosures, are primarily to blame, Taylor says.
"There are 900,000 pay-at-the-pumps out there, and, literally, I have four keys in my desk that will open up every dispenser in the United States that has not been upgraded," Taylor says. "Today, you can buy new dispensers that have unique keys. The problem is doing something with the dispensers that are out there; getting these guys to upgrade."
Fraudsters have identified the weakness and have taken advantage, Inscoe says.
"They are typically very well organized and can place these skimmers and remove them fairly quickly," she says. "This ring targeted gas pumps, while similar rings have targeted restaurants, ATM machines, etc."
Inscoe says organized skimming rings often spread their attacks across regions or geographic areas, as was the case in the Texas attacks.
But one interesting point about the Texas case is that Goukasian, the head of the operation, was actually caught and prosecuted.
"Typically, only moles are caught, and they often don't even know who is at the head of the ring," she says. "Catching more of these ringleaders and having strong repercussions for them, such as life in prison upon conviction, is probably the only way this type of thievery will be slowed."