Senate Votes to Block Cybersecurity Act Action
Little Time Left in Election Year to Resurrect the Bill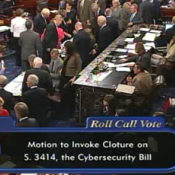 Senate supporters of the Cybersecurity Act of 2012 failed Aug. 2 to gain the 60 votes necessary to bring the measure up for a vote, a significant setback for those seeking enactment of a comprehensive cybersecurity law this year. The vote was 52 to 46.
See Also: 57 Tips to Secure Your Organization
Failure to invoke cloture isn't quite the death knell of cybersecurity legislation this year because senators on both sides of the issue suggested that they would continue behind-the-scene talks. Still, with Congress about to begin a month-long summer recess and the presidential and Congressional election campaign intensifying, time to reach a compromise may not exist.
Shortly after the vote, the White House issued a statement blasting Senate Republicans for impeding national security despite the bill's backing of top military officers and national security leaders [see Top Guns Lobby for Cybersecurity Act]: "The politics of obstructionism, driven by special interest groups seeking to avoid accountability, prevented Congress from passing legislation to better protect our nation from potentially catastrophic cyberattacks."
Republicans reject that assertion, saying the bill would lead to undue government regulation of the private sector, a point made by the U.S. Chamber of Commerce, despite provisions in the measure that any IT security standards created in a government-industry collaboration would not be imposed on the mostly privately owned operators of the nation's critical IT infrastructure, such as the electric grid and financial networks. Businesses would have had the option to voluntarily adopt or reject any standards.
Minority Leader Mitch McConnell, on the Senate floor, said Republicans believe cyber defenses need to be strengthened, but that Senate Majority Leader Harry Reid was trying to steamroll a bill.
Republican opponents also objected to the process in which Reid refused to accept amendments on the bill. Reid and other bill supporters griped that Republicans wanted to offer amendments that were not germane to the bill, such as a repeal of the Affordable Care Act, often referred to as Obamacare.
Republicans voting for cloture included one of the bill's prime sponsor, Susan Collins of Maine, Scott Brown of Massachusetts, Dan Coats of Indiana and Olympia Snowe of Maine. Democrats voting against the bill included Jeff Merkeley and Ron Wyden of Oregon, David Pryor of Arkansas and Jon Tester of Montana. Reid, the sponsor of the cloture motion, switched his vote to no as a parliamentary move.