IT Security Salaries Seen Rising in 2012
Data Privacy, Mobile Apps to See Biggest Gains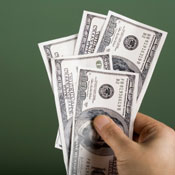 Salaries for IT security professionals are projected to increase by 4.5 percent in 2012, according to a new report from Robert Half Technology.
See Also: Illumination Summit: Poker & Cybersecurity: A Game of Skill, Not Luck
Robert Half tracks 70 IT occupations, including six information security titles. A seventh IT title, mobile application, requires significant security know-how, which could explain why it should experience the largest annual increase of any IT occupation.
Robert Half Executive Director John Reed sees security as the hottest career for all IT workers in regards to compensation growth. "IT security salaries in 2012 continue to outpace the projected average growth of 3 percent for broad IT positions," Reed says, continuing a trend seen this year.
Here are the IT security jobs Robert Half identifies, with their projected percentage increases over 2011 and estimated base salary range for 2012 for organizations of all sizes, except mobile application developers, which reflect companies with sales topping $250 million:
Mobile application developers 9.1 percent, $85,000 to $122,000.
Data security analysts, 6 percent, $88,000 to $121,500.
Network security administrators 5 percent, $85,500 to $116,750.
Systems security administrators 4.6 percent, $85,250 to $117,750.
Information system security managers 4.1 percent, $104,500 to $143,500.
Chief security officers 3.9 percent $115,000 to $172,250.
Network security engineers 3.8 percent, $88,500 to $116,750.
A continuing rise in data breaches is a significant contributor for the need of more IT security professionals. Organizations realize that security overlaps every aspect of IT and plays a critical role in protecting an organization's reputation and mission. "This alone has led to increased job openings and hires in IT security," Reed says.
The need for security intensifies as more workers access applications and data from their mobile devices, requiring organizations to ensure their networks and systems are secure. Reed also sees the improving economy resulting in more software upgrades that had been placed on hold during the economic downturn, resulting in the need for more security experts.
The move to cloud computing services by companies has created new demand for network security administrators and engineers. Organizations are heavily investing in practitioners who are entrusted with new security tasks and protection strategies to ensure data is safe in these virtualized environments.
Other in-demand skills that should propel salary growth include positions with expertise in databases such as SQL Server and IBM DB2; Java, PHP and .NET programming; data modeling; and SharePoint, where salaries could be 5 percent or higher in 2012 than 2011.
Robert Half in early November released its salary guide for 2012, which is based on analysis drawn from thousands of job placements managed by the company across North America, as well as regular insights from chief information officers and other senior executives. Industries surveyed include healthcare, financial, retail, professional services, IT consulting, manufacturing and telecommunications.