Security in Genes of New DHS Cybersecurity Head
Phyllis Schneck Inspired by Father, a Computer Scientist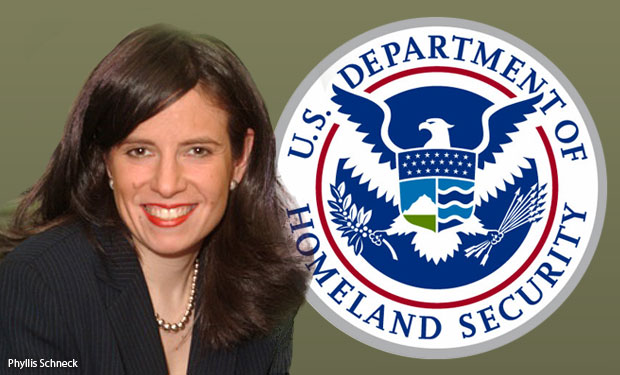 One of the biggest influences on Phyllis Schneck, the new Homeland Security deputy undersecretary for cybersecurity, is her father, Paul Schneck, an internationally accomplished computer scientist.
See Also: Live Webinar | Cyber Resilience: Recovering from a Ransomware Attack
Like her father, Phyllis Schneck holds a Ph.D. in computer science.
"Phyllis always has been inspired by the work and accomplishments of her father and would thank him today for encouraging her in hard-core science and to be a leader," says Harry Raduege, chairman of the Deloitte Center for Cyber Innovation.
DHS Secretary Janet Napolitano announced Aug. 18 that Schneck, vice president and chief technology officer/public sector at security provider McAfee, in September will become the top policymaker at DHS solely focused on cybersecurity. Word that Schneck would be named to the post has been floating around Washington and cybersecurity circles for weeks [see DHS Set to Tap New Cybersecurity Leader].
Schneck replaces Mark Weatherford, who resigned in April to join The Chertoff Group, a security consultancy, as a principal [see DHS's Mark Weatherford Resigns]. Bruce McConnell, DHS's senior counselor for cybersecurity, had been serving as acting deputy undersecretary until Aug. 10, when he resigned.
Schneck will report to Acting Undersecretary Suzanne Spaulding at DHS's National Protection and Programs Directorate. President Obama nominated Spaulding earlier this month to be undersecretary [see Another Senior Cybersecurity Leader to Exit DHS].
Strive for Excellence
Raduege says Schneck steered his daughter toward a career in IT security. "He encouraged Phyllis to major in computer science and to go beyond pure studies by figuring out how things really work and to be able to explain complex areas with plain English and simple terminology," says Raduege, a friend of the Schnecks. "Phyllis remembers astronauts coming to their family home when her father worked at NASA. As such, Phyllis was constantly encouraged to strive for excellence in science education and being a leader."
Both Schnecks are inventors. The father holds patents for systems for controlling access and distribution of digital property and systems and methods for authoring and protecting digital property. The daughter was granted patents for high-performance and adaptive information security.
Though they didn't quite have parallel careers, both held posts in the private sector and in government. The elder Schneck is chairman of Rembrandt Patent Infringement, a firm that helps patent owners achieve a fair return on their intellectual property assets, according to its website. During his career, he worked at NASA, Goddard Institute for Space Studies, Office of Naval Research, Institute of Defense Analysis, National Security Agency and MITRE, the not-for-profit organization that manages federally funded research and development centers. He also served as vice president and chief technology officer at Veridian, a network security provider acquired by General Dynamics in 2003.
His daughter had been serving as vice president and chief technology officer/public sector at McAfee when Napolitano tapped her to be deputy undersecretary. Before becoming McAfee's public sector CTO, Schneck served as the company's vice president of threat intelligence. She earned her Ph.D. in computer science at Georgia Tech (her father received his doctorate at New York University).
Early in her career, the new DHS deputy undersecretary worked at the NASA Goddard Space Flight Center and the University Of Maryland's Department of Meteorology. Her corporate life has been intertwined with government. As McAfee's public sector CTO, she oversaw the company's technical vision for public-sector applications of security and global threat intelligence. And she served as vice chair of National Institute of Standards and Technology's Information Security and Privacy Advisory Board, a panel charged with identifying emerging managerial, technical, administrative and physical safeguard issues as they relate to cybersecurity and privacy.
The Public-Private Connections
The younger Schneck worked with Raduege, a retired 3-star Air Force general who once headed the Defense Information Systems Network, when they served on the Commission on Cybersecurity for the 44th Presidency, the panel he co-chaired that produced a report that served as the outline for Obama's cyberspace policy. Schneck co-chaired the commission's public-private partnership working group.
That public-private partnership will be critical if Schneck is to succeed in her new post. One of her biggest challenges in the coming year will be to get the mostly private owners of the nation's critical infrastructure owners to voluntarily adopt the cybersecurity framework of IT security best practices that the Obama administration is creating in cooperation with industry [see Cybersecurity Framework: Filling the Gaps]. Another challenge she faces will be to get industry and government to share cyberthreat information.
Schneck's resume should help her in her new assignment. "She knows the field, has a long history of working within the community, understands government processes and is a known quantity in many of the communities where she will need to connect," says Eugene Spafford, executive director of the Center for Education and Research in Information Assurance and Security at Purdue University. "She has good social skills and can easily converse with the different groups she will need to interface with."
Raduege believes she's up to the task. "You also can count on Phyllis to bring ceaseless energy and drive for implementing positive results in every undertaking," he says.
That drive should make any father proud.