RSA Conference: Insider Threat, Risk Management Emerge as Key Topics
Annual Security Event Offers Plenty to Financial Institutions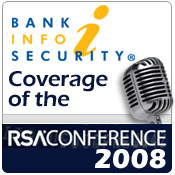 Risk management and the insider threat.

These are the two dominant themes emerging from the conversations and presentations at the RSA Conference in San Francisco this week.

From the keynote stage to the expo floor, with stops in between at the program sessions, information security experts, vendors and practitioners clearly were influenced by the major headlines of the year: the Societe Generale fraud, Hannaford data breach, anti-money laundering, the regulatory push for better vendor management and pandemic preparation. As a result, "risk management" was the most common term heard in conversations, and the focus shifted from preventing external attacks to identifying and protecting against the insider threat.

And although this was an industry-spanning security event, financial institutions and their concerns were front-and-center in the conference proceedings.

Information Security Media Group was on the scene throughout the RSA Conference, reporting back with dispatches that include:

Additional RSA Conference Coverage

The conference ended on Friday April 11, but these important security conversations will continue throughout the year. If you were at the event, we'd welcome your comments on what you saw and heard. If you're just hearing some of these perspectives now, we'd love to hear your reactions. Please send your remarks to editor Tom Field.