Roger Stone Found Guilty on All 7 Counts
Case Stems From Mueller's Investigation of Russian Election Interference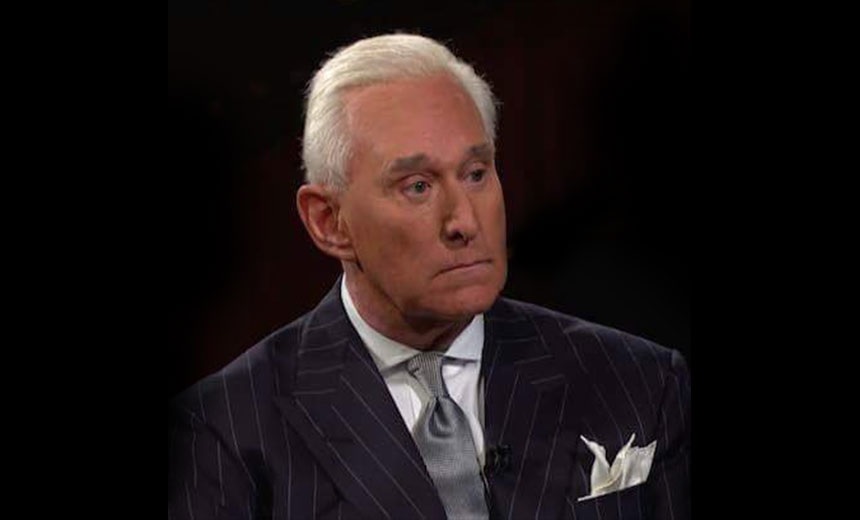 Roger J. Stone, Jr., a long-time associate of President Donald Trump, was found guilty Friday of lying to Congress, obstruction and witness tampering related to his efforts to feed the Trump campaign inside information about WikiLeaks in 2016.
See Also: Webinar | Prevent, Detect & Restore: Data Security Backup Systems Made Easy
A jury found Stone, 67, guilty of seven federal charges. The obstruction charge stems from testimony that Stone gave to the U.S. House of Representatives Permanent Select Committee on Intelligence, which in 2017 was investigating Russian interference in the 2016 U.S. presidential election. He was charged with misleading the committee about his efforts to find out when WikiLeaks would be releasing emails hacked from the Democratic Party and Clinton's 2016 presidential campaign.
Stone is the sixth Trump associate to be convicted on charges stemming from Special Counsel Robert Mueller's investigation of Russian interference in the 2016 election, according to the Associated Press.
He could face up to 20 years in prison when he's sentenced on Feb. 6.
WikiLeaks Connections
Much of the case against Stone involved his relationship with WikiLeaks and its founder, Julian Assange. Before and after the campaign, Stone publicly stated he had been in contact with the organization (see: Trump Adviser Stone Charged With Lying About WikiLeaks).
On Oct. 7, 2016, WikiLeaks began releasing a cache of about 20,000 emails stolen from Hillary Clinton's 2016 presidential campaign chairman, John Podesta, allegedly by Russia's GRU, the country's largest intelligence organization.
When Congressional committees and Mueller's office began looking into the Russian interference during 2016, including the leaks of the Clinton emails, Stone was considered a major witness because he had bragged to people about his contacts with WikiLeaks. It also appeared that Stone knew in advance when the emails would leak.
Several of Trump's campaign aides testified at the trial that they believed Stone was the go-between with WikiLeaks, according to the AP and other media reports.
During the trial, Stone's attorneys argued there was nothing illegal about seeking out information about a political rival, according to a report in The Hill.
Lying to Congress
As part of the federal indictment against Stone, federal prosecutors charged that he had lied to Congress about his conversations with two men, comedian Randy Credico and conservative writer Jerome Corsi, concerning knowledge of WikiLeaks and the email dumps.
Stone was convicted of lying to Congress about the identity of his go-between with WikiLeaks. He told lawmakers that it was Credico, a comedian and radio host who's interviewed WikiLeaks founder Julian Assange, but the prosecutors alleged that was a lie in order to protect the InfoWars-affiliated conspiracy theorist Corsi, The Hill reports.
Evidence presented by prosecutors showed that Stone repeatedly pressured Credico not to cooperate with the House committee's investigation. Credico ultimately decided to assert his Fifth Amendment rights after the panel issued him a subpoena, according to The Hill.
During the trial, prosecutors presented evidence that Stone was using Credico as a cover for conversations that he had about WikiLeaks with Corsi, according to The Hill.
WikiLeaks has denied that it's ever been in contact with Stone.
WikiLeaks founder Assange is being held in British custody while he awaits a decision from a judge if he can be extradited to the U.S. to face charges related to helping former Army intelligence analyst Chelsea Manning to break into government IT systems, including the Pentagon's network, to steal classified documents that were later published (see: Assange Denied Delay for US Extradition Hearing).
Trump Tweets
After the verdict was announced, President Trump took to Twitter and offered support for Stone.
So they now convict Roger Stone of lying and want to jail him for many years to come. Well, what about Crooked Hillary, Comey, Strzok, Page, McCabe, Brennan, Clapper, Shifty Schiff, Ohr & Nellie, Steele & all of the others, including even Mueller himself? Didn't they lie?....

— Donald J. Trump (@realDonaldTrump) November 15, 2019
As Stone's trial ended on Friday, the House Committee on Intelligence was continuing to hold impeachment hearings (see: Risky Dialing: Trump Call Raises Security Worries).