Regulatory Reform - What it Means to Main Street Banks
Interview with Larry Marik, New Chair of the Nebraska Bankers Association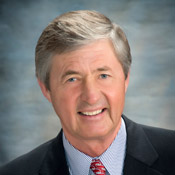 There is a sense that Congress soon will pass historic banking regulatory reforms - and soon after, community banking institutions will start to feel the impact.

"Community banks were not the problem, but community banks will be part of the solution," says Larry Marik, newly-elected chair of the Nebraska Bankers Association.

In an exclusive interview, Marik, also the chairman of the First National Bank of Columbus and Norfolk, discusses:

The state of banking in Nebraska today;

How the association advises member banks to fight fraud;

What banking regulatory reform means to Main Street Institutions.

Marik has been with First National Bank of Columbus since 1980, serving as vice president of retail services and marketing, senior vice president, president, and currently as chairman of the board of directors. Marik understands the importance of community involvement, having served in numerous leadership roles within Columbus, Neb. In fact, he is the first community leader in Columbus to serve both as mayor and as chairman of the Columbus-Area Chamber of Commerce.

At the national level, Marik has served on the EconomicsAmerica Board of Directors; instructed at several national banking schools for 15 years; and spoken in more than 20 states on topics such as marketing, human resources, training, planning, and employee motivation. In addition, he has served as a banking advisor for the American Bankers Association, traveling throughout the United States on national media tours for the association.

TOM FIELD: What is the state of banking today in the state of Nebraska? Hi, this is Tom Field, Editorial Director with Information Security Media Group. I'm talking now with Larry Marik, Chairman of the First National Bank of Columbus in Norfolk, Nebraska, and the new Chair of the Nebraska Bankers Association. Larry, hello and congratulations to you.

LARRY MARIK: Well, thank you very much, and how are doing today?

FIELD: Doing very well, thank you. Now tell me: With this new role as the Chairman of the Association, what responsibilities come with it?

MARIK: Well, essentially you are the spokesperson for the membership, for the 265 membership banks that we have throughout the state. I serve as the chief spokesperson for our membership banks, also leadership as far as our government relations role and obviously with things that we have going on the federal level. This particular year that is a big job within itself, and we also have products and services that we deliver to our membership banks. So I become the chief promoter for those products and services to all of our banks.

FIELD: Well, Larry, give us a sense as you ascend to this role now: How would you describe the state of banking in Nebraska today?

MARIK: Well, the state of banking overall is solid -- cautiously solid. Let's put it that way. I've mentioned this many, many times. Banks in Nebraska were lending before we had the financial meltdown 18 months ago. They were lending throughout that time, and they are lending today. I just think overall the economy of the state -- there is good news and bad news. I shouldn't say bad news. There is good news, and there is cautious news, let's put it that way.

The good news is that we are primarily an agricultural state if you look at geographically, although we have a good economic mix throughout the state, particularly in our urban areas of Omaha and Lincoln. But overall, agriculture was somewhat untouched by what happened. Although there is a trickle-down effect, you know our state from a budgeting point of view has a required balanced budget. So they have to do it, and it was tough this year, but the budget got balanced, and looking ahead to next year, revenues are on the slow side. People have pulled in their horns a little bit and cut back on some spending, and when you do that it does cause a revenue issue for state governments and then local governments. But overall, banking, I think, is cautiously solid. I think banks had a reasonably good year in 2009, and they are going to a reasonably good year in 2010.

FIELD: How would you say that banks in the state have evolved over the last year? I mean, certainly 18 months ago as you say, we all felt the effects. I think maybe Main Street in Nebraska felt it a little bit less than Wall Street in New York, but what have you seen happen positively in the last year?

MARIK: Well, first of all and foremost, our unemployment rate is about 5.3 as of March. When you look at the double-digit or upper nines on a national basis, we're about half of the unemployment rate. In fact at one point, before this all really started to happen, you know we were looking at 2-3 percent unemployment, which is for the most practical purposes that's full employment. Agriculture is still our mainframe, and there is no issue about it. Crop producers have had very, very, very good years the last couple of years, and livestock is solid at this particular time. But unemployment drives you. If people are working, banking for the most part is on good grounds. So how have we changed over the year? I think people are more cautious with what has happened nationally, and of course some of the things did affect people's 401(k). It doesn't make any difference where you live. If you were in equities, you had a rude awakening on some mornings when you looked at your balances. Nebraska is comprised primarily of good, cautious, conservative folks -- Democrat, Republican, it doesn't make any difference. They are all conservative folks. When you get that and you even become a touch more conservative, you slow things down. That engine just kind of slows down. And when that happens, that affects everything including banking.

FIELD: Well, Larry, it's interesting because you pointed out the agricultural business earlier, and you pointed out the conservatism of the residents. What ways would you say that Nebraska's banking institutions are similar to those in other states, and where are they really unique?

MARIK: You know, one of my goals through the term that I will be the chairperson for the State Banking Association is to attempt to rebuild respect for our industry. We are community bankers. We are traditional banks. We solicit deposits, we make loans, we help people develop a financial path to either personally or their business, create something positive and sustain that as far as going out. We are not Wall Street banks, and that includes the largest of the banks that we have within the state. We have presence of Wells Fargo, for example, and then so we have some large banks, but they are still community banks. They are banks where the senior management, the president of the bank knows everybody in the community. I for example, served as Mayor for eight years in the late '80's and early '90's, but I'm not an exception. People, banks in Nebraska and bankers in Nebraska make their communities work. I've said it many times: If you've got a strong community, I will tell you that you have strong banks in that community, and it works both ways -- strong community, strong banks.

FIELD: Larry, no banks -- and especially the community banks --have been immune to recent fraud trends we've seen whether it's ATM skimming, ACH fraud targeting the commercial customers, or payment card fraud that is really affecting the consumers. What's been the association's role in advising institutions on how to tackle these fraud issues and awareness about them?

MARIK: Right, our role primarily is to provide a level of education to our banks as far as how to educate their customers -- their clients -- because really that is where it starts and stops. I just, from time to time, my stomach rolls when I see what happens to individuals when they fall for the particular scam or fraud because it is just common sense. 'Folks, you just shouldn't do that. You shouldn't give somebody your pin number, you shouldn't give them your account number.' People in our state and I think across the country in community banks, they trust their banker. So if somebody calls and says, 'I'm your banker, give me your account, I can fix this for you' ... Instinctively, people say yeah, I trust him. We'll do it without really logically saying 'They don't need that; they don't do that.' So the bank's role I think is just to heighten that level of communication of saying 'We will never call you out of the blue and ask you for your pin number. We will never out of the blue call for your account numbers over the phone without you knowing who you are talking to.' So that level of customer communication is -- we just have to keep doing it and doing it, and doing it.

On the banking side inside, you know banking itself has recreated and is creating just higher levels of fraud prevention. The way we can monitor accounts going forward, the way the processor of that particular piece of work for the banks, the way they are doing things, they're just getting technologically far more advanced to try to alert the bank and customers that something might be going on. But it all starts and it stops with consumer education. If the consumer doesn't fall for the scam, you have no scam.

FIELD: Now what about beyond the consumer, we are seeing a lot of commercial businesses now that are being victimized by the ACH fraud. What do you do with your commercial customers?

MARIK: Well again, it's a fact of trying to develop better and more efficient diagnostic type of processes inside the system. Today's world as you well know, the days of just really doing things nonchalant and caring a checkbook and doing it -- that isn't what today's electronic world is like. It certainly isn't going to stop. It's going to get more electronic as we go, if you can believe that would happen. Systems have to be better. The ability of the two systems, the customer and the bank, to talk to each other has to be better, and again the educational aspect of what risk are you extending your customers data to. It's not our perfect system at this point in time. You know every time the industry thinks that it has a very, very good system in place, there is someone on the other side that finds a way to breach, and that is a risk with what we are doing. But I think the risk is worth it as far as what we can do for the customer, particularly on the commercial side.

FIELD: Let me take you in a different direction Larry and talk about banking reform. A lot is being discussed in Washington these days. We may seem some legislation come down before Memorial Day break. What are your thoughts on the initiatives that are being proposed in D.C.?

MARIK: Historic. In my 30-plus years, there have always been things that have happened on every year. Some are state-based, some are national-based. You know I just think back to the early '80's when we went through deregulation and we created NOW accounts as an example. You know, wow, that was an historic thing. Now we're looking at, particularly on the consumer protection side, legislation which to be honest the consumer doesn't really care for. I mean in some cases we hear the rhetoric that the consumer is demanding this. The consumer doesn't really care for the volumes of stuff that they have to fill out and the answers to the dozens of questions that they are given just to do a simple transaction. However, consumer protection is important. You know the one thing banking has is trust of our clients. If we don't have a process in place that virtually, and I won't say guards, but I should say guarantees that whatever business they are doing is safe and secure, we loose one of the vital pieces of what our industry has had since its beginning. But we have to continue to do that. The pieces of this thing, the regulation I think of the non-banks of the shadow banks, these are the aspects that virtually cause most of the brand of the Wall Street banks that caused most to all of the problems that we're all dealing with. Community banks, we're not the problem. The community banks will be part of the solution. Being part of that solution means that we will pay the price of consumer protection, and consumer protection is good as long as it doesn't become so burdensome for both the consumer and the bank.

FIELD: What do you expect ultimately we're going to see from this reform movement, Larry?

MARIK: You will see consumer protection passed. To one level and how deep is yet to be debated on the floor. You know, the tremendous split between the two parties is difficult, although they do philosophically agree that there needs to be consumer protection. Too big to fail -- there is no doubt in my mind, too big to fail has to go away. I think it is a competitive disadvantage. You know if we had, let's just say two banks in the state of Nebraska. One, let's just say theoretically was large enough where the consumer would say, "Well that bank is never going to fail." Like everyone will step in to help him. Well, that's where you will go do the bulk of your business because you have nothing to lose, rather than the opposite, which would be a smaller community bank saying "Well, there is risk there. If they fail, they're not going to come in and help that little bank." That's a competitive disadvantage, and it's a very costly disadvantage to the FDIC system which all the banks pay into. So, you know, 'Too big to fail,' I very strongly feel and so does our association and membership that we need to have that in place so that banks can compete on an even basis. We need to get a regulatory process in place for the shadow banks, for the non-banks so that they do the same things that we have to do on a day to day basis. Then consumer protection, a reasonable amount that is probably impossible to do, but at least it is what we are looking at, a user-friendly type of consumer protection for all consumers.

FIELD: Larry, one last question for you. You're going into your term now as Chair of the Association. I'm going to ask you to finish a question for me, to answer it. To be successful in 2011, Nebraska Banking Institutions must ... ?

MARIK: They must retain the respect and the pride in the industry, which has developed so many communities across the state. Because without that respect and pride, we have no common identity with the community's reserve. It is the respect; it is the backbone of our industry.

FIELD: Very good. I appreciate your time and your insight today, and I wish you well as Chair, and look forward to talking to you again in the future.

MARIK: Absolutely any time, and thank you very much.

FIELD: We've been talking with Larry Marik, Chairman of Nebraska Bankers Association. For Information Security Media Group, I'm Tom Field. Thank you very much.