The Recession's True Impact on Financial Services -- Interview with Steven Weisbart, SVP and Chief Economist, the Insurance Information Institute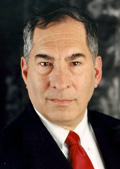 Warren Buffett says the economy has "fallen off a cliff." But where does the fall end, and how badly bruised will financial institutions be when they pick themselves off the ground?

In an exclusive interview, Steven Weisbart, SVP and Chief Economist, the Insurance Information Institute, discusses:

The true impact of the recession on financial institutions;

TARP monies and nationalization of banks;

Signs of recovery to watch for in the months ahead.

Weisbart is senior vice president and chief economist for the Insurance Information Institute. Weisbart oversees the Institute's program of economic research and analysis, preparing studies in support of the organization's communications mission, speaking to media and conducting briefings for member companies, industry organizations and public policymakers. A specialist in annuities, pensions, and life, disability and long-term care insurance, Weisbart frequently also makes presentations on property/casualty issues to industry audiences as well as legislative forums.

For more than 40 years, the I.I.I. has provided definitive insurance information. Today, the I.I.I. is recognized by the media, governments, regulatory organizations, universities and the public as a primary source of information, analysis and referral concerning insurance.

TOM FIELD: Hi, this is Tom Field, Editorial Director with Information Security Media Group. The topic today is the economy. We're privileged to be speaking with Steven Weisbart. Senior Vice President and Chief Economist with the Insurance Information Institute. Steven, thanks so much for joining me today.

STEVEN WEISBART: Welcome , Tom.

FIELD: Just to start off, perhaps you could give us a little bit of information for people who don't know about the Institute and then talk about your role there.

WEISBART: The Insurance Information Institute is a non-profit, non-lobbying organization whose mission is to explain insurance, what it is, and how it works to any of a number of different groups or individuals who want to know more about the subject. We collect and present information, do research, make presentations at a variety of forums, and generally try to help understand how the mechanism contributes to economic development and financial security.

As a Chief Economist, I'm responsible for the Program of Economic Research. Again, we pretty much try to answer the kinds of questions that you'd imagine that most people have, especially in times like this. What's the effect of the economy on the Insurance Industry? What's the effect of the Insurance Industry on the economy? Those are the key types of questions, and then there are questions that people ask about where things are possibly going.

FIELD: Interestingly enough, I have all those questions for you [laughter]. Talk about the economy -- we've been hearing a lot about it certainly, Warren Buffett was talking about it this week, and everyone sort of has their own perspective on "how bad it is." Why don't you put it in historic perspective for us. How bad is the economy now, and what are some of the signs that we should look for in recovery?

WEISBART: Well, it's - this is a tough one to characterize, Tom, because in the last, I would say, 6 months probably, all of the attempts to measure and characterize it have proven to be inaccurate about two days after they've been issued. Things are changing very quickly, and our standard measuring sticks, I think, are probably not good for trying to figure out where we are and how this compares to anything else. For example, the number of jobs lost since the recession began is comparable with almost any period in American history for numbers of jobs lost. Even, but as a percentage, if you go back to the end of World War II for example, many people who had been in the military came into civilian life and didn't have jobs immediately -- that's a major job-loss type situation. There was a fair amount of unemployment, so people are comparing the number of jobs lost there, and we're right about even or actually a little ahead, I think, of that measurement. You go back to the Depression, and obviously we're talking about unemployment rates that are much greater than the ones we're looking at today, so it's not as bad as that, fortunately. But then the population then was much smaller, and that's why the number of jobs lost back in those days doesn't compare to the number now. So it's - my short answer to your question is, it's really very difficult to get a good hand hold on what this is. It's clearly as steep a recession as we've had in a very long time. It probably will continue to get steeper as Warren Buffett said, and you referred to that, that the economy has fallen off a cliff. When you do that, you tend to get pretty badly bruised at the bottom of the cliff, and I think that's probably where we're gonna find ourselves when we finally hit bottom, whenever that turns out to be.

FIELD: Now, in the financial services industry, we've seen consolidation, we've seen failures, we've seen AIG dominating the news. Beyond what we've sort of seen on the surface, what do you see as the real impact of the recession on the financial services industry?

WEISBART: Well, you know, one hopes that one of the lessons that the industry comes out of this recession with is a better appreciation of the potential magnitude of downside risk. One goes back to the several books of Mr. Taleb, `The Black Swan` author, and I think a lot of of what we see is that many financial services firms and others allied with the financial services industry, simply never conceived of downside performance as extreme as we have actually experienced. Insurance, just to pick up on my - the area with which I'm most familiar -- is in the business of imagining things that are more adverse than we're commonly familiar with, and that's why I think the insurance industry in general has weathered the storm better than the banking industry, because that - their thinking is more extreme or catastrophe oriented. Their business model is more that way, and so they have been better prepared for it. That's not to say that they haven't been affected. Obviously there have been severe affects, mostly from the investment side of the house. But it's important I think that all financial services operations come to understand that you can't just assume away downside experience of significant nature.

FIELD: Now, the last 6 months or so, people have been talking an awful lot about the "bail out" we had, the Bush administration's TARP, and we've got the "son of TARP" from the Obama administration, and I think there's sort of a public perception of what these funds are versus the realities. I'd like to get your thoughts on the perceptions and realities of the so-called bail out monies.

WEISBART: I'm not sure I understand what you're looking for, Tom.

FIELD: Well, let's discuss the perceptions and the reality, because I think that the public looks at it, and they say that this is just a bail-out of AIG, or it's a bail-out of the banks, but this money is coming at sort of a steep price.

WEISBART: Oh, absolutely, it is, and I think you see news reports today that some banks are now deciding the price is even too high to take public money -- looking at ways to give it back and get out from under the strings that have been attached. But I think, you know, really I think at root, accountability is fundamentally what's going on here. What to some degree has been missing, I think. Again, mostly in the banking sector and the investment banking sector where the decisions to take risks have perhaps been a little disconnected from the consequences of those risky decisions. Especially the ones that didn't work out so well, and the tax-paying public is prepared, I think, to go along with these bailouts as long as they understand and agree that accountability goes a long with it. What's been damaged more than anything else has been general trust, and taxpayers are looking to feel that trust has been re-established through the use of accountability mechanisms.

FIELD: Now, one of the terms that's come up an awful lot in the past four, five, six weeks has been nationalization in terms of banks and other financial institutions. In your opinion, how close are we going to get to nationalization? Is that a good thing or a bad thing for the economy?

WEISBART: Well, I think it's very unlikely that we'll get close. It appears as though the federal government is reluctant to do this unless it seems like there is no other alternative. I'm very happy, if I'm correct in reading the disinclination to nationalize, that that is the case. It's not clear that the private organizations have done a great job of managing their affairs for the most part ... they've come through this in pretty distinguished fashion. So it's not everybody that hasn't handled this well, and so I think with that as a back-drop, the likelihood of nationalization is still pretty small. I think that the Nationalization would not be a good thing. It would be very difficult to unwind even if we think we're doing it temporarily, and it's not at all clear that the government would be a better manager of the banking system than private enterprise.

FIELD: Right. Now, one last question for you. Over the next quarter or so, what are some of the economic indicators your going to be looking at most closely to get a sense of where the financial services industry is headed?

WEISBART: Well, at the volume of lending, borrowing would certainly be a major indicator of whether things are going well or not. It - which is going to be a difficult standard to apply I think, because there had been a tremendous amount of over-borrowing, as it were. Loans extended to people and organizations that should have not have borrowed, and so getting to a sort or more normal relationship is where we need to be, and yet there needs to be new enterprise, you know, new borrowing in order to get the economy moving again. So fundamentally, I think to the degree we can shake out the bad loans and start new ones flowing again, that would be a major indicator that I would keep an eye on. Obviously employment, unemployment - that the unemployment numbers would be also a major factor as well, because the more people are actually at work, the more they have money to spend, and the retail sector has always been a major driver of the economy also.

FIELD: True. Well, Steven, I appreciate your time and your insight today.

WEISBART: You're welcome. My pleasure.

FIELD: We've been talking with Steven Weisbart, Senior Vice President and Chief Economist with the Insurance Information Institute. For Information Security Media Group, I'm Tom Field. Thank you very much.