Rabbi Pleads Guilty to Money Laundering
Scheme Highlights Need for More Scrutiny of Political Figures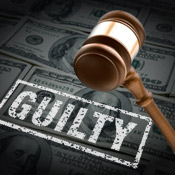 A rabbi based in Brooklyn has pleaded guilty to conspiring to launder between $200,000 and $400,000 in funds believed to be the proceeds of unlawful activities.
See Also: Live Webinar Tomorrow | Cyber Resilience: Recovering from a Ransomware Attack
Lavel Schwartz, 60, pleaded guilty May 24 in federal court to money-laundering conspiracy, according to a statement issued by the New Jersey U.S. Attorney's Office Schwartz has been released on bail. His sentencing is scheduled for Oct. 22, 2012.
The charge to which Schwartz pleaded guilty could lead to a 10-year prison term and a $250,000 fine.
The case stems from a scheme that began in May 2008, when Schwartz and his brother, Rabbi Mordchai Fish, met with Solomon Dwek, a cooperating witness with the United States.
In July 2009, authorities from the Federal Bureau of Investigation and the Internal Revenue Service arrested 44 people in New Jersey and New York for their roles in an international money-laundering and human organ trafficking scheme.
High-ranking religious figures and their associates, including four rabbis and three mayors, were charged in the bust known as Operation Bid Rig, which took down New Jersey politicians convicted on bribery and corruption charges.
At that time, Schwartz was charged in three separate criminal complaints, all of which also charged his brother, Rabbi Mordchai Fish. Fish pleaded guilty to conspiring to commit money laundering and is scheduled to be sentenced on June 18.
For a fee of approximately 10 percent, Fish and Schwartz agreed to launder and conceal Dwek's funds through a series of purported charities, also known as "gemachs," which Fish controlled or to which he had access, according to court documents.
Schwartz admitted that prior to laundering Dwek's funds, Dwek informed him that the funds he sought to launder were the proceeds of Dwek's purported illegal businesses, which included the trafficking in counterfeit goods, according to the court plea filing.
To conceal and disguise the nature and source of Dwek's funds, Fish directed Dwek to make the checks payable to several gemachs, which were purportedly dedicated to providing charitable donations to needy individuals. These included Boyoner Gemilas Chesed, Beth Pinchas, CNE and Levovous. Once he received the checks from Dwek, Fish provided them to one of his co-conspirators, who deposited them into bank accounts held in the names of the purported charities. Fish allegedly later arranged to make cash available through an underground money-transfer network and others, including David S. Golhirsh, Naftoly Weber, Avrohom Y. Polack, Binyamin Spira and Yoely Gertner, who provided Fish and Dwek with the cash.
Money Laundering Tale
Tony Wicks, global director of AML for NICE Actimize, says the case is a classic tale of money-laundering and corruption involving cross-border payments, check-cashing, misuse of charities, fraud rings, bribery of city officials and abuse of power.
"It triggers just about every known red flag in the anti-money laundering book," Wicks says. "Key to the case is that trusted persons - rabbis, mayors and city officials - seemingly above suspicion, created a web of corruption built on the trust and goodwill of others. More surprising is that the characteristics of the case are timeless."
Wicks says the case helps to justify one of the more controversial changes introduced in the new Financial Action Task Force guidance issued in February that calls for identifying and enhancing monitoring for domestic politically-exposed persons. "Mayors, local government officials and politicians all believe that they should be above suspicion, and many of them absolutely should," Wicks says. "But this case shows that there are still bad apples on the cart."
Schwartz admitted that, despite knowing the illicit nature of the funds, he engaged in approximately 10 money laundering transactions with Dwek. Schwartz agreed to forfeit approximately $90,000 by the date of sentencing - the 10 percent fee Fish charged Dwek for conducting the laundering transactions. Fish and Schwartz are jointly liable for this amount.
Weber, Polack, and Spira each pleaded guilty in November 2010 to operating illegal money-transmitting businesses. The charges against Gertner and Goldhirsh remain pending.