RSA and Juniper Networks to Expand Technology Partnership to Address Advanced Threats and Mobile Security
RSA and Juniper Networks to Expand Technology Partnership to Address Advanced Threats and Mobile Security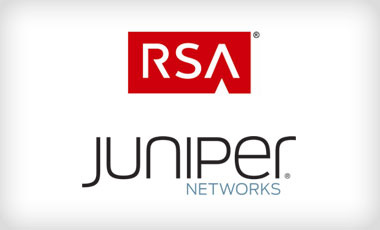 RSA, The Security Division of EMC (NYSE: EMC) and Juniper Networks (NYSE: JNPR), the industry leader in network innovation, today announced their intent to expand their technology partnership designed to help customers stop the wave of advanced threats targeting their networks and securely enable mobile access to applications for increased productivity.
As the limits of legacy security techniques such as IP-based reputation databases and signature-based anti-virus products become more evident, customers increasingly need to rely on threat intelligence to help stop advanced threats. Today, intelligence operations — whether military, counterterrorism, or cyber security — rely on the breadth of sources and techniques to be as effective as possible. Unfortunately, broad scale intelligence sharing amongst IT security vendors is limited, leaving customers with serious visibility gaps into the threat landscape.
RSA and Juniper are addressing these limitations by creating a technology partnership that would provide extensive intelligence sharing between the RSA® Live threat intelligence delivery service and Juniper Networks Junos® Spotlight Secure global attacker intelligence service. RSA intends to use this to extend threat visibility and analytics within RSA® Security Analytics, providing deeper insight and visibility of threats to customers. Juniper intends to embed this additional intelligence into network enforcement points, such as the Juniper Networks® SRX Series Services Gateway firewall product, in order to more effectively block threats in real-time.
The Junos Spotlight Secure global attacker intelligence service captures and shares digital fingerprints of attacker devices in real-time, providing better precision in tracking and blocking attackers than IP reputation databases. The RSA Live solution is designed to focus on malicious networks, including command-and-control and advanced threat-related domains. The sharing of these sources and techniques is anticipated to help provide customers with unparalleled visibility into the attacks which target their networks, as well as the ability to more quickly and effectively block and mitigate them.
In addition, RSA and Juniper intend to build on a previous agreement announced in 2012 to help enable mobile security services tying strong authentication with secure remote access to extend the security model and streamline the mobile user experience when accessing both corporate and cloud-based resources. The two companies are engaged in ongoing interoperability testing so that RSA mobile authentication technologies work with the Juniper Networks Junos® Pulse SSL Secure solution for secure, mobile remote access to corporate resources. The companies also intend to collaborate further to enable Junos Pulse SSL Secure to authenticate native mobile application access to present a unified access point for both VPN and mobile applications.
Art Coviello, Executive Chairman, RSA and Executive Vice President, EMC Corporation, said: "Two of the most common requests we get from customers are about improving information sharing and enabling them to deploy greater security on mobile devices. This expanded technology partnership would enable RSA and Juniper to help address both of those key requirements for customers, and set the stage for increased collaboration on a wider range of advanced security challenges."
Nawaf Bitar, Senior Vice President and General Manager, Security Business Unit, Juniper Networks, said: "The future of cyber security is centered around enabling real-time sharing of intelligence to prevent advanced attacks. Juniper and RSA are teaming up to share extensive intelligence and drive the industry forward. Spotlight, Juniper's global attacker intelligence service, announced today, transforms the industry from tracking IP addresses to tracking and stopping individual attackers. When Spotlight is coupled with the RSA Live service, customers win by gaining more complete situational awareness and better prevention of advanced attacks."
ADDITIONAL RESOURCES:
ABOUT JUNIPER
Juniper Networks is in the business of network innovation. From devices to data centers, from consumers to cloud providers, Juniper Networks delivers the software, silicon and systems that transform the experience and economics of networking. Additional information can be found at Juniper Networks (www.juniper.net) or connect with Juniper on Twitter and Facebook.
ABOUT RSA
RSA, The Security Division of EMC, is the premier provider of security, risk and compliance management solutions for business acceleration. RSA helps the world's leading organizations succeed by solving their most complex and sensitive security challenges. These challenges include managing organizational risk, safeguarding mobile access and collaboration, proving compliance, and securing virtual and cloud environments.
Combining business-critical controls in identity assurance, encryption & key management, SIEM, Security Analytics, Data Loss Prevention and Fraud Protection with industry-leading GRC capabilities and robust consulting services, RSA brings visibility and trust to millions of user identities, the transactions that they perform and the data that is generated. For more information, please visit www.EMC.com/RSA.
ABOUT EMC
EMC Corporation is a global leader in enabling businesses and service providers to transform their operations and deliver IT as a service. Fundamental to this transformation is cloud computing. Through innovative products and services, EMC accelerates the journey to cloud computing, helping IT departments to store, manage, protect and analyze their most valuable asset — information — in a more agile, trusted and cost-efficient way. Additional information about EMC can be found at www.EMC.com.