PhoneFactor Announces New Survey Data at RSA
PhoneFactor Announces New Survey Data at RSA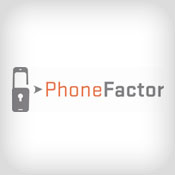 PhoneFactor, Inc., a leading global provider of multi-factor authentication, announced the availability of revealing new survey data. Last month more than 300 IT professionals were surveyed about the security of their corporate networks, and their responses indicate an overwhelming lack of confidence. In fact, more than half were unwilling to bet their own money that their corporate network would not be breached in the next year. Having the right tools in place, such as real-time alerts and stronger authentication, increases confidence enough for most to raise their bets. Other findings include:
More than two-thirds (70.3%) of respondents are only somewhat confident or not all confident that an unauthorized person could not gain access to their network.
Only one-quarter (25.7%) of respondents are very confident that they would know that their network had been infiltrated.
When asked if an expert hacker would be capable of infiltrating their network, 84.4% thought it was at least possible, with 23.1% answering that an expert hacker could definitely gain access to their corporate network.
Some of the top reasons respondents feel their network may be vulnerable are:

Malware, including root-kits, zero day exploits, and man-in-the-browser attacks (55.4%);
Use of personal devices to access company resources (45%);
Sheer volume of attacks (35.2%); and
Widespread use of remote network access (32.6%).

When asked to wager one of five amounts - $0, $1000, $5000, $50,000, or $1,000,000 - that their network will NOT be compromised in the next 12 months, 57.7% refused to take the bet, going instead with $0.
Real-time alerts by phone call, text or e-mail any time someone attempted to log in with a stolen password increased respondents' confidence in making a bet by 87%.
Verifying user logins through an out-of-band phone call increased their confidence in making a bet by a minimum of 93.1%, with greater increases in banking and large companies.
When respondents were asked how likely they would be to raise their initial bet that their network would NOT be compromised in the next 12 months if out-of-band authentication and real-time fraud alerts were in place, 77.8% answered in the affirmative, increasing to 80.8% in banking.
Also worth noting is that nearly half (44.6%) of all respondents indicated that their company was planning to increase their use of out-of-band authentication over the next two years.
"It's easy for a person to say that their network is secure, but when we asked them to make a bet using their own money, they simply would not do so unless additional protections were put into place," said Sarah Fender, Vice President of Marketing and Product Management at PhoneFactor.
"This is consistent with what we see in the marketplace," Fender continued. "Companies are deploying PhoneFactor's out-of-band authentication platform to provide better protection from malware, fend off increasingly prevalent attacks, and shore up security for their mobile workforces and the many devices that are used to access the network."
About PhoneFactor
PhoneFactor is a leading provider of multi-factor authentication. The company's award-winning platform uses any phone as a second form of authentication. PhoneFactor's out-of-band architecture and real-time fraud alerts provide strong security for healthcare, enterprise, banking, and website applications. It is easy and cost effective to set up and deploy to large numbers of geographically diverse users. Learn more at www.phonefactor.com or follow PhoneFactor on twitter @phonefactor.