TITUS to Showcase Metadata Security Claims Edition for Microsoft SharePoint at RSA
TITUS to Showcase Metadata Security Claims Edition for Microsoft SharePoint at RSA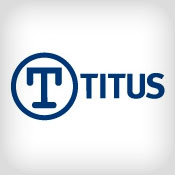 TITUS, a leading provider of security and compliance solutions for email, documents, and Microsoft SharePoint, announced the availability of TITUS Metadata Security Claims Edition for Microsoft SharePoint. The latest release of this industry-leading security solution for SharePoint enables claims-based authorization using trusted user attributes to control access to sensitive content. TITUS will be showcasing this product at RSA Conference 2012 in San Francisco from February 27 to March 1 at booth 1847.
Microsoft introduced support for claims-based authentication in SharePoint 2010. Trusted attributes about a user's identity, or claims, can be used in SharePoint to enhance and enforce policies around user authentication and federation. By leveraging claims, organizations can go beyond simple user and group permissions, and utilize the benefits of user attributes to help secure their sensitive information in SharePoint. Using claims also allows organizations to extend SharePoint authorization to partner organizations to facilitate business to business collaboration.
"More and more businesses are choosing SharePoint as their enterprise collaboration solution," said Kristina Kerr, group product manager, SharePoint Product Management at Microsoft Corp. "With employees at all levels of the organization having access to SharePoint, and the growing amount of sensitive data being housed in SharePoint, having the ability to utilize claims about individuals can enhance security and data governance policies."
The previous versions of TITUS Metadata Security products enhanced and automated native SharePoint security features by using document metadata, enabling enterprises to achieve rich data governance and regulatory compliance for their sensitive information. TITUS Metadata Security Claims Edition takes SharePoint security a step further by allowing organizations to not only use document metadata, but to also use trusted user claims to secure content and enforce policies within Microsoft SharePoint.
Use Case
As an example, for a company with both full time employees and contractors, TITUS Metadata Security Claims Edition allows enterprises to configure security policies to control access to any content type within SharePoint including documents/files, forms, list items and folders based on employment status. These policies can be applied to both internal SharePoint collaboration portals and SharePoint extranet sites. TITUS Metadata Security Claims Edition can automatically apply fine-grained permissions to information by looking at an item's metadata (ie. human resource document), in combination with an individual user's claims (ie. full time employee in HR), to determine which users with specific attributes can and cannot access sensitive documents.
"We have built claims-based authorization into our SharePoint products in order to increase the security of information that enterprises store in SharePoint," said Charlie Pulfer, Vice President of Product Management at TITUS. "The previous versions of our Metadata Security product have helped organizations to secure sensitive data in SharePoint, but many are looking to further this and ensure that only those individuals with the proper credentials can access specific information. The Claims Edition gives them the tools they need to do that."
Pricing and Availability
TITUS Metadata Security Claims Edition for SharePoint is now available. For information on pricing, or to download a 30-day free trial, please visit http://resources.titus.com/2012_WEB_SP_TRIAL_Metadata_Security_Claims.html.
About TITUS
TITUS is the leading provider of security and compliance software that helps organizations share information securely while meeting policy and compliance requirements. Our solutions enable military, government, and large enterprises to classify information and meet regulatory compliance by visually alerting end users to the sensitivity of information. Products include TITUS Classification, the leading message, document and file classification and labeling solutions that enhance data loss prevention by involving end users in identifying sensitive information; and the TITUS family of classification and security solutions for Microsoft SharePoint. TITUS solutions are deployed to over 1.5 million users within our over 300 military, government and enterprise customers worldwide, including Dow Corning, United States Air Force, NATO, G4S, Paternoster, Pratt and Whitney, Canadian Department of National Defence, Australian Department of Defence, and the U.S. Department of Veterans Affairs. For more information, visit www.titus.com and the TITUS Data Security and Compliance blog.