Modulo to Demonstrate Risk Manager Tool at RSA 2012
Modulo to Demonstrate Risk Manager Tool at RSA 2012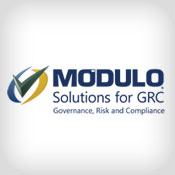 Modulo will demonstrate at RSA 2012 a new way to help security managers by rolling up pen testing and vulnerability risk data and correlating it with broader IT risks for a holistic view of IT governance, risk and compliance.
With this new level of automation, an organization can now import, align, and score assets from vulnerability management tools using a common, shared repository and fully rationalized scoring methodology. The Modulo Risk Manager tool automates the following processes:
Prioritizing the vulnerabilities, based on who owns a particular asset, and assigning the "remediation plan" to that owner for action;
A "workflow" for sorting the status of thousands of assets to quickly and accurately focus on the items that have the greatest potential impact to the business
A unified language taxonomy between the disparate concepts for creating and distributing more meaningful reports to management and auditors."
Customer Sources: With over 500 customers worldwide, Modulo is also a source of CISO/CSO comment on a broad range of IT risk topics such as Smart Grid Security, PCI Compliance, Vendor Risk Management, Continuous Monitoring, and more.