KOBIL Debuts New Mobile Application and Online Service Security Solutions at RSA 2012
KOBIL Debuts New Mobile Application and Online Service Security Solutions at RSA 2012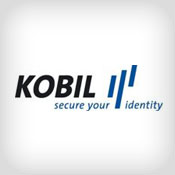 KOBIL Systems, a leading provider and market leading trendsetter of mobile IT security and digital identity solutions, introduced the new mIDentity App Security Toolkit, (mID AST), which protects mobile users from multiple security attacks.
KOBIL offers two reference implementations of this toolkit: mIDentity Trusted Web View (mID TWV), an application for secure authenticated mobile web browsing and the mIDentity Trusted Messages Sign (mID TMS), an application designed to replace weak and costly text/short message (SMS) online services and phone callback OTP services with authenticated transaction messages that cost less.
KOBIL's mIDentity App Security Toolkit (AST) is a software development kit which secures any online mobile application, such as mobile banking applications. AST protects against unauthorized duplication of apps from dedicated devices, prevents app manipulation and the creation of fake apps. This new online solution bolsters security between mobile applications and online services by ensuring data confidentiality and integrity through the creation of trust anchors that protect the communication in between apps and online services. AST is easy to integrate into mobile devices and applications, and it's easy to use.
"We see an exponential increase in the use of enterprise apps in mobile space," said Ismet Koyun, CEO of KOBIL Systems GmbH. "KOBIL is helping app developers and organizations who use apps as portals for secure online transactions by leveraging the company's military grade security technology for popular mobile platforms to protect these transactions against cybercrime and unauthorized access."
"KOBIL's new offerings at RSA 2012 provide highly secure and convenient solutions to protect the digital identities of mobile end users," said Tan Sarihan, CEO of KOBIL Technologies USA, Inc., "We have demonstrated our effectiveness around the world by securing millions of online banking users. These new products extend KOBIL's vision of enabling different technologies into convenient security solutions that solve real mobile computing problems."
According to KOBIL, virtually all of today's most common web browser attacks on PC platforms also exist for mobile device web browsers. Users can be tricked via phishing and pharming attacks, and mobile devices are more likely to be at risk of man-in-the-middle and man-in-the-browser attacks that can modify online transactions while accessing popular online services. The use of static passwords, text/SMS, phone callback OTP, soft One Time Passwords (OTP) or basic hard OTP tokens will not stop these attacks. KOBIL secures mobile web browsers through the mIDentity Trusted Web View (TWV) powered by mIDentity AST. The mIDentity TWV is a downloadable mobile application with all the functionality of mIDentity AST and uses mobile web browsers in a controlled way.
Mobile platforms can be used as an out-of-the-band authentication solution for PC based access to online applications. To make sure out-of-the-band authentication for both login and transaction signing is secure, mIDentity Trusted Message Sign (TMS) solution powered by mIDentity AST can be easily implemented as a reference solution. The full featured mIDentity TMS is a downloadable mobile application that offers up to 80 percent of the cost savings over traditional SMS.
The apps which are using mIDentity AST functionality can use external hardware devices such as mIDentity Air or Air+ for third-factor authentication, signing and additional trust points. These devices should be used with mobile platforms for processing high risk transactions.
About KOBIL Systems
KOBIL Systems is a market leader and trendsetter for highly convenient IT security solutions with a focus in the area of secure digital identities. KOBIL stands for secure data, secure communication and secure authentication on every computer worldwide.
Founded in 1986, KOBIL Group, based in Worms, Germany, is the only manufacturer worldwide with a fully developed product line for IT-Security. As a pioneer in the area of cryptography, smart card technology and PKI (Public Key Infrastructure, digital identities) and in the area of Security for mobile platforms as Android or iPhone, KOBIL's products have become today's recognized standard for secure digital identities. The full research and development of the products is made in Germany. KOBIL has 40 percent of the staff involved in R&D. KOBIL applications comply with international standards such as USB, NFC, ISO 14443, EMV-CAP, ISO 7816, ISO 9001 and the German Act for Digital Signature. KOBIL products also support common technology standards which make it very simple to integrate them into existing IT infrastructures. IT security solutions by KOBIL are mobile, flexible and user friendly, and are used in a variety of different industries.
Many banks and corporations rely on KOBIL technologies, such as Deutsche Telekom, Datev, Commerzbank, Aareal Bank, DekaBank Luxembourg, Banque de Luxembourg, Sparkassen, Volksbanken, Deutsche Postbank, Migrosbank, Valiant Bank, Hypothekarbank Lenzburg, Berner Kantonalbank, ING Bank, Rothschild Bank, Raiffeisenbank International, UBS, Société Générale, BBVA, Santander, Yapi Kredi, Akbank, Isbank, German parliament and German Federal Office for Information Security (BSI). KOBIL USA expanded into North America with KOBIL USA's headquarters established in San Francisco in January 2012.