Identity & Access Management , Multi-factor & Risk-based Authentication , Security Operations
Okta Buys Personal Password Manager Uno to Service Consumers
Uno's Design Wisdom Will Accelerate Rollout of Okta's First-Ever Consumer Product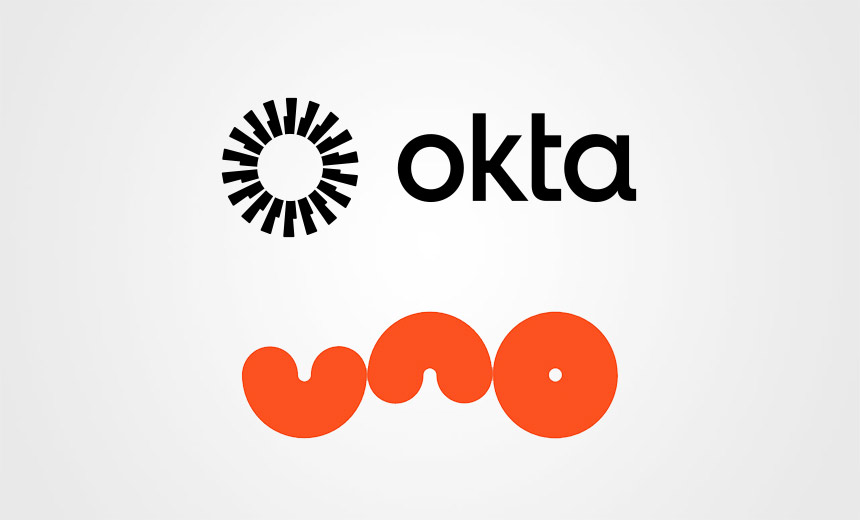 Okta purchased a password manager founded by a former Google engineer and backed by Andreessen Horowitz to get a foothold in the consumer identity market.
See Also: A Guide to Passwordless Anywhere
The San Francisco-based identity giant was impressed by Uno's experience in building consumer-first, design-focused and easy-to-use password management and personal identity tools, said Vivek Raman, vice president and general manager of Okta Personal. He said the addition of Uno's talent and expertise in security, identity and artificial intelligence will accelerate the rollout of Okta's first consumer offering.
"The team behind Uno - a leading design-centric consumer password manager - is joining Okta to accelerate our rollout of Okta Personal to help achieve our vision of delivering a world-class personal identity product that goes beyond today's consumer password managers," Raman wrote in a blog post.
Okta's stock is down $0.08 - or 0.10% - to $78.76 per share, which is the lowest the company's stock has traded since Aug. 30. Terms of the acquisition weren't disclosed, and Okta executives weren't immediately available for additional comment (see: Okta Exec Sagnik Nandy on Protecting the Extended Workforce).
What Makes Uno Different
Uno was founded in January 2021 by Parteek Saran, who collaborated with Lady Gaga and worked on consumer projects at Facebook and Postmates before co-creating Form, which was acquired by Google in 2014. The company raised $3 million in funding from Andreessen Horowitz, Lookout founder Kevin Mahaffey and Duo Security founder Dug Song and currently employs 28 people, according to LinkedIn.
"We're excited to help Okta move into consumer identity, pairing our design and user-focused product team with their security and identity infrastructure," Saran wrote on LinkedIn on Wednesday. "Our visions are closely aligned and we're looking forward to building something special together!"
Saran said the entire Uno team will join Okta, bringing the company's deep expertise in building across design, security, identity and artificial intelligence. Uno said on its website that its app - which makes it easier to handle passwords and logins across IoT, Mac and Chrome - will be discontinued Nov. 1. Saran said the best parts of the Uno product will be integrated into Okta over time.
"The goal with Uno was to put a fresh face to the world of security - something that didn't feel technical, but inviting and fun to use," Saran wrote on LinkedIn. "We thoughtfully built tech that will be invaluable to Okta's vision."
How Okta Customers Will Benefit From Uno
Uno is expected to fuel the development of Okta's free password manager, which Raman said allows users to securely store, save and autofill passwords for all their personal apps across multiple devices. Okta Personal allows consumers to both generate strong, unique passwords for all their apps in one place and streamline the login process by autofilling credentials in both apps and browsers, Raman said.
"We thoughtfully built tech that will be invaluable to Okta's vision.'"
– Parteek Saran, founder, Uno
The product also decouples personal apps from a user's Okta enterprise account and migrates those apps into a free Okta Personal account that workers can take with them even after they leave the organizations, according to Okta. Okta Personal is a new feature in Okta's Workforce Identity Cloud and is available in beta today and limited early access in the winter of 2024.
"Okta Personal has the same look and feel as the Okta users know and love for work, backed by our enterprise-grade security," Raman wrote in the blog post. "All sensitive user data is encrypted and never shared with employers or third parties."
This is Okta's first acquisition since August 2021, when it purchased privately held workplace operations platform atSpoke for $79 million to serve as a building block for its upcoming identity governance and administration offering. In May 2021, Okta bought customer identity and access management platform Auth0 for $5.67 billion to address a broader set of identity use cases regardless of audience or user (see: Okta CEO: Identity Governance Has 'The Markings of a Hit').