NIST Seeks Web-Linked Biometric Device
Agency to Help Bankroll R&D of Handheld Fingerprint Sensor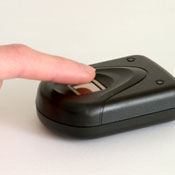 No biometric scanning device exists that has web-enabled communication and control based on a publicly available specification, says the National Institute of Standards and Technology. And NIST wants to change that.
See Also: Spot The Impostor: Tackling the Rise in Social Engineering Scams
As part of its Small Business Innovation Research program, NIST says it seeks innovative proposals for the design and development of a small form-factor, tamper-resistant and handheld fingerprint sensor. The integrated, wirelessly available web-services biometric device would include a self-contained battery/power source. The device must incorporate a physical connection for customization of the wireless controls and service. The physical connection can be USB or other; if other is chosen, NIST must approve the connection type.
The goal of this initiative, for which NIST will provide funding, is to produce a fully functional, handheld device that's capable of biometric acquisition, and controlled through web services as specified in NIST Special Publication 500-288: Specification for WS-Biometric Devices.
NIST recognizes the ubiquity of the Internet and its impact on commerce - the agency, after all, is part of the U.S. Commerce Department - and the need for tools that can assure safe online transactions.
There are two phases of the project. In phase one, the applicant NIST picks must furnish engineering drawings of the device as well as a partially implemented software stack targeting the platform that will be used in the device. The chosen applicant also must provide evidence of basic functionality.
In the second phase, the developer must produce the device with an integrated single fingerprint sensor. NIST said it would encourage the applicant to develop a second device that could scan other biometrics, such as slap fingerprints (simultaneously pressing four fingers onto a scanner), faces or irises. NIST would require the selected applicant to provide progress updates bimonthly during both phases of the project.
NIST says its Small Business Innovation Research initiative seeks to fuel private-sector technological innovation by strengthening the role small business plays in meeting federal research-and-development needs and bringing to market innovations derived from federal R&D. The program also works to foster participation by socially and economically disadvantaged individuals and women-owned small businesses in technological innovation.
For details, check out the solicitation, which closes March 12.