NIST Issues Draft of Cloud Guide
Public Comment Sought on Special Publication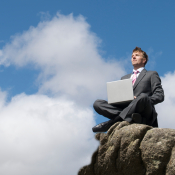 The National Institute of Standards and Technology has issued a draft of its most complete guide on cloud computing, and is seeking public suggestions on how to improve the document.

A draft of Special Publication 800-146, Cloud Computing Synopsis and Recommendations, provides definitions of cloud computing technologies as well as practical information for decision makers interested in moving to the cloud.

Cloud computing is a major initiative under Federal Chief Information Officer Vivek Kundra, who tasked NIST to lead federal efforts on standards for data portability, cloud interoperability and security. Cloud computing got a boost last week from the White House when the Obama administration proposed legislation to prevent states from requiring companies to build their data centers in that state, except where expressly authorized by federal law, so not to cripple a new industry by protectionist measures (see White House Unveils Cybersecurity Legislative Agenda).

NIST said the new guide reviews its definition of cloud computing, provides an overview of cloud environments with detailed discussions of each and then provides a section on each of the main cloud environments: software-as-a-service, platform-as-a-service and infrastructure-as-a-service.

Each section of the guidance looks at the environment's scope, its capabilities, benefits and known issues and concerns. The publication also provides information on how organizations should consider the relative opportunities and risks of cloud computing. One section covers computing performance, reliability, economics, compliance and data and applications security. Another section discusses general recommendations. Appendices cover typical costs of cloud computing, roles and responsibilities, acronyms, terminology and resources for further investigation.

Comments can be e-mailed to NIST to 800-146comments@nist.gov by June 13.