Cyberwarfare / Nation-State Attacks , Fraud Management & Cybercrime , Fraud Risk Management
New DHS Secretary Pledges to Investigate SolarWinds Hack
Alejandro Mayorkas: 'Cybersecurity of Our Nation Will Be One of My Highest Priorities'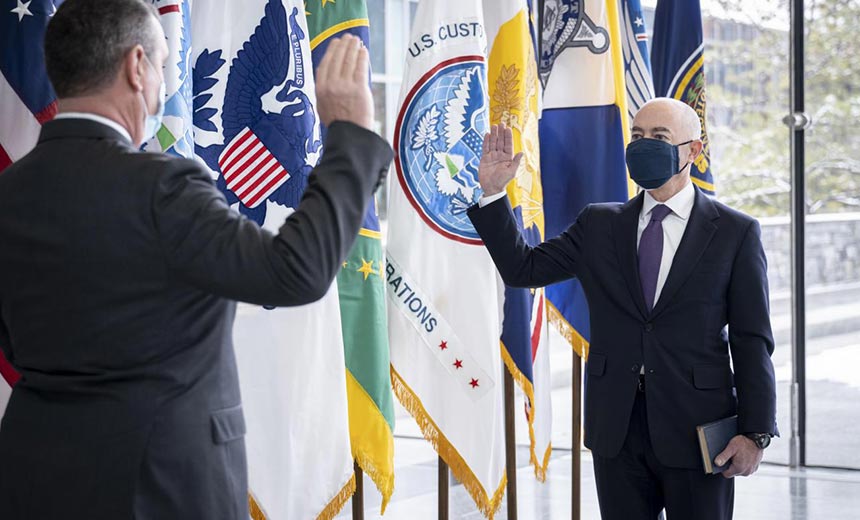 Alejandro Mayorkas, the newly confirmed secretary of the Department of Homeland Security, says his initial priorities include reviewing all available intelligence on the SolarWinds supply chain hack and scrutinizing the government's cybersecurity programs.
See Also: JavaScript and Blockchain: Technologies You Can't Ignore
Mayorkas, who previously served as the deputy secretary of Homeland Security during the Obama administration, also promised to strengthen the U.S. Cybersecurity and Infrastructure Security Agency as well as place a greater emphasis on addressing the cyberthreats to national security.
"I can assure you that the cybersecurity of our nation will be one of my highest priorities because I concur with you that the threat is real and the threat is every day and we have to do a much better job than we are doing right now," Mayorkas said during his confirmation hearing last month, in response to a question from Sen. Mitt Romney, R-Utah.
Today Alejandro Mayorkas was officially sworn in as the Secretary of Homeland Security: https://t.co/viMLILFA8o

"DHS bears an extraordinary weight on behalf of the American people, the weight of grave challenges seen and unseen," said Secretary Mayorkas. pic.twitter.com/bbF5WFSBgm

— Homeland Security (@DHSgov) February 3, 2021
Action Items
Mayorkas told senators that his review of intelligence on the SolarWinds hack, which affected government agencies as well as private enterprises, would be followed by a review of the government's Einstein incident detection program and CISA's Continuous Diagnostics and Mitigation program to assess if they're truly effective in addressing cyberthreats. "And if [they're] not, what other defenses do we need to develop in the federal government to best protect our very valuable … resources?"
Einstein is intended to help CISA to use threat information detected in one agency to protect the rest of the government and to help the private sector protect itself. The CDM program delivers cybersecurity tools, integration services and dashboards that help participating agencies improve their security posture.
Cyber Espionage
CISA and other agencies investigating the SolarWinds supply chain hack say it was likely part of a Russia-backed cyber espionage campaign.
On Tuesday, however, Reuters, citing unnamed sources, reported that a Chinese hacking group may have hacked SolarWinds to gather intelligence from federal agencies, including the U.S. Department of Agriculture's federal payroll agency, the National Finance Center (see: China Tied to Separate SolarWinds Espionage Campaign).
The Vote
The Senate confirmed Mayorkas as DHS secretary by a vote of 56-43 on Tuesday, with all Democratic senators and six Republicans voting in favor. He was then immediately sworn in by Vice President Kamala Harris.
The six Republicans who backed Mayorkas were Susan Collins of Maine, Rob Portman of Ohio, Lisa Murkowski of Alaska, Shelley Capito of West Virginia, Mitt Romney of Utah and Dan Sullivan of Arkansas. Independent Senator Angus King of Maine, who caucuses with the Democrats, also voted to confirm.
Portman told the Associated Press that he voted for Mayorkas because the Homeland Security secretary position urgently needed to be filled.
"I drove through the National Guard again to get here this morning. We've got some real issues," Portman said.
Cybersecurity Appointments
Earlier, the Biden administration filled a number of cybersecurity positions that don't require Senate approval.
Chris DeRusha was named federal CISO. Anne Neuberger was appointed to the new position of deputy national security adviser for cyber and emerging technology. Michael Sulmeyer was named senior director for cyber, and Rob Joyce was selected to be director of the NSA's Cybersecurity Directorate.
On Jan. 20, the U.S. Senate confirmed Avril Haines as director of national intelligence.