New Credit Union Information Security Website Launched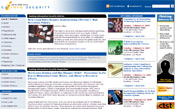 Information Security Media Group, Corp. is launching a new sister website specifically for the credit union community - CUInfoSecurity.com. The new site organizes the latest credit union information security related regulations, news, articles, white papers, industry related events, webinars, education and resources all dedicated to credit union information security.
Governing bodies such as the National Credit Union Administration (NCUA), and the state banking agencies release guidance and regulations on information security topics (specifically directed toward the credit union and financial industries), and CUInfoSecurity.com (http://www.CUinfosecurity.com) helps the credit union information security community interpret and incorporate these constructive hurdles into their plans and budgets effectively.
With the launch of the new site, CUInfoSecurity.com announced its partnership with CUES, the Credit Union Executive Society. The partnership with CUES allows content from CUInfoSecurity.com to be sent to CUES members, including information on webinars, news and original interviews.
CUInfoSecurity.com features an editorial staff filled with experts in the Credit Union Information Security industry. By reporting on new regulation topics, industry trends, and concerns, CUInfoSecurity.com writers keep the credit union community up-to-date with industry best practices.
CUInfoSecurity.com will offer interactive webinars that keep the credit union information security community in touch with current issues and regulations that affect the way credit unions do business. These sessions focus on topics such as identity theft, penetration testing, IT audits, Strong Authentication in Internet Financial transactions, and the Information Technology Risk Management Program. These webinars are hosted by experts in the credit union information security industry who truly understand the mindset and needs of the credit union community.