New Bank Failures: Heat is on Leaders to Address Consumer Confidence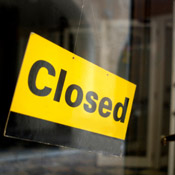 Within two weeks of one of the largest bank failures ever come the closings of two additional banks in Nevada and California, putting new pressure on banking institutions to address the growing topic of customer confidence.

First National Bank of Nevada, ($3.4 billion assets), Reno, Nevada, and First Heritage Bank, N.A., ($254 million assets), Newport Beach, California (owned by First National Bank Holding Company, Scottsdale, Arizona), were closed late Friday by the Office of the Comptroller of the Currency (OCC), and the Federal Deposit Insurance Corporation (FDIC) was named receiver. The FDIC entered into purchase and assumption agreements with Mutual of Omaha Bank, Omaha, Nebraska, to take over all of the deposits and certain assets of the First National Bank of Nevada, Reno (also operating as First National Bank of Arizona, which recently merged into it), and First Heritage Bank, N.A., Newport Beach, California.

The 28 offices of the two banks were to reopen Monday as branches of Mutual of Omaha Bank. All depositors, including those with deposits in excess of the FDIC's insurance limits, will automatically become depositors of Mutual of Omaha Bank for the full amount of their deposits.

These closings came a day after FDIC Chairman Sheila Bair issued a Depositor's Bill of Rights, reassuring customers that "The overwhelming majority of banks in this country are safe and sound and the chances that your own bank could fail are remote."

The OCC acted after finding that the First National Bank of Nevada was undercapitalized and had experienced substantial dissipation of assets and earnings due to unsafe and unsound practices, said OCC's spokesperson Kevin Mukri in a press statement issued late Friday. In the case of First Heritage Bank, the OCC acted after finding that the bank was critically undercapitalized.

The cost of the transactions to FDIC's Deposit Insurance Fund is estimated to be $862 million. The failed banks had combined assets of $3.6 billion, .03 percent of the $13.4 trillion in assets held by the 8,494 institutions insured by the FDIC.

First National Bank of Nevada is the first bank to be closed in Nevada since Frontier Savings Association, Las Vegas, on December 14, 1990. The bank closed most recently in California was IndyMac Bank, F.S.B., Pasadena, on July 11, 2008.

Impact on Industry
The fervor of media coverage during IndyMac's closing and takeover by FDIC made the rest of the industry reassess their customers' confidence in banking institutions, says David Schneier, Director of Professional Service for Icons Inc., an information security and risk assessment firm. The lack of media coverage on the latest two closings speaks volumes about how smoothly the FDIC handled the closing and sale to Mutual of Omaha, but doesn't let other banks dodge the basic question that their customers will pose: "What are you doing with my money?"

The message that banks should be sending to their customers is "We're still here, and we're strong," Schneier says. "The majority of financial institutions are doing the right thing, but aren't actively giving their customers this message."

Sanjay Kalra, one of our bloggers, recently covered this issue in his blog: Perfect Storm of Perfect Opportunity?.

Other financial institutions should pay close attention to these bank closings and their own balance sheets in the wake of these failures, states another industry professional. "IndyMac and other looming failures signal one thing for certain - FDIC assessments are going up," says Robert Matthews, principal of Matthews Business Solutions, LLC and former Chase Manhattan risk management officer. "It is time to get practical and make certain that your deposit numbers are not inflated by poor accounting practices. Take a close look at your reciprocal bank balance adjustment - there are differences between what the Federal Reserve allows here and what the FDIC allows."