New ATM Skimming Arrests
3 Charged With 6-State Spree Linked to $550K in Fraud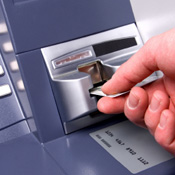 Three Seattle area men have been arrested for their alleged involvement in separate ATM skimming schemes that drained more than half a million dollars from retail customer accounts in at least six states.

Beneyam Asrat G-Sellassie, 22, of Seattle, Ionut Buzbuchi, 55, of Renton, Wash., and Mihai Eleckes, 35, of Issaquah, Wash., now face federal charges. Two of the men were expected to appear in court this week.

According to the U.S Attorney's Office in Washington, the three were involved in schemes that skimmed bank-card details from ATMs as well as card-readers used to access ATM vestibules outside branch lobbies. The fraudsters then allegedly recorded PIN details with miniature cameras installed near terminals and entry-access points.

Investigators believe G-Sellassie, who was arrested at a Chase branch in Seattle, is linked to more than 20 skimming incidents in Washington, Oregon, California and Nevada that likely compromised as many as 1,800 accounts and affected 573 accountholders through fraudulent ATM withdrawals and debit purchases. Losses so far total more than $394,000. G-Sellassie was busted at the Seattle Chase branch after he tried using counterfeit cards he had created from details skimmed at ATMs in Las Vegas.

G-Sellassie now faces up to 10 years in prison and a $250,000 fine.

In a separate case, Buzbuchi and Eleckes, who have been on law enforcement's radar since 2009, are believed to be linked to skimming attacks in Washington, Idaho and Arizona, where they targeted BECU, Watermark Credit Union, First Tech Credit Union and Chase Bank ATMs. The losses attributed to their alleged schemes are believed to total more than $160,000. They two now face charges for conspiracy to commit bank fraud and possession of device-making equipment. Each could be sentenced to as much as 30 years in prison.
Banks: Attractive Targets
ATM skimming is a growing problem, especially at bank branch ATMs. Recently, authorities in the Tampa Bay area of Florida said at least 44 customers had been defrauded of at least $26,000 in recent weeks, after their cards were skimmed at two walk-up ATMs at area banks. One of the attacks, reported by a Bank of America branch in Pasco County, remains under investigation. [See ATM Skimming Spree Investigated.]

Bank ATMs are prime targets, especially when they are walk-up or drive-up machines. High transaction volumes coupled with easy access make them ideal for fraudsters. "The Tampa case so far is really typical," says John Buzzard of FICO's Card Alert Service.

It's challenging for banking institutions and other ATM deployers to fight skimming. Chuck Somers, vice president of ATM Security and Systems for Diebold Inc., says organized crime groups are focusing their attention on technical sophistication that exploits ATM vulnerabilities, especially at branch ATMs. "We expect that industry regulations will continue to increase to ensure that the proper safeguards are put in place to reduce the loss to the industry, and focus on protecting personal identification information," Somers says.