Cyberwarfare / Nation-State Attacks , Fraud Management & Cybercrime , Governance & Risk Management
Mueller Report: With Russian Hacking Laid Bare, What Next?
Trump Administration Faces Call to Fully Combat Russia's Election Interference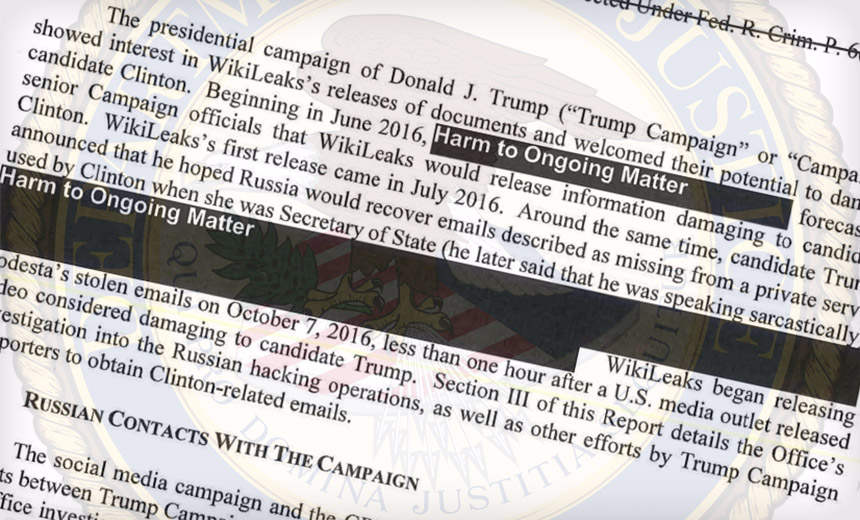 Whatever questions it leaves unanswered, Special Counsel Robert Mueller's report into Russian interference clearly states: "The Russian government interfered in the 2016 presidential election in sweeping and systematic fashion."
See Also: JavaScript and Blockchain: Technologies You Can't Ignore
So says Volume I of the "Report on the Investigation into Russian Interference in the 2016 Presidential Election," released on Thursday by the U.S. Department of Justice (see: Released: Redacted Mueller Report on Russian Interference).
The special counsel investigation was ordered by Deputy Attorney General Rod Rosenstein.
Subsequently, the evidence gathered during Mueller's nearly two-year investigation has led to 37 indictments - including those for Russian GRU military intelligence agency operatives accused of hacking the Democratic National Party as well as three Russian organizations and their employees. That includes the St. Petersburg, Russia-based Internet Research Agency, or IRA, which allegedly operated as a social media troll factory designed to undercut the integrity of U.S. elections, also in violation of U.S. criminal law (see: Putin Offers Extradition Promise to US: 'Never').
Here are some of the details about what the report lays bare, as well as what the public - and potentially prosecutors - still don't know.
Evidence Shared
Volume II of Mueller's report is devoted to whether President Donald Trump obstructed the investigation. Mueller wrote that his team didn't decide whether to charge the president, but rather, it analyzed all of the evidence and left the decision others. Mueller wrote that this decision was partially based on Department of Justice rules that prohibit charges being filed against a sitting president. But the report also documents multiple attempts by Trump to at least derail the investigation, while noting that some of his requests simply weren't carried out by subordinates.
Next Move: Congress
Mueller has not yet been scheduled to appear before Congress to discuss the investigation in greater detail, but that seems to be a certainty.
"I think [Thursday] was just an appetizer for the real insightful moment the American public will have when Mueller testifies in front of Congress," Tom Kellermann, chief cybersecurity officer for Carbon Black and a former government cybersecurity adviser, tells Information Security Media Group.
What remains to be seen, however, is whether Mueller will offer opinions beyond his carefully prescribed special counsel role or how lawmakers might choose to further interrogate him or apply evidence contained in the report.
Obstruction: No Judgment by Mueller
U.S. Attorney General William Barr said that based on Mueller's report, he and Rosenstein have chosen to not prosecute Trump for obstruction of justice.
Expect lawmakers to ask Mueller whether he thinks Trump should be prosecuted. Also expect Mueller to decline to answer, because in his report, he documents all of the evidence gathered in pursuit of the obstruction question, then makes it clear that he believes it's inappropriate for his team to conclude one way or another.
That's because in a normal obstruction of justice case, the accused would have the right to a "speedy and public trial, with all the prosecutorial protections that surround a criminal case," whereas the president would have no such recourse if he felt he had been wrongly accused, Mueller wrote.
Trump has summarized Mueller's report as clearing him completely of "collusion" or "obstruction."
"Game over," he tweeted on Thursday.
But that does not square with what the report says.
"While this report does not conclude that the president committed a crime, it also does not exonerate him," Mueller wrote.
'Collusion' Still Isn't a Legal Term
Collusion is not a legal term, Mueller wrote in the report, noting that his team instead looked at conspiracy as well as whether the Trump campaign coordinated with Russia. "We understood coordination to require an agreement - tacit or express - between the Trump campaign and the Russian government on election interference," Mueller wrote, noting that it required "more than the two parties taking actions that were informed by or responsive to the other's actions or interests."
Mueller said his team concluded that no just coordination or conspiracy existed, although he notes that Trump's campaign expected to see upsides from Russia's information-dumping efforts.
"Although the investigation established that the Russian government perceived it would benefit from the a Trump presidency and worked to secure that outcome, and that the campaign expected it would benefit electorally from information stolen and released through Russian efforts, the investigation did not establish that members of the Trump campaign conspired or coordinated with the Russian government in its election interference activities," Mueller wrote.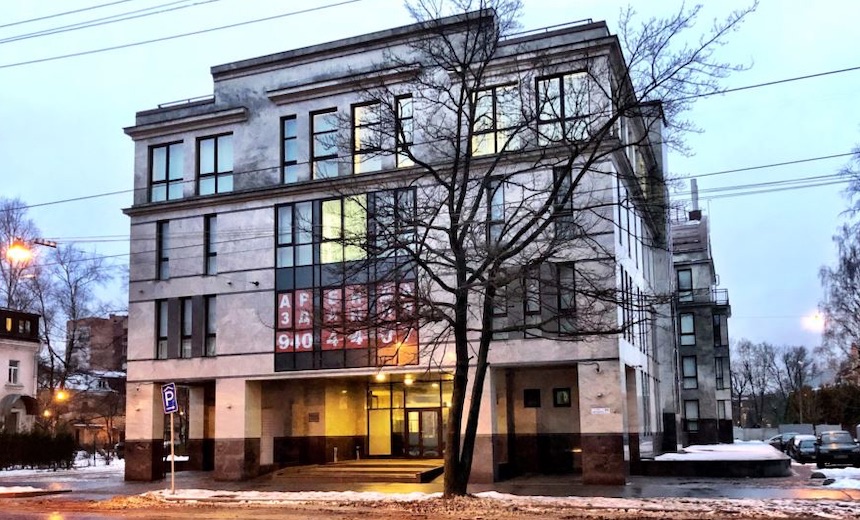 A former office of the Internet Research Agency in St. Petersburg, Russia (Photo: Charles Maynes via Wikipedia/CC)
On the other hand, Mueller's investigation found that although the Trump campaign fielded requests from the Russian IRA for help with signs to use at rallies and logistics, "the investigation has not identified evidence that any Trump campaign official understood the requests were coming from foreign nationals."
The Shadow Brokers' Role
Notably absent from the report is any discussion of the massive leak by a group calling itself The Shadow Brokers of attack tools stolen from the Equation Group, which is widely believed to be the U.S. National Security Agency.
Thomas Rid a professor of strategic studies at Johns Hopkins University's School of Advanced International Studies, says via Twitter that it's not clear whether the U.S. government knows how The Shadow Brokers operated, or what its ties might have been to the 2016 U.S. election interference campaign.
Second, the Mueller report does not mention the Shadow Brokers saga. Can we infer from this absence that TSB was not part of the 2016 campaign? - Not quite. But likelihoods shift: less likely TSB was related; and/or more likely the USG really does not have high-confidence answers

— Thomas Rid (@RidT) April 19, 2019
The information security expert known as the Grugq says it's likely that The Shadow Brokers intended to hamper the U.S. counterintelligence investigation "by consuming resources/executive bandwidth." But he says that in the absence of additional data, which may never come to light, this remains "just a hypothesis."
Cambridge Analytica's Impact
It's also not clear what, if any, impact the now defunct U.K.-based political-consulting firm Cambridge Analytica had on the election. Cambridge Analytica briefly worked for Trump's campaign. It also obtained as many as 87 million Facebook profiles from a Cambridge University lecturer in violation of Facebook's policies and without those users' consent, landing the social network in hot water with regulators (see: Report: Federal Trade Commission Weighs Facebook Fine).
Missing: More Clarity from Trump
During the course of the investigation, Mueller attempted to interview Trump in person, but was rebuffed. Instead, Trump's attorneys provided written answers to questions.
Excerpt of President Trump's written responses to Mueller
"We received the president's written responses in late November 2018. In December 2018, we informed counsel of the insufficiency of those responses in several respects," Mueller wrote. "We noted, among other things, that the president stated on more than 30 occasions that he does not 'recall' or 'remember' or have an 'independent recollection' of information called for by the questions. Other answers were 'incomplete' or 'imprecise.'"
In short, "we viewed the written answers to be inadequate," Mueller wrote.
Given the potential length of time it might have taken to subpoena Trump, Mueller wrote that he and his team decided that concluding the investigation and sharing all gathered evidence with the attorney general was the best course of action.
"We determined that the substantial quantity of information we had obtained from other sources allowed us to draw relevant factual conclusions on intent and credibility, which are often inferred from circumstantial evidence and assessed without direct testimony from the subject of the investigation," Mueller wrote.
What Happens Next?
Mueller has created a document that answers some questions, but leaves others unresolved, such as whether Trump's actions constituted obstruction and whether it was acceptable for Trump and his campaign to have benefited from Russia's desire to see him get elected.
As a result, the report "poses the question of whether this conduct is acceptable - not whether it's lawful or prosecutable or whether the evidence is admissible, but whether as a nation we choose to accept it, and if not, what means we exercise to reject it," says an analysis of Mueller's report published by Lawfare. "Mueller is not a political figure, but the record he has created puts these fundamentally political questions squarely before us."
Will White House Respond More Proactively?
Kellermann, emphasizing that his analysis comes from a nonpartisan perspective, says the report should stand as a clear and present call to sanction Russia more forcefully for its interference efforts. The Trump administration has previously rolled back some such sanctions.
"The problem is that we have been taking this laying down. Those indicted GRU officers are never going to be prosecuted," he says. "The fact that sanctions have been lessened on some of the oligarchs is crazy to me, especially when these folks have been deemed complicit in this endeavor and others."
Whatever the political implications of the Mueller report, Kellermann says it clearly spells out Russia's extensive effort to undermine American democracy. So the U.S. response should be swift and clear, he says (see: Russian Meddling: Trump Hasn't Ordered Direct NSA Response).
"As a country, we need to rally around a single premise that there is no debating that Russia used cyber as espionage and used cyber as an attack in an attempt to disrupt the United States electoral process and the leadership of the U.S.," Kellermann says.
"And again, there is no refuting that there is Russian GRU agents who have been indicted and there's no refuting that six people have been indicted that used to work in the administration and regardless of whether the president knew or didn't know about cyber events, the president must for the benefit of the future of the U.S. act now and strengthen sanctions against Russia and immediately allow [U.S.] Cyber Command and the Department of Justice, the FBI and DHS to be more proactive in cybersecurity and act in defense of the American public."
Managing Editor Scott Ferguson contributed to this story.