Mobile Security and Productivity
New Ideas for Maximizing Mobile Devices in the Enterprise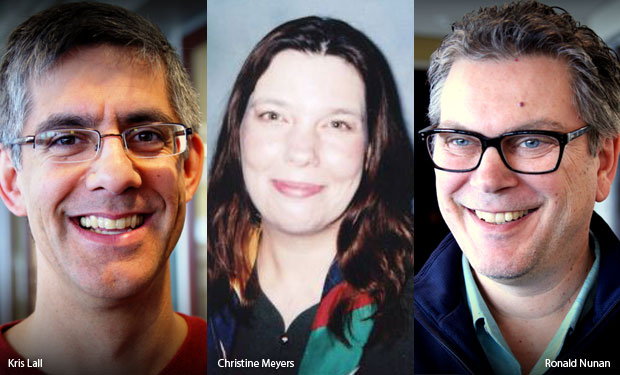 Securing mobile devices in the enterprise is just half the challenge. The other is ensuring that employees are able to work productively. A panel of experts from Attachmate offers new strategies.
See Also: Live Webinar | Education Cybersecurity Best Practices: Devices, Ransomware, Budgets and Resources
"A lot of enterprises are at the stage where they are looking at how to secure mobile devices," says Ron Nunan, a senior product manager for Attachmate Corp. "Then the next question comes along: 'How do I make people productive with these devices?'"
The key is to extend, manage and secure enterprise information for mobile users - and also to give managers visibility into how that information is being accessed and used.
"We give organizations the ability to detect trends in real-time, to understand that unexpected activity and to really predict fraud, and know what to do to stop it," says Christine Meyers, product marketing manager at Attachmate.
Organizations must see mobile as an extension of their desktops - not an alternative to them, says Kris Lall, also an Attachmate product marketing manager. "It's not that [users] are going to stop using their desktops. They're going to start using mobile devices in addition to their desktops."
In an interview about mobile devices in the workplace, this panel discusses:
The latest mobility trends;
How organizations can ensure secure, productive use of mobile devices;
Benefits of the Attachmate MobileNow initiative.
Meyers is a product marketing manager at Attachmate Corporation, and overseer of the Luminet product. She has been writing on emerging technologies, security, risk and compliance for over a decade on issues related to enterprise fraud, investigation, and behavioral analytics.
Lall is a product marketing manager for Attachmate Corporation. He has more than 20 years of experience in the host access and host connectivity industry, having served in roles that include technical support, systems engineering and product management. He started tinkering with computers when 16KB was the maximum addressable memory in a personal computer and software programs were loaded using a cassette drive.
Nunan is a senior product manager for Attachmate mainframe integration products, playing a central role in the company's product development and applied technology solutions. He also has worked in the financial/accounting software industry and was a systems specialist, providing architectural support on enterprise class IBM-centric solutions.
Enabling Legacy Apps on Mobile Devices
TOM FIELD: Up front, we understand that 80 percent of Fortune 2000 organizations continue to rely on mainframe applications. Kris, do you see these companies needing to enable these legacy applications for their mobile devices?
KRIS LALL: Absolutely. One of the reasons mainframes continue to be ubiquitous is that the ROI equation for these systems can be very favorable. The challenge we hear from our customers is that users need access to business data on devices of all types, anywhere and anytime. Customers are increasingly seeking ways to connect their mainframe applications to any device - be it the PC, mobile phone, tablet - and they want to be ready for the next wave of devices as well. We encounter this challenge frequently across various markets because this is the area we work in.
Allowing Safe Mobile Use
FIELD: That makes sense, and my follow-up is regarding mobility. We know that every organization is being thrust into this space simultaneously. What needs to be done then to allow both safe and productive use of these devices in the enterprise?
LALL: There are two key issues with deploying and enabling mobile devices in the enterprise: productivity and security. To be productive, you have to consider how to enable users to access the applications that are in-use today. We find that most companies are looking at this in a couple of ways. There's the move from Windows XP to Windows 7 and Windows 8 that's occurring in enterprise and it's bringing with it an infrastructure shift. Employees are asking how they can have these applications available on mobile devices. In turn, organizations are virtualizing desktops and applications because it's relatively quick and easy to do these days, making these enterprise applications available to users on their mobile devices. Citrix Receiver and XenApp is a good example of this. The other way is to write a native app that leverages web services on the back-end, and my colleague Ronald Nunan has a lot of experience with this.
RONALD NUNAN: We're seeing a lot of people in the enterprise pursue using more of a native approach to building support for mobile applications, and it spans a couple of areas and it has a couple of benefits. Using Citrix and/or bringing the desktop to a mobile device is a great way to just make sure that everyone has access to everything. But if you have mobile users trying to do specific tasks or wanting to work with certain applications in certain ways, there are a lot of benefits to allowing them to see the application in a very mobile-specific way where swipes and the kinds of interactions you have against the mobile device are accounted for.
What we're seeing people in the enterprise do today is build either native applications with code on the iPad, Android device or whatever, or using more of a web-technology approach and using technologies like HTML5. We're seeing today a lot of enterprises are targeting this web-technology approach to bring mobile support to the user-base within the enterprise. What that allows them to do today, and do quickly, is take applications that are existing in the enterprise, put customized mobile front-ends on them and then give the user completely tailored and customized access from a mobile device to that application, without having to replace that device. That's something that we're seeing going on today that's gaining a lot of traction.
Segregating Safe Use from Productive Use
FIELD: Ron, why do you segregate safe or secure use from productive use?
NUNAN: That's a really big topic and a really good point. The reason we segregate that is because that's something that's going on in the market today. A lot of enterprises are at the stage where they're looking at how to secure mobile devices. What does it take to ensure that mobile devices and the users are playing correctly in the sandbox or in the IT environment or in the enterprise environment?
Then, after they've kind of secured the devices or feel comfortable with their use in the enterprise, the next question comes along. How do I make people productive with these devices? What can I do to ensure that when they use these devices, they get the most work done that they can? That's kind of a separate topic on top of the security topic. Most people tend to gravitate to security first, want to talk about it and solve it. But then, once that's down to a certain level, the productivity issue becomes front and center, and that's all about how you make your users productive and competitive.
CHRISTINE MEYERS: That's a great point, Ron. One of the things that we really focus on here at Attachmate is how to extend, manage and secure the enterprise information that we deal with. We're also hearing from our customers that organizations are really struggling with visibility. We've got a history - 30 years in this space - of providing best-of-breed secure emulators, and we also now provide tools to monitor mainframe controls as well as user activity. We give organizations the ability to detect trends in real-time, to understand that unexpected activity, and to really predict fraud and know what to do to stop it.
LALL: Like Christine says, organizations need insight into what users are doing with their mobile devices, and, once this aspect of mobile devices is covered, you have to think about how to make users productive on mobile devices. It's not that they're going to stop using their desktops. They're going to start using their mobile devices in addition to their desktops. We see this at Attachmate because we have products that span these two areas, from monitoring - like Luminet - and getting insight into what users are doing, in addition to connectivity components, like the Reflection brand, for accessing back-end applications and data. Users can be productive, but the enterprise demands that they be productive safely. We make that part of everything we do. Security is built in to our development processes, and that includes helping customers meet regulatory requirements from Sarbanes-Oxley, SOX, HIPAA/HITECH, FIPS and PCI-DSS, and we know there are other regulatory requirements coming down the road that we'll have to help companies adhere to in the future.
Key Issues around Mobile Productivity
FIELD: Chris, in your experience, what are the key issues with allowing users to be productive using their mobile devices?
LALL: What we're hearing and also what research has shown is that users are more productive on those mobile devices that they have chosen to use themselves. Hence, you hear about the bring-your-own-device-to-work trend. Enterprise applications were not necessarily built with touch-based input in mind, so there are a number of user-experience issues you have to address in order to ensure your end-users can be productive on all devices, especially their mobile ones. For example, legacy host applications make use of special keys that are unavailable on many of the common mobile devices like an iPad, so you don't have access to the program function key, the keys that you saw in the traditional legacy 3270 terminals. It's our job to ensure that these keys are used for data entry, and the mission [is] we're going to go host applications are available when users are using any type of mobile device.
In addition, there are look, feel or user-experience characteristics associated with applications on the different mobile platforms, whether it's iOS, Android, Windows or BlackBerry. Each platform vendor has design guidelines that they have their ecosystem partners, like Attachmate, follow in order to provide a consistent experience for applications on their platform. We have to provide other aspects of the user experience to make these legacy applications feel like native mobile apps. It's a very interesting process to go through and see how the application user experience differs between the various platforms. Some elements are the same and some are quite different. In the end though, users can be productive because we're providing a way for host applications to work the way users expect them to on their mobile device of choice.
Attachmate MobileNow Initiative
FIELD: Let's bring this back to Attachmate. Can you explain the Attachmate MobileNow initiative, please?
NUNAN: MobileNow is a pretty simple concept. It's actually a messaging brand - so it's MobileNow as the messaging brand - that allows us to really cater to all the things that are of interest to people struggling or working on implementing mobile devices in the enterprise. We have several brands in Attachmate Corporation: Verastream, Reflection, Luminet, FileXpress and others. These brands all have aspects that touch on the various capability challenges that an enterprise will eventually encounter when implementing mobile devices. By creating the MobileNow brand, we have a place to put everything that applies to that specific set of challenges, and that makes it easier for the enterprises that are looking to implement devices and easier for us to talk about. That's what MobileNow is all about.
Staying Ahead of Changing Mobility Trends
FIELD: What advice do you offer organizations now to help them stay on top of the changing mobility trends that we've been talking about today?
NUNAN: I want to stay on the same theme that I talked about earlier, and that's this concept of staying with security and productivity together, not just concentrating on one or the other. You need to make sure mobile device use is secure, but you need to make sure that it's also productive for the users that want to work within the enterprise. Making sure that you keep both of them in mind when you're working on implementing mobile device use across the enterprise is paramount. You want to make sure that your security measures don't limit users in what they could be doing productively, and you also want to make sure that what users can do doesn't sacrifice security. Keeping them both in mind at all times is really how to keep a competitive edge.
MEYERS: That's a great point, Ron. I think you absolutely hit on it when you said it's the way to make sure that users can truly be productive, and, as an organization, what you really want to ensure is that you've got visibility to what they're doing. You've got these critical applications and they're going to a variety of end-points - via PC or mobile device or tablet - and you just want to make sure that you've got a complete audit trail, you understand what those users are doing and that you can go back and see what happened if you ever need to.